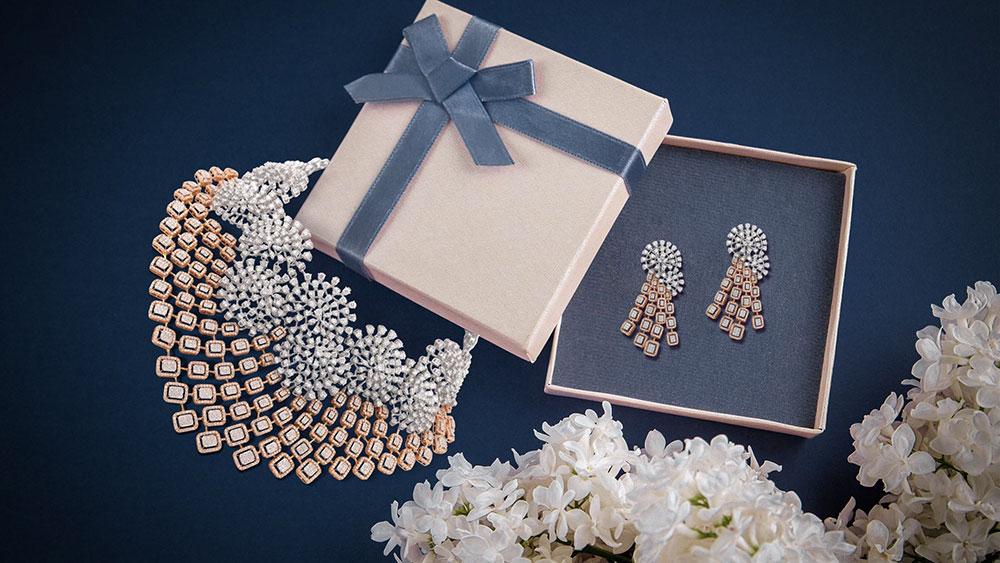 The Diamond Charm
Wedding jewellery is a bedazzling affair of opulent grandeur, grace and glitz, just like our eventful weddings! What better way to up your glam game on the altar than by incorporating eye-catching diamond stunners!
As a first step, decide the route you are headed for. Are you going the traditional way to recreate your mother's or grandmother's wedding look, or do you wish to break all moulds and enjoy a contemporary look? If both these ideas don't come in your wedding book, maybe you prefer a mix of the traditional and the modern, a look like nothing before?
Whichever style you choose, a thing that remains constant throughout is the charm of diamond jewellery! Irrespective of the type, diamond pieces from necklaces to bangles, earrings, rings and waistbands add that extra bit of dazzle to your special day!
Each style has its charm, so we're not surprised if you are confused now! But don't worry; we're here to ease the decision a breeze for you!
When Tradition Comes Calling
The traditional style is perhaps the most iconic! The Indian bride, in all her glory, adorns pieces of artisanal craftsmanship and cultural richness to create a timeless look.
Walk the aisle in your heritage pride with diamond pieces unique to your region, like the Rani Haar or Polki necklace sets, to start with!
Traditional pieces hold a unique appeal that cannot be replaced. Complete the look with diamond rings, earrings, bangles and waistbands!
Going Contemporary
Do you wish to break away from the traditional look and opt for something modern and in vogue? In that case, contemporary diamond wedding pieces are your go-to!
Contemporary pieces offer greater flexibility in terms of look and design, with various artistic styles being incorporated to create an abundance of options to choose from! Necklaces like the Chequered Mesh-Diamond Necklace or bangles like the Zig Zag Miracle Plate Diamond bangle are examples of the myriad of patterns and styles a contemporary look can integrate.
Pairing them with studded stunners in the form of earrings and rings is guaranteed to create a striking look that'll awe and surprise everyone present!
Mixing it up
A mixed look offers the most lavish flexibility. Pick and add trending pieces or those rooted in heritage as you get creative to create a bridal look distinct from all others!
Here too, diamonds are your best friends as the stoned wonders from both styles-traditional and contemporary flow well together in a sea of sparkling wonder! You can mix and match within the same category (e.g., traditional bangles paired with contemporary ones) or a traditional necklace and earring set paired with a contemporary waistband or vice versa!
Remember that there are no rules to how you must look at your wedding! This is your special day to shine and how you dazzle when the limelight falls entirely on you!
Browse through our collection to find the one that's right for you!