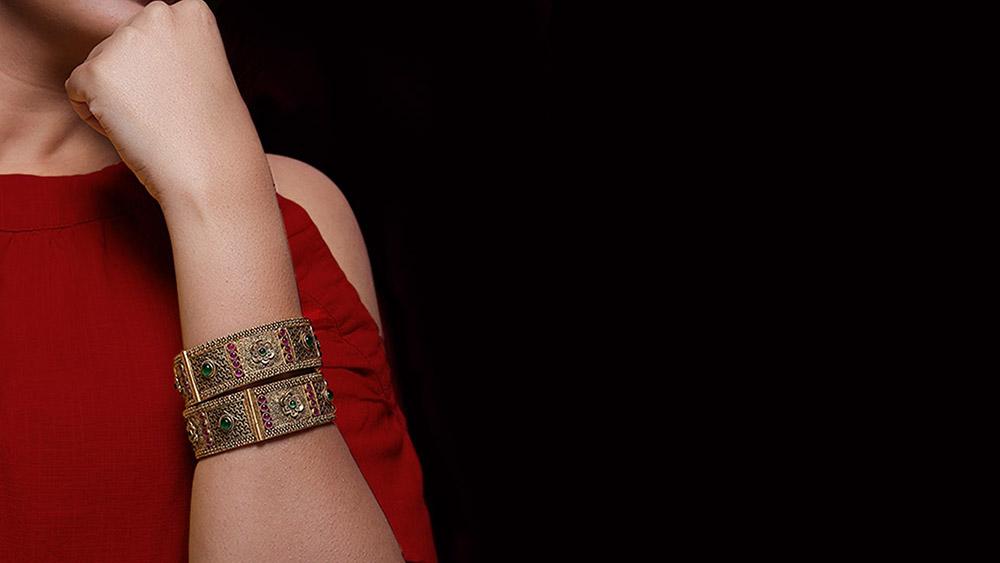 The Bangle Affair
An Indian woman's affair with the bangle is nothing new. From the first time her little girl eyes fall upon the bangle stands at the local markets and temple festivities, her love for the fascinating circle begins. In every step of her life, at every important milestone, she carefully picks one or a dozen to accessorize her and complete her look. Let's explore this captivating piece of jewellery in all its myriad forms and designs.
Bangles are a versatile piece of jewellery that can be paired with any choice of attire. From western wear to ethnic and everything in between (indo-fusion), bangles are worn to highlight, accessorize and complement the wearer's aesthetics and look. From thick Kadas to thin bands, from filigree designs to those studded with precious stones, there's one for every occasion and every part of the day.
Everyday Bangles
You don't need a special day to have an excuse to wear your favourite accessory. You just need the right kind of bangle that complements the outfit and doesn't get in the way of your activities. If you are one of those women who feels incomplete without a band around your hand, we suggest going for lightweight gold bangles that add charm and completeness to your look. Choose simple ones, maybe with a dainty filigree design, or those studded with diamonds, rubies, emeralds, or other precious stones for a brunch date with your friends. How about elegant slender bangles encrusted with pearls for the
perfect workwear ensemble? Adjustable bangles in rose gold or white gold keep your outfit looking trendy and glamourous. If sassy is your style, then do consider the charm bangles that complete your personality.
Bangles for Special Occasions
If you are an Indian, you will know for sure that there is no dearth of special occasions in our culture. From celebrating births to weddings and anniversaries, everything presents an event to take out your favourite jewellery and flaunt like a most beautiful peacock. In many traditions, the birth of a girl in the family is rejoiced by buying a tiny gold bangle to adorn her pretty hands. Although it may be a simple design, it's the emotion behind the bangle that makes it significant.
Weddings are another event that women love to deck up their hands. There are many ways to make a statement here.
Going single with a big bold Kada in either hand speaks for itself. They can be stone studded or engraved with traditional motifs that complement a saree.
If more the merrier is your kind of style, fill up your hands to your heart's content with a dozen thin bangles bordered by two bold Kadas. You can also choose to interspace the gold with a couple of glass bangles that mirror the colour of your attire. This not only highlights the precious gold bangles but also adds a traditional touch to your wardrobe.
Whatever your choice of bangles, this infinite circle of beauty adds grace to your hand every single time. So bangle up and shine on!