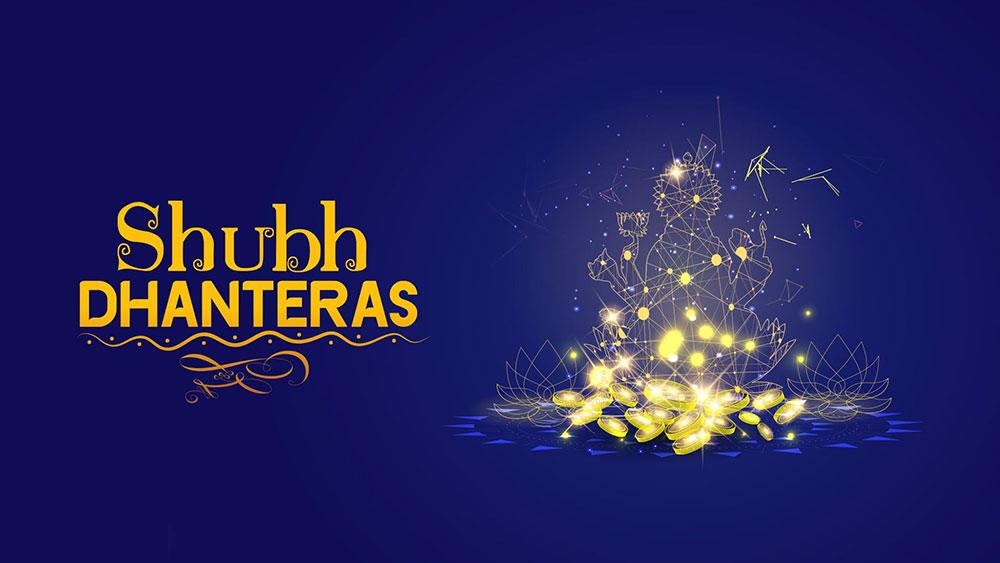 Shine on Prosperity this Dhanteras
Dhanteras, also known as Dhanatrayodashi, marks the beginning of the Diwali celebrations, observed in the month of Ashvini on the thirteenth lunar day of Krishna Paksha (dark fortnight). Dhanteras is the festival of worshipping Lord Dhanvantari. According to Hindu scriptures, Lord Dhanvantari emerged from the ocean during the legendary Samudra Manthan, holding a kalasha full of Amrit in one hand and the sacred text about Ayurveda in the other.
On Dhanteras, homes are thoroughly swept and cleansed in preparation for Diwali. The main entrance is decorated with colourful lanterns, lights and traditional rangoli designs to welcome the Goddess of wealth and prosperity. Diyas are ritually kept burning throughout the night in honour of Lakshmi and Dhanvantari.
This is a highly auspicious day for Hindus to purchase gold or silver articles. The belief is that new wealth or items of precious metals are a sign of good luck. In present times, Dhanteras is considered an auspicious occasion for buying gold, silver and other pieces of jewellery.
Hence, this is the perfect time for you to pick up some of the finest accessories and add them to your collection.
Necklaces are one ornament that never goes out of style, and you would never wish to miss out on an opportunity to flaunt them when you get one. The variety of necklaces available will make
you spoilt for choice. From plain and collar necklaces, antique designs, and layered necklaces to stunningly studded gemstones, multi-coloured two-tone and three-tone necklaces grace their presence in traditional Indian styles.
If you are looking for something smaller, earrings are the way to go. From traditional to ultra-modern ones that come in spectacular patterns and lovely designs, the choices are plenty. Have your pick and bedeck yourselves this Dhanteras in chandelier designs, jhumkas, vanmala gold earrings, solitaire and gemstone studs.
Bangles are another piece of jewellery that pulls attention towards the wearer. Go for plain ones- either a dozen thin singles or a big bold Kada to make a statement during the festivities. If you want to add a little colour to your attire, pick a pretty one studded with gemstones, diamonds or pearls.
For those who wish to buy just a token of gold for the occasion, a pretty ring will suit the bill just right. Or maybe a gold coin if savings is on your mind.
Celebrate Dhanteras with Kalyan Jewellers by choosing from our diverse gold, silver and diamond jewellery collection.