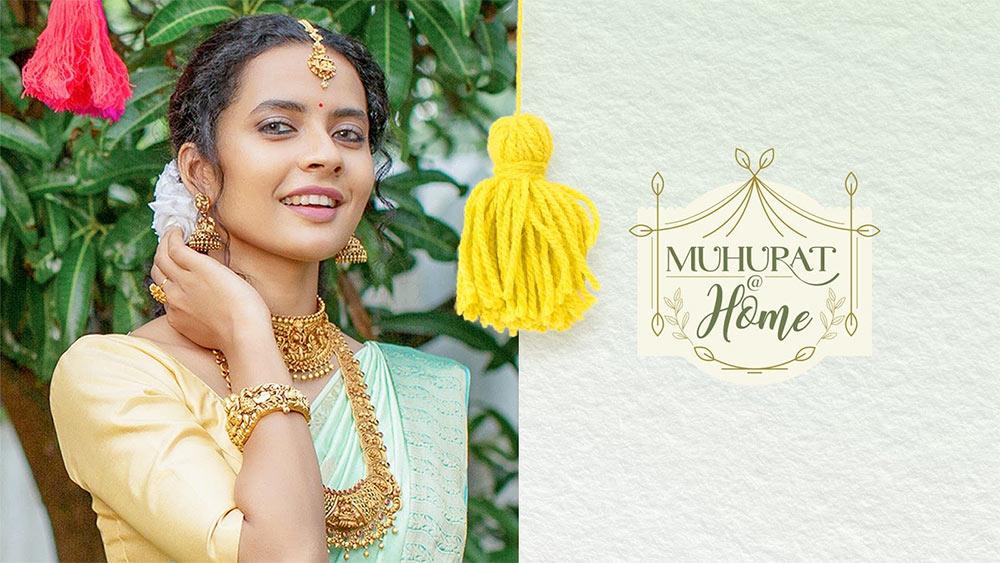 Temple Jewellery Bridal set
Temple jewellery is a type of jewellery that is inspired by temples of India, just as the name suggests. It is predominant in South India owing to its origin speculated to be during the Chola dynasty. There have been several evidences of temple jewellery present during the Chola, Pandiya and Krishna Devaraya reign in south India. These jewels were created to resemble the intricate beauty of the temple architecture and designs. These handcrafted jewels were made out of pure gold with various precious stones like diamond, ruby and emerald etc. encrusted in it. These jewels adorned the Deities in the temples and the similar looking replicas were worn by the classical dancers performing in the temple grounds. The women of royalty also decked themselves up with temple jewellery from time to time. As time passed, lot of people started including the temple jewellery in their personal jewellery collection and today it has become a piece of religious importance and in many cases it is also the heirloom passed down from one generation to another. This has made the temple jewellery a must-have in any bride's book.
Temple jewels are chunky jewellery designed as Deities like Lord Ganesha, the various avatars of Goddess Lakshmi etc. surrounded by temple designs like peacocks, lotus, coins, celestial swans called Annabatshi and celestial dragons called Yali. The primary temple jewelleries entail necklaces, bangles, rings and earrings. In addition to these, classical dancers wear temple jewellery anklets, amulets, hip chains, forehead accessories and hair accessories.
Temple jewellery has the power to convert an unassuming outfit into a grand look. Be it a wedding look, a party guise or a formal/office get-up, when paired nicely, temple jewellery can make any look shine. It is no surprise that temple jewellery has become a staple in a bride's ensemble today not only for its religious and cultural importance but also owing to its magnificent beauty. From chunky motifs sporting necklaces to exquisite chokers, to temple jewelleries with a modern spin including precious stones to beautiful dangly jhumkas and meenakaris to clunky bangles and dainty hip chains, temple jewellery makes a beautiful bridal jewellery set.
Bringing a mix of trendy and traditional, style and sentiments, complex and grandeur temple jewellery brings out a bride's true beauty on her most important day.