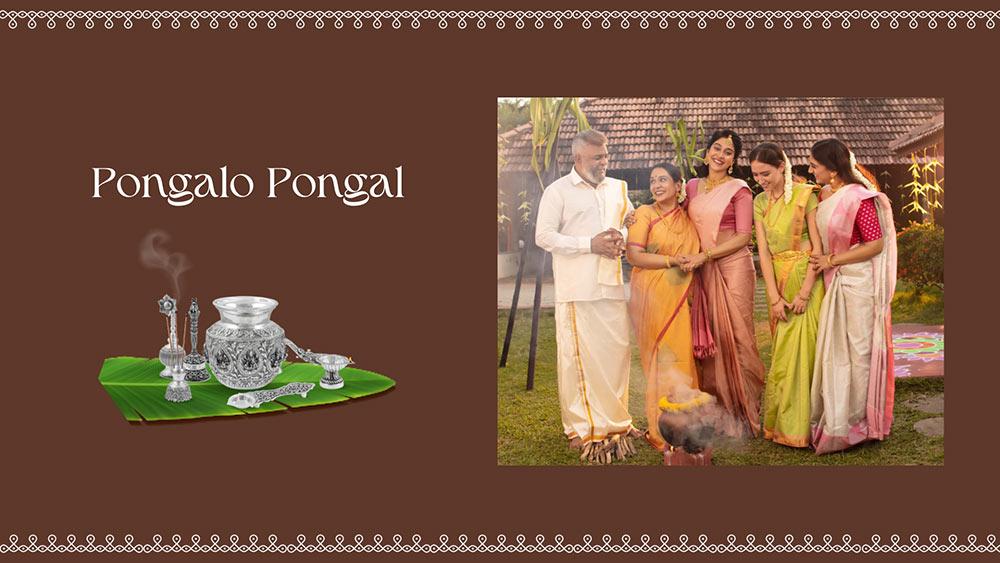 Pongalo Pongal
Pongal is the harvest festival of South India, celebrated predominantly in Tamil Nadu. The celebration of Pongal is to pay gratitude to the Sun God to seek blessings for a good crop. This auspicious festival is marked by several rituals and traditions, including wearing traditional gold jewellery and gifting gold and silver to dear ones.
Pongal is a four-day-long festival. The first day is known as Bhoghi, which symbolises new beginnings. This is the day when people burn old clothes and get ready for a fresh start the next day.
The second day of Pongal is the primary day known as Surya Pongal. People deck up in gold and diamond jewellery to make the day auspicious and dress in fine clothes. Houses are decorated with colourful kolams, and every household cooks a fresh pot of milk with rice at auspicious times.
The third day is the Mattu Pongal which is devoted to honouring and worshipping the cattle. The fourth day is Kaanum Pongal, a day to strengthen family ties. People offer gifts to each other on this day. Gold and silver have become prevalent gifting options.
Pongal is an auspicious time, and people adorn precious gold and diamond jewellery. Gold symbolises prosperity and good luck, and wearing gold jewellery and diamonds is believed to bring blessings and good fortune.
Make this Pongal memorable by adorning a traditional gold necklace with Lakshmi motifs studded with rubies and pearls. Go for Kadas with intricate motifs and rubies studded in the pattern of flowers and small stone work to make your hands look more beautiful. Add a pair of hanging earrings with the same motif to complete your look.
A long haram necklace with a small paisley design is another traditional piece that will make you look more stunning. The red and green stone work in it will make you look more classy. Match the colours with gold bangles with the same coloured stones. Add a pair of dangler earrings with golden beads and red coloured stones, and complete the look by wearing a bright-coloured silk saree.
A short necklace with a Lakshmi motif is a must-have in your jewellery box during this auspicious festival. Deck up your hair with jasmine flowers, adorn a kanjeevaram saree and add a pair of earrings with the same motif. For your hands, select Kadas with the same Lakshmi motif and complete the look with a red bindi.
Pongal is also the season of gifting auspicious things to dear and loved ones. Why not select gold and silver jewellery or even utensils made of silver as a unique gift? A silver lamp, a silver plate or a bowl will make an exceptional gift that will be remembered forever. Another excellent gifting option is a beautiful ring or pendant studded with precious stones or diamonds.
Make this Pongal more memorable by selecting from a wide collection of gold, diamonds and silver jewellery and gift options from Kalyan Jewellers.