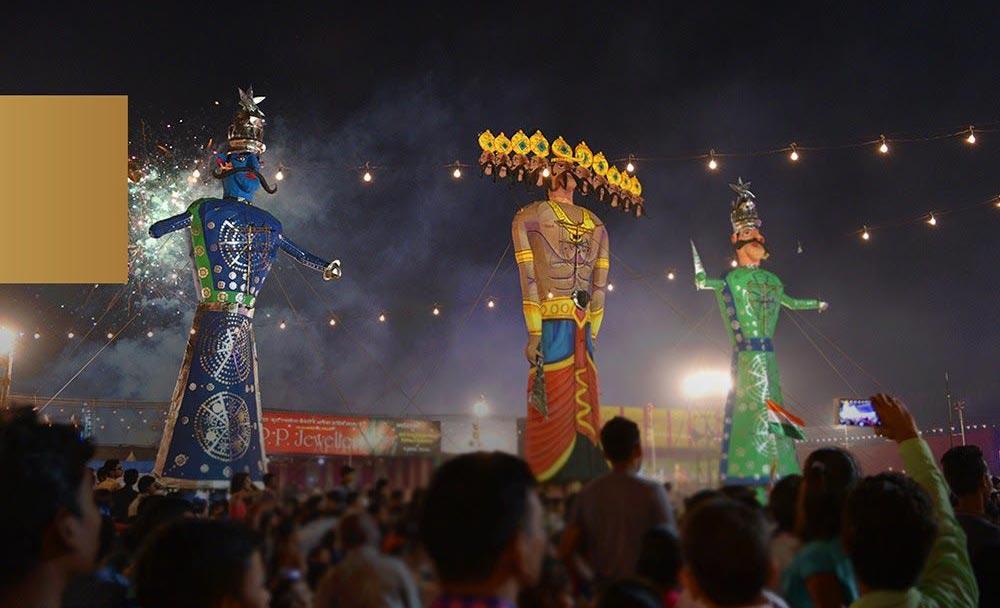 Navaratri Celebrations in North India
The festival of Navaratri (translated as nine nights) is celebrated in autumn across India. During the months of September and October, when the kids are excited about the completion of their term examinations and overjoyed about the holidays, when aromatic mouth-watering dishes are prepared by women bubbling with excitement, when youngsters join dance classes to flaunt their graceful moves during the Garba, the air becomes taut with the Navaratri fervour.
Two things flash in an Indian's mind while hearing "Navaratri i n north India ". Garba and Dussehera.
Garba is derived from the Sanskrit word 'Gharb' which means womb and 'Deep' meaning lamp. This custom is a symbolic reminder of life, its ways and its importance. Celebrated during Navaratri, Garba is also a mode of worshipping women who bring life to this world. A Garba usually consists of a lamp or a picture/idol of Goddess Durga in the middle with scores of men, women, boys and girls dancing around it clapping their hands and doing rhythmic twirls. Sometimes, two foot-long sticks decorated colourfully are also used while dancing, this is called Dandia . People dance in concentric circles, making room for as many participants as possible. This concept of dancing in a moving circle is to exemplify that life is a cycle. Women are dressed in vibrant Chaniya Cholis and men in traditional Kediyu. Starting the beat at slow pace and reaching a fast paced climax is a spectacle to enjoy in the Garba. The best and the largest Garba are celebrated in Vadodara in Gujarat . Several Indian communities living outside India also conduct Garba on a large scale. With soul shaking music, colourful array of dresses, sticks and lights, Garba is a must-do activity in any north Indian's book.
The last day of Navaratri i.e. the 10th day is called Dussehara or Vijayadhasami. According to the Hindu Epic Ramayana, it is on this day that Lord Ram killed the ten headed demon king Ravana. All across India, especially in the north, this event is rejoiced in the grandest fashion. Processions of Lord Raghunath is made around cities and villages with huge entourages, short skits of Ramayana called RamLeela are done in many places and huge statues of Lord Ram and Ravana are built. All the people come in processions celebrating and chanting Lord Ram's name with great zeal. The pinnacle of these celebrations are reached when a huge bow is placed in the hands of Lord Ram's statue and fire spitting arrow bounces off the bow and flies across and hits the statue of the ten headed Ravana which in turn bursts into flames. With the blazing fire, the evil is destroyed bringing prosperity and happiness to everyone.
Now-a-days, this festival has crossed religious barriers and is celebrated by people of all ethnicities around the world.