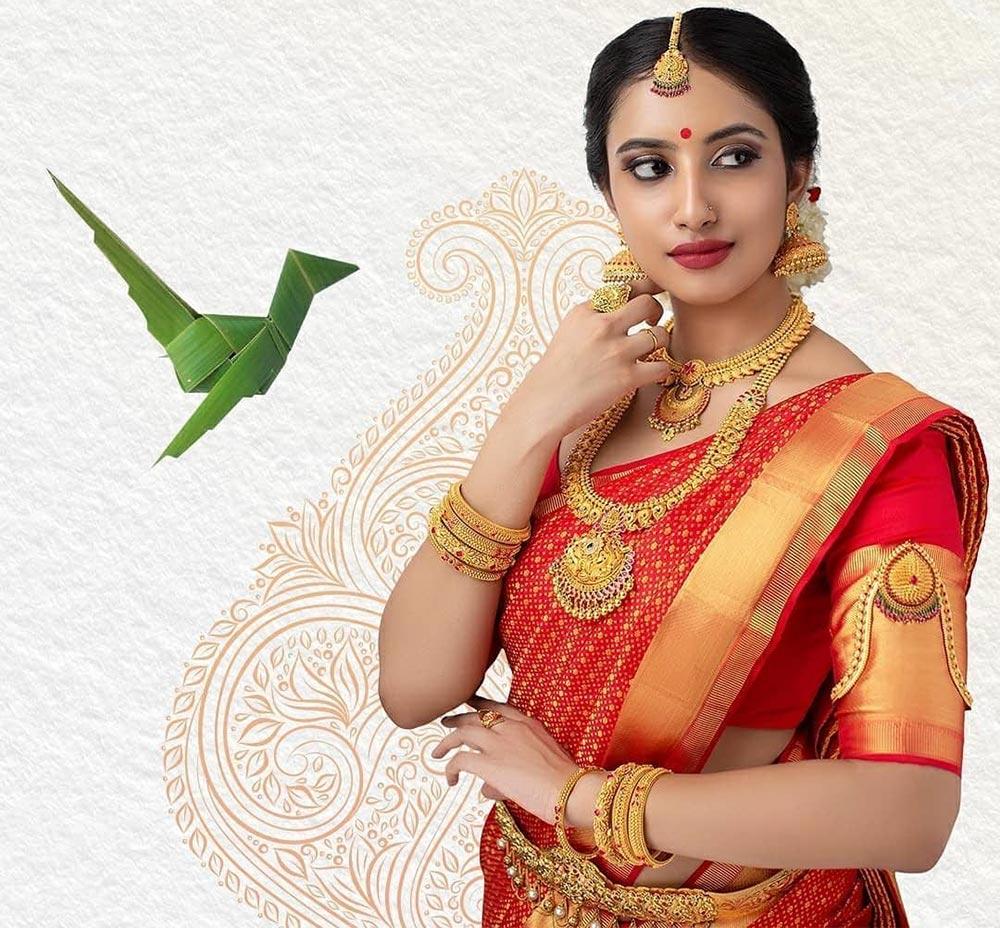 Latest Bridal Trend : Minimalistic Or Bling
With the onset of the New Year, several new trends have been established in the world of fashion especially for the bride. Some trends call out to the minimalist brides who prefer to dress simply and elegantly and some trends are made for the bold and beautiful brides. India has several styles of bridal looks; let's broadly look at them as Northern style and Southern style.
The traditional attire for a North Indian bride would be crimson Lehenga with an array of matching uncut diamond necklaces. Now-a-days, brides opt for different colours in their Lehengas. Pastel colours are especially in trend. The matching jewelleries worn with these subtle coloured bridal attires are huge, chunky uncut diamond necklaces and chokers that have little drops of emeralds or sapphires lining the entire piece. Another huge trend in terms of accessories is with respect to the forehead accessory. We find a lot of brides sporting a solitary yet huge Maathatikka or forehead accessory. Staying true to the "less is more" Mantra, this trend has proven to be minimalist and bling in one go. Off late, many brides are seen with huge and chunky Katira (predominantly found in Punjabi brides, Katira is an umbrella shaped gold ornament that is hung from the crimson bangles that the bride adorns). The go to hairdo of most brides now-a-days is a sleek bun as opposed to the poufy ones that were in trend several years ago. This simple hairdo seems to even out the bling from all other aspects of the bridal look.
Coming to the south, a bridal look typically consists of a bright and colourful gold woven silk sari, matching gold/diamond jewellery, shimmery makeup with a braid/bun hairdo. Although most brides opt for a bright silk sari, the pastel fever has hit the south as well. Some brides prefer a baby pink or pastel blue sari now-a-days. The biggest jewellery trend for south Indian brides is temple jewellery and kemp jewellery. These jewels tend to fill the torso artistically and capture the onlookers' attention just like that! Layered necklaces are a new favourite among the brides now. Many brides prefer wearing 3-5 chunky and ornate silk thread bangles rather than sporting dozens of thin metal bangles these days. The bridal hairdo that is stylish and serves its purpose well is a centre-parted, half up, braid. This sits well with the plethora of hair accessories and forehead accessories and the centre partition is helpful for the Sindoor ceremony (the groom applies the Sindoor on the bride's forehead for the first time in her life). Matching amulets, hip chains and anklets have always been the unspoken norm when it comes to a bridal trousseau. Nose rings/ nose studs have also become a new favourite in today's bride's books. Some brides choose a simple, south Indian Henna rather than the grand and exquisite north Indian Henna these days.
A typical bridal look in this millennium is built with both minimalist and bling qualities, bringing out the best of both worlds in a format that shows the originality of each bride.