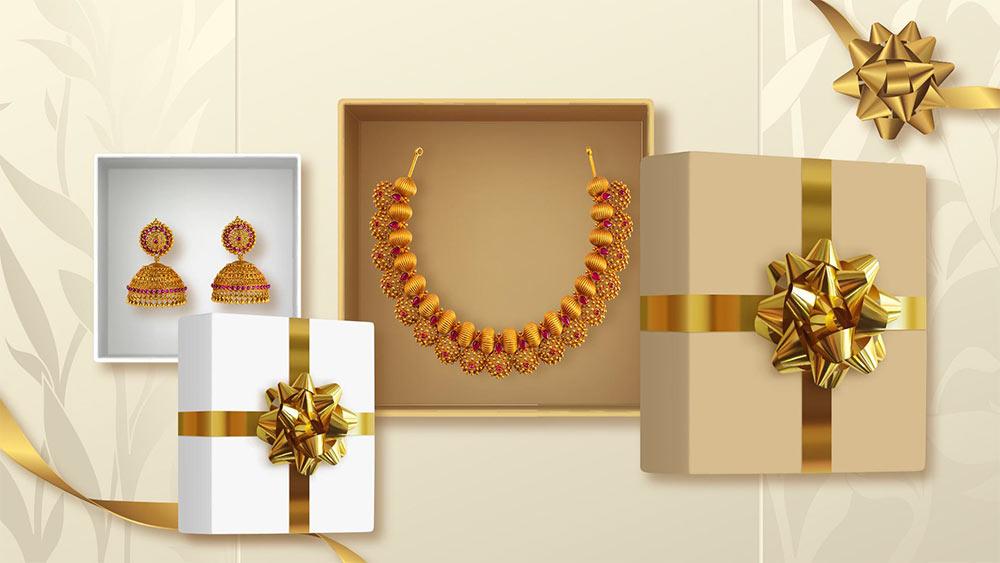 Golden Grace - 'Shagun'
Shagun- what is it truly?
Is it a gift, a blessing or a token of love and acceptance? We believe the Shagun is all this and so much more.
This one word, one gesture, means so many things to so many people.
So why not make it special by gifting a memorable Shagun for those special occasions.
Be it the birth of a little one, the celebration of a loved one's achievement or the various ceremonies of a wedding ritual, the Shagun is always an integral part of these days. So what is the ideal Shagun would be the next question? It should be something precious that can be cherished through the years, a token that transcends time and lives on in the receiver's memories and heart. A golden Shagun that shines with brilliance the giver's love and affection is the perfect choice for any occasion.
Let's begin at the beginning - the birth of a little one. The perfect way to welcome a new life is to gift a Shagun in gold. It could be as simple as a gold coin or as cute as a pair of studs or anklets for a girl or a simple gold chain for a boy.
As the year comes around, other days of gifting in gold come through celebrations like the 28th day, Annaprashan and Vidyarambham in later years.
Birthdays of little ones are the next milestone. Offer them blessings and love in the form of jewellery fashioned for kids. If you feel more of an investment will do them better, gift them a gold coin instead.
Shaguns to children need not be restricted to birthdays alone. Any achievement of theirs- academic or nonscholastic, when rewarded with a token of gold, will bring a smile to their faces and encouragement to their efforts.
Weddings are a grand affair in Indian culture, and the celebrations begin the moment the union is fixed. Here every ritual begins and ends with the exchange of gifts between family members, and Shaguns become an essential part of it.
Shagun takes a ceremonial place in the Roka ceremony- the ritual where the relationship between the couple is fixed. As Shaguns are exchanged, let them be precious and meaningful. A gold chain for the prospective groom or a choker necklace for the future bride shows they are welcomed and loved into each other's families.
If you are wondering what kind of Shaguns make the perfect gift for a special occasion, then read on.
If gifting small trinkets as Shagun throughout the various wedding rituals is your style, then finger rings set in diamonds or rubies are an all-time favourite. A pair of traditional earrings with temple motifs can also be a wonderful gesture to offer your blessings to the new bride.
Gifting your Shaguns in gold or as gold jewellery is a critical part of Indian culture. It also serves as a precious keepsake of an important day that will be forever cherished in their lives. This is a time to step up your gifting game with a bold Kada set in precious stones that brings love and warmth into the wearer's heart. Or, if making a statement is what you had in mind, go bold and big with a choker necklace in Polki diamonds.
Whatever you choose to give as a Shagun to your loved ones, whether it be as tiny as a gold coin or as elaborate as a jewellery set, make it matter by gifting it with your eternal love and blessings.