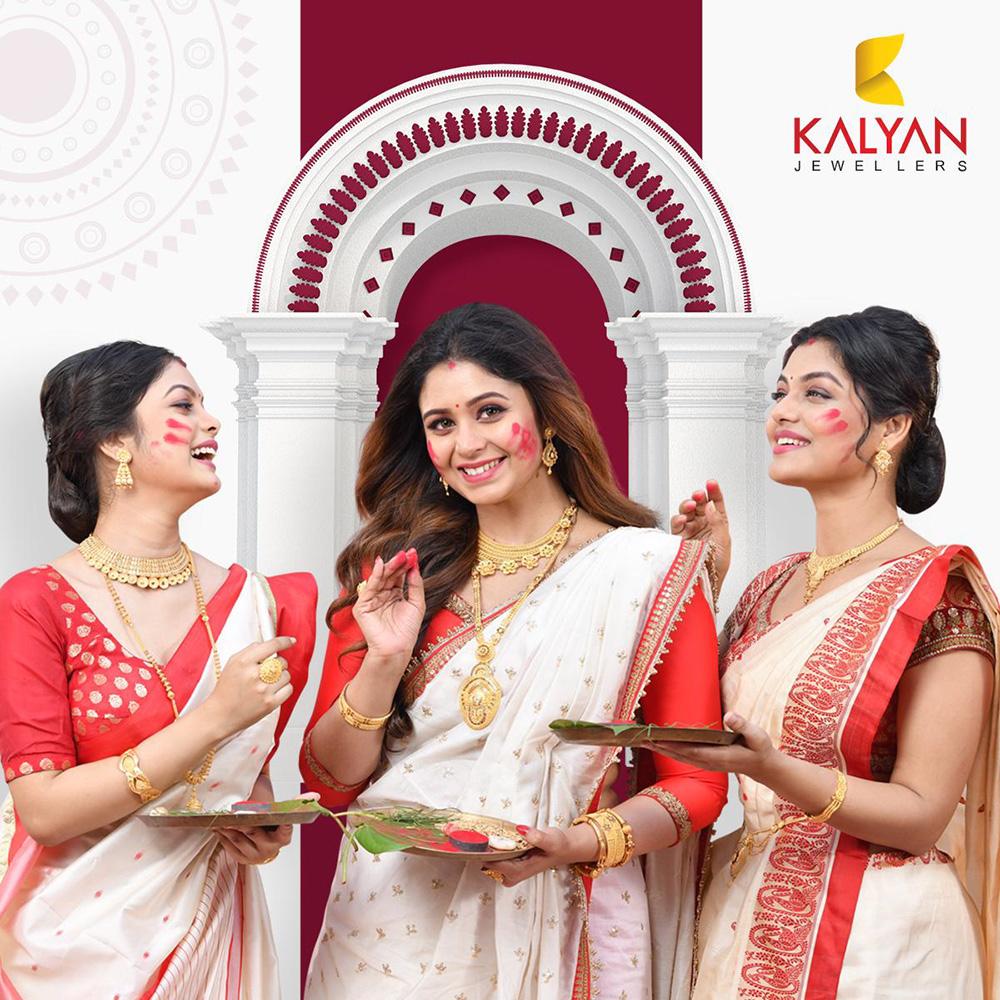 Celebrate Durga Puja With The Sankalp Collection From Kalyan Jewellers
The best time of the year is here! The beautiful autumn sky, the beats of dhak, the fresh fragrance of shiuli (jasmine), the colourful pandals and beautifully attired men and women are the imageries that one associates with Durga puja in Bengal. Durga Puja (Durga pujo) is a festival celebrated during the month of Ashwin in West Bengal and other parts of the country. In north India, this festival takes the name of Navratri and Dussehra.
The triumph of goddess Durga over the buffalo demon Mahishasura is celebrated during Durga Puja. Durga puja celebrates the epitome of feminine strength with pomp and shows all over Bengal and in certain parts of East India. She symbolises power, affection, determination, wisdom, the ability to punish and finally, eternal beauty. The idol of goddess Durga is dressed in bright sarees and traditional Bengali jewellery.
Somehow the strong persona of Bengali women depicted in literature and movies over the years is probably built on the very foundation of this strength. Hence, Bengali women celebrate their inner strength and grace and adorn themselves in exquisite sarees along with traditional and ethnic jewellery pieces during these few days.
One can feel the joy, excitement and spirit of the festivities way before the commencement of the actual festival. These eleven days are the happiest, most joyous days of the year. Men, women, old and young, all come together for the festive celebrations and enjoy themselves by dressing up, going out for pandal hopping, eating the most delicious food, and, most importantly, spending time with their loved ones.
For Bengali women, no look is complete without some traditional Bengali jewellery. Gold jewellery is the most treasured and precious metal that has stood the test of time. So be it the chic new designs to traditionally handcrafted jewellery, they are paired with beautiful sarees and floor gazing anarkalis to bring out the inner goddess in every woman
Maha Shashthi: On this day, Maa Durga comes down to earth. Maha Shashthi is the day Maa Durga is welcomed home by sacred rituals called Akal Bodhan, Amantran and Adhivas. Maa becomes a part of our lives through a series of mesmerising events complete with fragrant Puja rituals and drum beats for the next few days. This day is associated with homecoming and reminds every Bengali of their roots. Along with her, the Bengalis come back home during these few days to be with their loved ones. A time of nostalgia, get together and laughter.
On the eve of Maha Shasthi, Maa Durga, her children, and the asura come into full view. Their faces are unveiled. Dressed in intricately designed silk and ornaments, complete with their astras, the festivities begin. Lights brighten up every nook and corner, and the entire community joins in, livening up the proceedings attired in traditional clothes and heritage Bengali jewellery.
Since this is the first day of the festive season, the unspoken dress code is semi-casual, indo-western, salwar kurta or cotton sarees. Therefore, elegant salwar kameez or a saree with minimal makeup, a simple eyeshadow, an inner corner highlight, or a subdued shimmer and a bold lip completes the look for the day.
During the day, opt for bright and lighter shades and complement the outfit with a simple necklace such as a gold chain with a statement pendant. Go for the classic, plain gold bangles, along with light gold jhumko or jhumkas.
During the evening, wear a jamdani or a rich silk saree. Pair it with Kundan earrings or an heirloom gold necklace for that traditional and heritage look.
Maha Saptamiis the day when the celebrations begin. Maa Durga comes to life. A solemn ritual opens up her eyes, and she looks at us for the first time. The soul of Maa Durga is invoked in the banana plant decorated as the bride. The ritual is called 'Pran Prathishta.'
The perfect look for Maha Saptami would be a jacquard weave saree in a hydrangea blue, pink or yellow. A classy and minimalistic salwar suit or a Kurti with Sharara complement it with statement jewellery pieces. Go for a subtle nude or coral lip during the day.
For the jewellery, remember, the simplest makes the strongest statement. So, wear a pair of diamond earrings or handcrafted earrings with meenakari and multiple angti (rings) to complete your day look.
Go glam by wearing smoky eyes and bold lips in the evenings. Earthy colours paired with gold Sakha, Pola and Noa and traditional Bengali Sita Haar complete the evening look. Opt for gold or silver bangles embellished with precious stones like rubies, emeralds and diamonds that go with a lehenga or a sharara.
Minimalistic platinum and white gold jewellery signify contemporary fashion and go perfectly with fusion ensembles and classy sartorial choices.
Maha Ashtami: On Maha Ashtami, wear the most elegant sarees along with heirloom jewellery. Believed to be the day when Maa Durga had killed Mahishasura, the focus is on offering prayers known as Anjali and Shondhi puja ( the juncture of Ashtami and Nabami).
On Maha Ashtami morning, for the makeup, we suggest wearing bold, eye-catching lipstick, in the shade of red and maroon, with dark eye makeup. But, of course, one can adjust the colour according to the day and night festivities.
Our personal choice for this day would be to hone a classic Bengali chur. Since gold bangles symbolise fortune and victory, select one or many. Alternatively, wear a bracelet or a Bala to draw attention to the beautiful hands. Finally, the look is complete with a chik or choker and Jhumkas.
Wear a handcrafted Kaan Pasha or ear cuffs with white, off-white or pastels for understated elegance and enduring beauty. Keep the makeup soft. The look is a perfect blend of traditional and contemporary jewellery for modern women.
Sandhi Pujais one of the most important rituals of Durga puja. The last 24 minutes of the Ashtami tithi and the first 24 minutes of the Navami tithi is the Sandhi khon, the most auspicious juncture between Ashtami and Navami. Sandhi Puja evokes strong emotions in devotees as at this hour, Chando and Munda, the evil asuras, succumbed before Ma, and she triumphed over evil once again.
We worship the Chamunda form of Maa Durga during Sandhi Puja with loud beats of dhak. It is the triumph of good over evil and the ultimate victory of the female force. Goddess Durga appears as a beautiful Golden woman clad in a yellow saree in front of Mahishasura to eradicate all traces of injustice and humiliation.
One can wear a yellow or a bright coloured saree, gold jhumkas and a multi-layered necklace or Saat Noli haar to complete the look. Polki necklaces or collar necklaces are perfect for this occasion. For the makeup, go for bold lips, shimmery eyeshadow and coral blush to highlight the cheekbones.
Maha Navami:The Maha Arti is performed on Maha Navami. The fire in the arti symbolises the fire in goddess Durga that burns higher and brighter to eliminate evil. People also break their fasts on this day.
For Navami, we suggest going traditional and elegant. Celebrate the heritage handloom of Bengal by complimenting it with traditional Bengali jewellery.
Go all out on Navami with a bold eye look, a pop of colour or shimmer and a lipstick shade that matches the eyeshadow. For jewellery, we suggest a Kalavi Sankalp gold bangle. Their understated elegance, rich, intricate designs compliment the last day's mood before Ma Durga returns to Kailash.
Pair this with a necklace with a pendant that matches the bangles and elegant chandelier earrings. This combination makes the look opulent but not "over the top". Finally, go for comfortable fashion, solid silhouettes and straight cuts, accompanied by an antique necklace and an intricately designed nose ring in the evening.
Vijaya Dashami:On this day, Maa Durga embarks on her journey to reunite with her husband, Lord Shiva. After a symbolic immersion of the 'ghat', a pot filled with water and sacred leaves, married women perform the 'Sindoor Khela' to denote the unification of goddess Durga with her husband, Lord Shiva. Then, with tears in their eyes, they bid the goddess goodbye by applying sindoor on her forehead, feeding her sweets and touching her feet. After that, the women celebrate their marital bliss wherein they smear each other's faces with vermillion.
Drape an iconic Laal Padh Shada Saree, famously known as the Bengali White saree with a red border to celebrate this last day of festivity. We suggest wearing a gold choker, a few bangles, Sakha, Pola and Noa and outshine everyone else.
Wear an elegant Makarmukhi Bala that glimmers on the wrist with Chandra Bala earrings, one of the most iconic Bengali jewellery. One can also add a gold Ratnachur (a bracelet with rings attached for every finger) for an elegant look. It mainly comes in peacock or lotus designs.
Conclusion
It is a common belief that the true beauty of Bengali women comes out during times like Durga Puja. Ma signifies peace, happiness, strength and victory. The Sankalp collection resonates with the spirit of Durga Puja. It is a tribute to Bengal's vibrant festivals, varied culture and people, with each of the pieces designed keeping in mind the preferences of the regional shoppers.
From finely crafted antique jewellery to ethnic Kundan jewellery sets, each piece has been crafted with sheer magnificence, carrying intricate details resembling the cultural heritage of 'Bengal'. Sankalp is a traditional jewellery line by Kalyan jewellers with timeless designs that embrace traditions with a hint of contemporariness. This line of traditional jewellery serves as both beautiful adornments and a symbol of prosperity and hope.
The Sankalp collection by Kalyan jewellers truly captures the essence of Bengali culture, especially during Durga puja. The intricate craftsmanship, delicate designs and flawless finesse are what makes the Sankalp collection stand out from the rest.
This collection effortlessly combines modern and traditional from the traditional gold chur and Sita haar to lightweight jhumkas and Kaan Pashas. So while buying some classic jewellery pieces that symbolise the rich Bengali culture and heritage, check the Sankalp collection by Kalyan Jewellers.