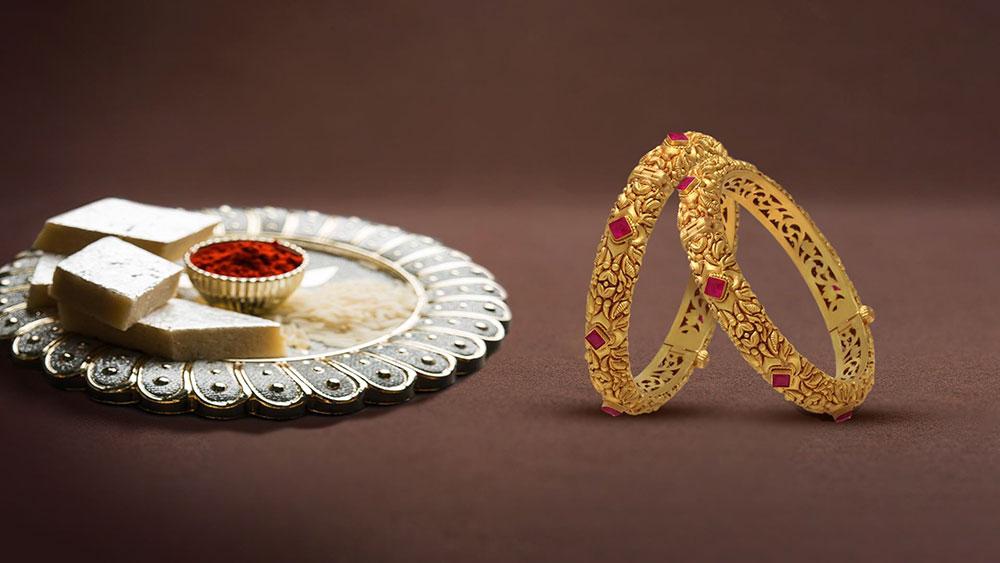 Bhai dooj - The day to acknowledge eternal love for your sibling
Nothing adds a touch of charm to the festive season like embracing festive traditions like Bhai Dooj. The associations with this occasion are endless. A brother and a sister have a shared past filled with memories like childhood fights, complaints, and the intervention of elders, sharing secrets, and a complete understanding between two siblings. Certain relationships like that of a brother and sister go through several stages, but the bond remains strong forever. Indian traditions celebrate this bond with special days like Bhai Dooj and Raksha Bandhan. On this day, everything around one is beautified. Garland-adorned doorways, pooja thali with tilak, or traditional sweet delicacies and fragrances fill up the house, and Indian women and men dress up in their traditional attires and stunning jewellery pieces.
The auspicious occasion of Bhai Dooj takes place following the two-day Diwali celebration. Bhai Dooj is a pivotal occasion for sisters to pray to God for their cherished brother's longevity, well-being, and wealth. The sisters commemorate this celebration by putting a tilak on their brother's forehead, preceded by an aarti of him, with a decorated thali holding delicacies. The thali contains an assortment of roli, rice, coconut and durba., depending on the custom followed in different parts of India. By putting the tilak, the sister also safeguards the brother from negative influences. As a gesture of love and care, brothers lavish their sisters with presents. The sisters reciprocate by feeding him a lavish meal and showering him with love and gifts.
Jewellery is the best gift for your sibling for this occasion as it never loses its value and sheen. The gift here becomes a symbolical representation of the bond. It ages beautifully as the brother and sister grow older. From gold to diamond rings, handcrafted heritage necklaces to contemporary pieces. Jewellery is an excellent present for your sibling.
Like all Indian festivals, the Bhai Dooj celebration differs in various parts of India. However, the core and the rituals are offshoots of the same beliefs and traditions. Bhai Dooj has other names, including Bhai Phota in West Bengal, Bhau Beej in Maharasthra, Bhai Tika in Nepal, and Yama Dwitiya in some parts of India.
There are mythical legends that illustrate the genesis of this auspicious day. Lord Krishna defeated the demon Narkasur. After winning the long battle, Lord Krishna visited his sister Subhadra, who was overjoyed. Subhadra put the ceremonial "tilak" on her brother's forehead and greeted him warmly. She welcomed Lord Krishna with flowers and sweets, birthing the celebration of "Bhai Dooj".
Another myth centres on Yama, the Deity of Death, and Yamuna, his sister. The legend says that Yama saw his beloved Yamuna on Dwitheya the second day following the new moon. She welcomed Yama with aarti, tilak and sweets. Yama, pleased with his sister, granted a blessing that if a brother and sister take a dip in the Yamuna River on this day, they will receive salvation.
Known as "Bhai Phota" in West Bengal, the sister fasts for the entire day and awaits her brother's arrival. She then puts a special tilak thrice, with ghee, kajal and sandalwood, on his forehead and performs aarti. Following the aarti, the sister prays for her brother and they both exchange presents. The celebration concludes with a lavish feast of traditional sweets and dishes.
The festival of Bhai Dooj is celebrated as "Bhau Beej" in Maharashtra. According to custom, the brother sits inside a square drawn by his sister.
The occasion is recognised as "Yama Dwitiya" in some parts of India. The legend is that Lord Yama will not harm anyone who eats the food prepared by their sister on the day of Yama Dwitiya. The festival of Bhai Dooj is called Godhan Puja in Bihar.
Gifts have always been essential for establishing a loving relationship. While most ties are unique in their way, no one can dispute that presents have their way of deepening a bond.
Pieces of jewellery from Kalyan Jewellers that your sister is sure to treasure
The diamond solitaire pieces are minimalistic, elegant and will never go out of style. Diamond jhumkas are expressions of sublime beauty. If she likes her jewellery, simple yet elegant, we suggest you go for a platinum chain with an intricately designed pendant or a diamond stud set in white gold. They are a perfect fit for every occasion and makes the ideal gift for this celebration. A delicate yet statement-worthy diamond necklace from the everyday diamond section or office collection will beautifully accentuate her collar bones and personality. Help her shine every day, even during work hours or while meeting her friends for brunch.
If your sister adores her bangles, you can choose from an array of modern to meticulously handcrafted traditional bangles. A dainty diamond bracelet accentuated with a vivid blue gemstone or ruby or a bunch of thin stackable gold bracelets that complement high-street fashion. Chunky gold pieces can look Avant-Garde. Look for bold and experimental designs for the modern woman. She is uninhibited, fearless and likes to explore the unknown. Ornate motifs, silver base, rose gold will compliment her jewellery inventory wonderfully.
If she appreciates traditional jewellery, pick a unique piece from the Kalyan Jewellers handcrafted collection. The beautifully crafted earrings, rings and necklaces will undoubtedly fill her with joy.
Jewellery that your brother will cherish
Our assortment of unique, thoughtfully created gifts from the men's collection by Kalyan Jewellers includes luxurious accessories and masterfully crafted jewellery. Wearing jewellery is in vogue. A contemporary man likes sophistication, minimalism and opulence. The collection has a wide variety of exquisite diamond jewels to complement any aesthetic. For diamond jewellery gifts for men, a gold ring with a unique sleek design makes an ideal gift.
Classic gold chains are evergreen and can best be suited for any occasion. The iconic braided, double-toned bracelets are guaranteed to make a statement and are fancy on the eyes. A black onyx ring with a decorative motif is a combination of gold and stunning black onyx. A striking and unique take on the classic design an essential for any man's closet. A 24 K gold coin can be the purest form of gold for the brother, who has an eye for the best. Kurta buttons are synonymous with elegant menswear. Set in gold with diamonds, he can perfect his kurta look by giving a hint of subtle luxury. Or perhaps these gorgeous Diamond Cufflinks will accentuate one of his classy suits or tuxedos.
The occasion of Bhai Dooj is welcomed throughout our country with open arms and immense joy. Of course, the names and customs surrounding this auspicious celebration differs with the region. But the essence of Bhai Dooj, which signifies the everlasting bond shared between a brother and sister, in addition to delectable sweets and gorgeous gifts, remains universal.
While being on the receiving end feels wonderful, there is a sense of self-gratification when you are the one giving the gift. One can never quantify this emotion. The pleasure you experience from unwrapping a present is brief while being the one on the gifting end brings a heightened emotion of self-gratification, which remains eternal. The act of gifting represents appreciation and warmth, enough to convey your feelings.
The connection shared between brothers and sisters is one of a kind, from supporting each other and covering up for your siblings to being partners in crime. Therefore, a gift for your sibling should be just as pristine as the bond you both share.