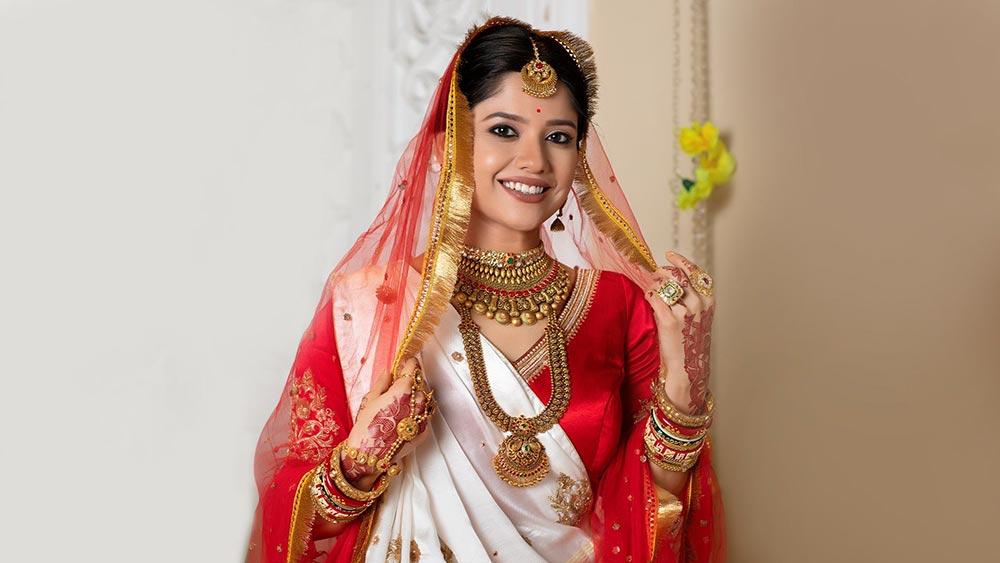 8 Must Have Wedding Jewellery for the Gujurati Bride
A Gujarati wedding is an extravagant affair. The 3-4 days of pre and post-wedding ceremonies are full of rich culture, hospitality, fun, and dance. In her red and cream Panetar saree and
exquisite gold jewellery, the Gujarati bride looks nothing less than a goddess.
The traditional Gujarati bridal jewellery is adorned with gemstones, Kundan work, and floral motifs. Here are some of the must-have exquisite pieces a Gujarati bride should have in her jewellery box.
Maang Tikka
Maang Tikka is one of the essential jewellery pieces in an Indian bride's ensemble. This exquisite piece of jewellery is usually studded with pearls, rubies, diamonds, and semi-precious gemstones for the perfect bridal look.
Kundan Butti
Kundan Butti with its class and elegance, has swept its way into the heart of every Gujarati bride. This traditional bell-shaped jhumka studded with gemstones, rubies, pearls, and uncut diamonds is sheer grace.
Diamond Necklace
Diamonds are a girl's best friend, and they say every diamond in the world has passed through the hands of a polisher in Gujarat. A Gujarati bride wears heavy diamond sets for the sangeet or the wedding reception.
Chandan Haar
Chandan haar is the pure gold necklace perceived as a symbol of prosperity. Clusters of sparkling diamonds and exquisite Kundan work on four strands of gold chain attached together is an instant statement maker.
Baajubandh
A Gujarati bride will have an armband/bajubandh worn on the arm. This gold piece usually has an idol of Mahalakshmi in it with sapphire or ruby embedded.
Kundan Bangdi
A pair of gold bangles that boasts intricate patterns. The beautiful bangle set encrusted with Kundan work adorns the bride's wrists effortlessly.
Hathphool
This beautiful and elegant accessory is traditional yet modern. The hathphool typically consists of a wrist bracelet that is attached to a circular ornament resting on the back of the palm by
chains or beaded strands.
Kandora
The waistband made of gold that hangs around the waist usually has an idol of Goddess Lakshmi on it. It looks graceful and sleek and goes well with the Gujarati bridal attire.
The options are limitless when it comes to Gujarati bridal jewellery. Style it according to your heart's wish on your special day.