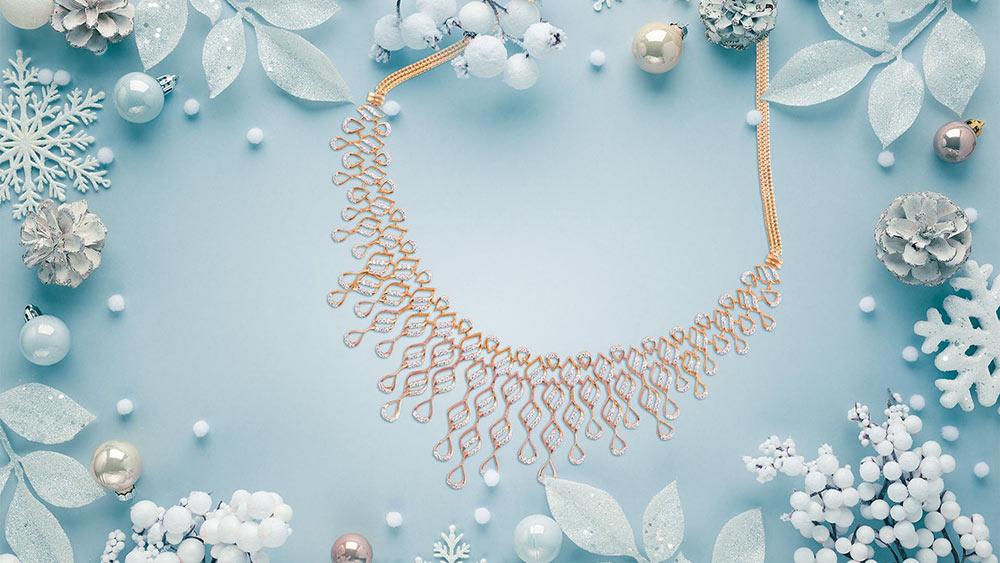 The art of perfecting your look for a winter wedding Dress up For a Winter Wedding with these Inspiring Jewellery Pieces
The winter season means the best time for weddings is approaching. From a high-fashion perspective, winters allow you to showcase your best traditional jewellery and clothes. On the other hand, summer weddings are perfect for minimalistic, bling, and understated looks. Whether it is your wedding or a wedding in the family, winters allow you to layer your jewellery, flaunt your pashminas and heavy lehengas without sweating it out literally.
Winter weddings are magical and elegantly diverse. You can have an indoor wedding, an outdoor wedding, a destination wedding, or even a vintage wedding.
Indoor weddings are comfortable and up-close-personal. They also allow you to have more control over your decorations like the backdrop, chandeliers, or flower arrangements. On the other hand, outdoor weddings come with their naturally stunning backdrop and openness that claustrophobe embrace.
Destination weddings are always in vogue. Whether it's the bracing sea-breeze or exciting mountain terrain, nature takes over the mundane. "Every walk with nature one receives is far more than one sees". The jewellery and resultant look become a function of the space, decor, theme, mood and merriment.
Now we come to the best and most exciting part of any wedding, the jewellery. Every bride looks forward to the moment when she buys jewellery with her family, along with her soon-to-be family. First, she spends hours trying on pieces that complement her features. Then, it takes months of preparations to find out what best adorns her.
But a wedding is not just for the bride, even if it is her special day. If your close friend or relative is getting married, you might not want to recycle your jewellery. Therefore, it is the perfect time to look for a new set. Some of our top picks are here if you need help making up your mind.
Handcrafted Jewellery
Wedding is not a time to look at the price tag. So naturally, nothing should deter you from looking your best on the most magical day in your life.
Handcrafted jewellery is exclusive as each piece carries its own story. The piece is an outcome of a craftsman's cultural legacy, the art form, individuality, and learning. Every piece requires time and meticulous attention to detail to be perfect. Ultimately, you know that no one else will ever wear something that looks exactly like your piece of jewellery. With handcrafted jewellery, the pieces' uniqueness and the beauty of the human touch make them stylish, grand, and even quirky.
Look 1
The first look that we are talking about is perfect for an indoor winter wedding. You would probably want to go with the traditional colours, red and gold. These rich colours are auspicious for weddings. Red is used in weddings to symbolise purity and sensuality. At the same time, the gold shade represents the success and triumphs of your new life. For these reasons, selecting red and gold is a classic and traditional choice for your wedding.
Wear handcrafted jewellery in matte gold. Embellishments may get lost against the silhouette. However, a set of jhumkas, an intricately designed choker, and a nath can make you look like a bride from yesteryears.
The makeup should be minimalistic. Focus on a clean base, a hint of peach or pink on the cheeks, bright eyes with warm shades and red lips.
We suggest investing in high stilettos to make you look stately and elegant for indoor settings and where you prefer to receive guests sitting down.
Kundan Meena jewellery is one of the most celebrated options for bridal jewellery. It involves embedding precious stones like uncut diamonds, pearls, emeralds, and rubies into gold. The absence of adhesives makes it seamless. Ultimately you buy a piece that is intricately carved and colourful yet sophisticated and traditional. Meenakari jewel sets in shades of green, blue, and pastel with rich undertones can complement any bridal look.
Look 2
The second look is perfect for an outdoor wedding, combining modern fashion with traditional flare. As mentioned above, outdoor weddings come with a natural backdrop, and just about any open space can be transformed into a tropical paradise for your wedding. Since the decorations and setting match that of paradise, your outfit must be just as opulent.
You can wear a rich lehenga embellished with crystals and gemstones. Even though the weather may be cold and you feel the chill around you, look for a classy yet simple blouse. The saree or the lehenga should be the highlight with rich work.
Experiment with a richly embroidered lehenga in a muted shade when in an outdoor setting.
Wear your hair long and flowing. As a result, the breeze makes the natural movement of your hair fluid. To match this, keep your makeup glittery but pale. Focus on the eyes. Let the meenakari set do all the talking.
We pick a set-in gold, with red and mint green embellishments to complement a shimmery lehenga in a muted shade.
Peacock green, powder blue and white meenakari sets are our other picks. You can also colour coordinate your wedding dress with the colour of your jewellery. Keep your hands free with the two-statement Jadau bangles. In the Jadau method of making jewellery, precious stones like diamonds, emeralds and sapphires are engraved into gold. Flaunt your nails, do them up and match the overall colour scheme.
Polki Kundan Jewellery is embezzled with uncut diamonds and is integral to the Indian wedding trousseau. The setting is called Kundan in which polki diamonds are engraved in gold casing. Polki Kundan jewellery is the epitome of luxury. Uncut diamonds are set directly into gold to form these beautiful, rich sets of bangles and necklaces, earrings, rings, and Maang Tikas. In addition, you can go for Kundan or Jadau pieces using rubies, emeralds, and sapphires. Furthermore, some Kundan jewellery pieces use rose-cut diamonds, double-cut diamonds and pearls to create all-white pieces that are extremely elegant and create a look of bridal serenity. All handmade Kundan pieces take around 1-2 months to get ready and require artistic precision to the utmost.
If the bride-to-be is opting for muted shades, she must own a set of Navratna jewellery consisting of a choker, bracelets and jhumkas. The nine stones represent unique celestial entities and are considered auspicious. However, when it comes to their versatility, they are unmatched and can complement all bridal styles and fabric options.
Look 3
The third look is for an actual white winter wedding. If you have opted for a destination wedding and experience snow or mist all around, try and recreate this pristine look. If you are having a white winter wedding, chances are you want to be more on the western or Indo-western fusion side of wedding attire. The best kind of jewellery that offsets this look is finished diamond jewellery with emerald. For a seaside wedding, go for a combination of diamonds and pearls or blue sapphires. In that way, you reflect the predominant colours of the naturally beautiful backdrop.
If you are wearing a strappy blouse, you may want your necklace to be the focal point of your look. Go for a choker or a necklace with 3 to 4 layers. If your focus is a statement earring, you may opt for a sleek necklace.
Mix and match with heirloom jewellery that adds a powerful sense of attachment and belonging to every occasion. The trousseau becomes the embodiment of the women in your family- the era, location, and individualistic style and preference. Thus, you carry a piece of your roots and ancestors with you on the most special day of your life. Not to mention, the vintage beauty of heirloom jewellery is unmatched.
Lightweight jewellery is quiet and an uncommon choice for a wedding. But there is no harm in being one of the first people to start a trend. The most significant advantage of lightweight jewellery is that you can wear each piece regularly after buying them. So, you carry a piece of your special day with you wherever you go, even after the day is over. Furthermore, one can style lightweight jewellery in an elegant and eclectic manner. The key is to layer multiple necklaces, bangles, and bracelets. This look is also perfect for the cocktail party of a wedding, especially since it comes in many styles and can be set on rose gold, white gold, and platinum.
With this, we come to an end to the most inspiring looks you can carry for a winter wedding. Whichever style you choose, remember that the most precious piece of jewellery for your special occasion is the smile on your face and the confidence with which you carry yourselves.