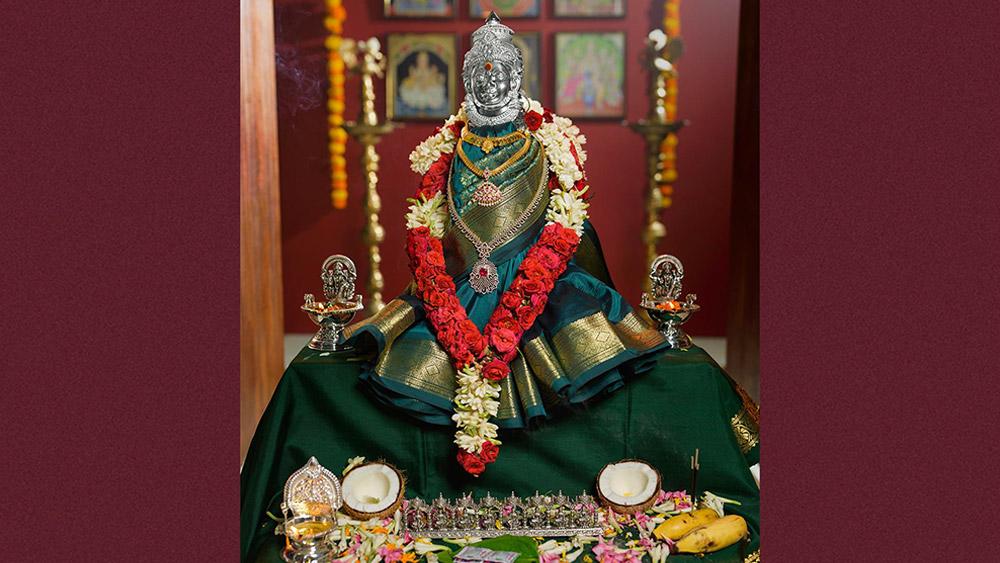 Varalakshmi Vratham: Astalakshmi jewellery, Lakshmi motifs
Varalakshmi Vratham is one of the most important festivals celebrated by Hindu women, especially in south India. It is believed that worshipping Varalakshmi or Goddess Lakshmi on this auspicious day is equivalent to worshipping the Ashtalakshmis or the eight forms of Goddess Lakshmi - the Goddess of wealth, Earth, wisdom, love, fame, peace, contentment, and strength.
According to Hindu tradition, 'vara' means boon, and goddess Lakshmi is the giver of boons. Married women perform the Varalakshmi pooja to seek blessings from Goddess Lakshmi for prosperity, the well-being of the family members, and their husband's longevity. Wealth and prosperity are synonymous with gold and silver, and people offer both gold and silver to Goddess Lakshmi on this auspicious day as a tribute. Gold coins are kept on the Kalasam as an offering to the Goddess during the Varalakshmi pooja.
Legend
Legend says that there once lived a woman named Charumathi in the Magadha kingdom. Goddess Mahalakshmi, impressed by her devotion, appeared in her dream and asked her to worship Varalakshmi and seek to fulfil her wishes. The prayer or worship was prescribed to be offered on the night of the full moon on the Friday of Shravana month (July - August). According to legends, she traditionally offered the pooja to the Goddess Varalakshmi with many other women and led a very content life.
Ritual
On the day of the Varalakshmi pooja, women observe fast and perform pooja to appease Goddess Lakshmi. A metal pot (usually made of silver) filled with rice or water and coins, a lime, five types of leaves, betel leaves, and nuts are used as a Kalasam. A coconut smeared with turmeric paste is placed on top of it with mango leaves around it. An image of the face of the Goddess is affixed to this. The Kalasam is worshipped as the Goddess herself. The Goddess is adorned with a saree, flowers and gold jewellery. Women worship Goddess Lakshmi with utmost devotion by offering fruits, sweets, and other exquisite offerings on this auspicious day.
Jewellery with Astalakshmi motifs
As with any Indian celebration, jewellery plays a significant role in the Varalakshmi pooja. On this day, women dress in traditional attires, deck their hair with jasmine flowers, and adorn themselves with exquisite gold and diamond jewellery. Gold jewellery with motifs of Astalakshmi adorned with precious jewels is very popular.
The Astalakshmi Vaddanam, or a gold belt with motifs of the eight Lakshmis, is a very popular traditional jewellery. The Ashtalakshmi-inspired Vaddanam adorned with rubies, diamonds, emeralds and pearls is also a popular choice among Indian brides during weddings.
Women also love to use hair jewellery in gold known as 'Jada billai' with intricate designs of the Lakshmi motif. South Indian brides also wear a piece of long hair jewellery known as 'Jadai Nagam' with the same motifs during their wedding.
The Astalakshmi gold haram or a long gold necklace with a Lakshmi pendant is traditional temple jewellery popular among women. Short necklaces with motifs of the eight Lakshmis are also much sought after. Matching earrings and bangles with Lakshmi motifs complete the look.
Varalakshmi Vratam and pooja is a festival where women come together as a tradition to seek blessings and show gratitude to the Goddess Lakshmi. This year, prepare to bring home the Goddess of prosperity and wealth. Explore our Varalakshmi collection - a true tribute to the Goddess.