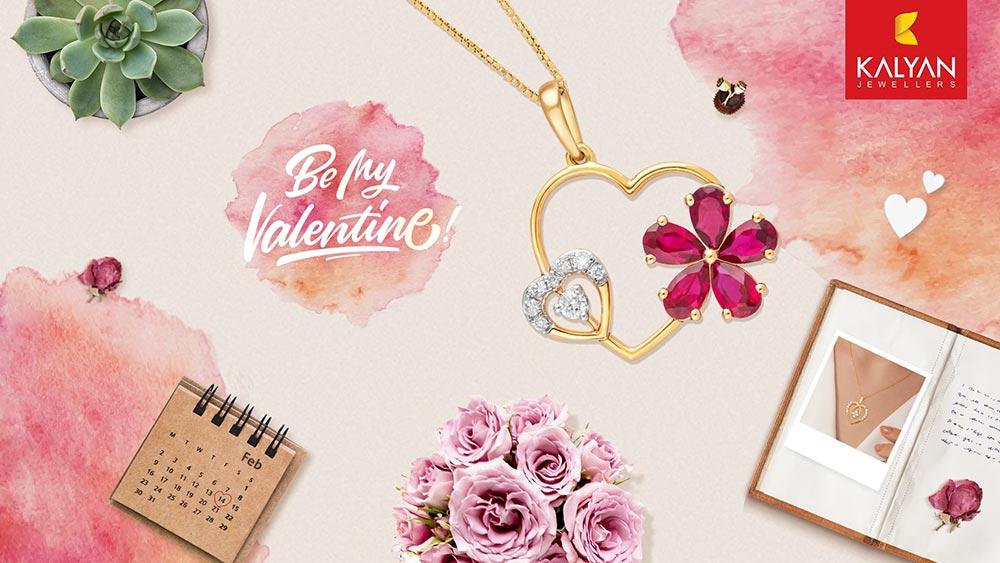 Valentine's Day Edition: Love is in the air!
There is a feeling of excitement and love as we approach Valentine's Day every year. Days like these are not just a reflection from our regular busy lives, but they also allow us to express what we sometimes take for granted - our passion and commitment to the one we love. Furthermore, this is the time we can gift our beloved with something special that they will remember forever.
Making your loved one feel special with a beautiful jewellery piece, a bouquet, and an evening spent together will not only make the day beautiful, but it will linger as a beautiful memory for years to come.
How to Choose Jewellery for Valentine's Day
When choosing jewellery for Valentine's Day, you can keep the three L's in mind.
Love: Gift a personalized and customized piece of jewellery.
Lustre: On this special day, gift your beloved with bling and shine.
Lasting: Let this day not end. Remember this day forever with timeless jewellery.
Gifts for Him: Men's Jewellery for Valentine's Day
Watches:
Men like fast cars, perfumes, watches, and clothing perfectly tailored for them. Indulge him with a hamper with all his favorite things and make him feel special. Although we feel every man should own one high-end watch to compliment his wardrobe, a connoisseur likes a well-rounded collection. As red is the colour of Valentine's Day, gifting him a diamond and ruby studded watch is a great option.
Bracelets:
Are you looking for a romantic as well as a macho gift? Then bracelets are what you should be looking at! For the metrosexual man, a personalized name engraved bracelet would be a perfect gift. It will not only make the gift a notch higher, but a basic men's name engraved bracelet would look great with jeans, kurtas, and even formal attire.
Consider his work profile or the color of his eyes while choosing the metal. Depending on it, you can opt for silver or gold bracelets that would complement his profession and persona.
Stud Earrings:
If your partner has piercings and enjoys wearing studs, why not give him some bejeweled stud earrings? Gift him a pair of red topaz earrings, it would complement his casual as well as formal dressing style.
Pendants:
Have you ever thought of introducing your partner to wearing a chain with a pendant? A silver or platinum eternal knot charm pendant is another great gifting option. It not only adds to his style quotient, but it would also represents your everlasting love for one another.
Ring:
Rings are always a top gifting option for both genders alike. Rings are a significant present if you're in it for the long haul. You may convey your deep love and devotion to him with a stunning ring.
You can go for either sleek metal bands, or gift him an ornate gold or platinum ring. Do consider his style while picking between gold and platinum.
Cufflinks:
This Valentine's Day, why not think out of the box and bring back the cuff links? A Garnet or Ruby studded pair of cufflinks would be the perfect Valentine's Day gift. He is sure to love the added glamour it would give his everyday formal look.
Tie Pins:
Tie pins are another innovative gifting option. One of the most meaningful things that you may give him is a tie pin with a hidden message inscribed into it. Choose a phrase that means a lot to both of you and engrave it on the inner arm of the tie pin. It will remain hidden from his co-workers, but he is aware that he is carrying a token of your love all day!
You may make it even more special by selecting a tie pin with a tiny red stone at the end. Nothing says "Valentine's Day gift" like a dash of red. Choose a red diamond or carnelian on a tie pin in gold or silver.
Gifts for Her: Women's Jewellery for Valentine's Day
Buy her Roses, chocolates, and wine. Once the evening rolls out, give her a most special gift that would sum up your feelings for her, as it would make her feel very special.
Bracelets:
Bracelets and bangles are a beautiful gifting option for your lady love. You can choose to gift her twin bracelets, which can be simple diamond-studded platinum ones; which denotes not just a gift but creating your special bond of love. You can also gift her a beautiful Diamond studded Flexi Bracelet to make her feel loved and special this Valentine's Day.
Earrings:
Earrings are beautiful pieces of art that can frame or highlight her face. Here are some options to make her day.
Danglers:
Some danglers give a soft look to the face. To create an impression of flowing hearts, you can choose a hook earring with gold hearts linked to one another. If your beloved would like a pop of colour, then gift her a set of diamond encrusted red topaz hearts. A large gold hoop is a fashion statement by itself. The hoop can have embellishments like rubies encrusted on them.
Studs and Tops:
Small diamond and gold earrings in floral designs can never go out of fashion, and this can be a great gift when in doubt. If your Valentine likes her earrings to be dainty and classy, you can choose a pair of Diamond Earrings in heart shape. An ornate and intricately designed floral diamond earring can be just the right accessory to make Valentine's Day a special occasion.
Statement Pieces:
Choose a statement piece if you want to go that extra mile to make her feel very special. A statement piece can be a gold dangler with carved red topaz and diamonds.
Pendants:
To celebrate the joy of Valentine's Day, you can gift your partner a beautiful ruby pendant on a gold chain. You can choose a double love pendant or a embrace pendant to show how much she means to you.
Pendants with charms are always in vogue. Choose a gold pendant that resonates with her spirit animal. You can also go for one with her zodiac sign to make it a joyful day of love and happiness. A classic combination is a diamond and platinum pendant. You can never go wrong with a floral-themed Ruby and Diamond Pendant on Valentine's Day.
Necklaces and Chains:
Necklaces and chains are timeless. Therefore, on Valentine's Day, you can choose to gift your partner that unique piece that can be a part of her treasure trove forever.
Linked Chain:
Chunky jewellery is back in fashion. A thick, linked chain nestling closely on her neck resonates with contemporary style and elegance.
Layered Necklaces:
Layered necklaces are high on the trending list now. To complement the chic girl in her, opt for a simple gold layered necklace. On the other hand, if you want to indulge the colorful side in her, you can also gift her a layered necklace studded with an array of diamonds, red topaz, and ruby.
Rings:
A single ring can speak a thousand words. Utmost care should be given while choosing a ring for your loved one. One of the top choices to express forever love is the Diamond Eternity ring. As it is Valentine's Day, you can personalize it and select a Ruby Eternity Ring. Another beautiful option is the Triple Heart Diamond Set. An open style ring with a diamond heart can also be a special gift to express your love and care. The Heart in Heart ring is also another popular choice, making it a perfect gifting option for all occasions.
This Valentine's Day, remember that a gift is an expression of your feelings, of how much you love and care for that special someone in your life. Therefore, when buying that special gift, look within and embrace your feelings for your partner. It will help you find the perfect piece that complements them.