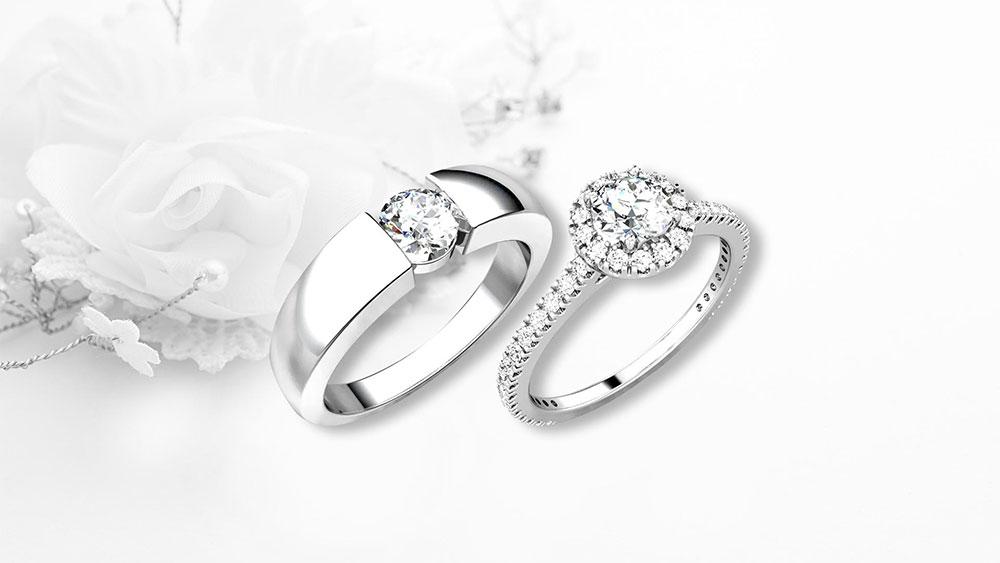 The perfect rings to make the promise of a lifetime!
Promise rings are a statement of commitment! A piece of unique jewellery symbolising that they have indeed found the one.
Long gone are the days where promise rings were all solitaries in yellow gold! In today's day and age of inclusiveness, promise rings are now a customised statement of love, matching the person's style. From yellow to white and rose gold, solitaries to clusters and channel set rings, there is a ring for every aesthetic and every person.
While it is neither necessary nor customary, matching engagement rings often add another layer of unity and shared belonging to this special occasion.
If you're both into extravagant symbols of everlasting love, try dual-tone rings in rose gold and white gold with a fashionable solitaire pronged diamond and etched rings. Don't want etched rings but still prefer the dual-tone look? Don't worry, as solitaires with minimalistic dual-tone rings are guaranteed to stay trendy for an eternity!
Alternatively, if you prefer an additional stroke of glam, channel set diamond rings are your go-to! Opt for channel set diamond rings to add a chic and modern flair to your love bands.
Suppose you're going for a modern yet minimalistic look. In that case, we suggest choosing either a tension set diamond ring or a swirl ring. The tension set ring creates the illusion of a
floating diamond. In contrast, a swirl ring has a bypass shank that makes a mesmerisingly fluid design.
Go for a simple shank and solitaire with a bezel for a low maintenance minimalist design. Choose the finish of gold you prefer to match your aesthetic. The benefit of going light and simple is that you'll be able to layer your promise ring with other rings to create a new age look!
Wish to add a new layer of bling to your bezel ring? Add in a shank with flushed diamonds on top of the crown jewel of a centrepiece!
If you're one to go against the standard tread, try out a square-headed diamond ring. Find matching square-headed diamonds to share a moment of style and stand out from other basic promise rings!
Wish to break the mainstream mould of a solitaire diamond? Go for blingy clusters! Cluster diamonds offer the double benefit of giving off a beautiful shine while being slightly more inexpensive due to the smaller individual diamonds! Due to them being smaller individual diamonds, one gets a lot more unique and modern designs!
What if you're ultra minimalistic, you might not want any diamonds! Well, we've got you covered even then. Grab one of our minimalistic bands in your preferred finish. You're all set for a piece that truly reflects the minimalistic yet grand personality you own!
A promise ring, like a promise, is meant to last! So choose wisely; choose something you and your partner can cherish for a lifetime, just like your love!