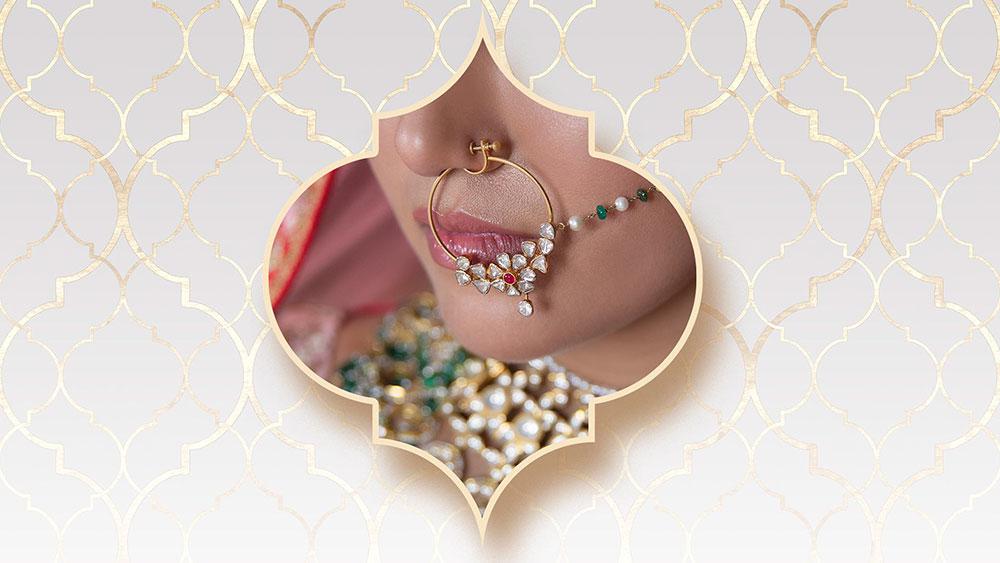 The "Nosy" Affair - Tips to choose the perfect Nose Pin
Classic, traditional and always in style, the Nose Pin has been a favourite of the Indian woman for generations. The affair with the nose pin starts the moment you decide to pierce. From there begins endless searches for that perfect nose pin that sits perfectly on your face. And it is as plain as day to state that one can't own too many nose pins!
To get you started, here are a few tips that will help you pick the ultimate nose pin for your profile.
Studded Nose Pin
A classic and an all-time favourite, the studded nose pin is preferred for its simplicity and versatility. Crafted to suit any attire, from a saree to a pair of jeans, the diamond-studded nose pin stays neutral and shines with any outfit. It also suits all shapes of faces, so if you aren't so sure if the nose pin is for you, the diamond-studded nose pin is your best bet and first choice. If variety is your style, they also come in varied hues of semi-precious stones like tourmalines, peridots, rubies, onyx, aquamarines and garnets. The coloured studded nose pins are most suited for the broader nosed women, as it distracts the eye and gives a sense of illusion.
Floral Nose Pin
Floral nose pins are another favourite among most women. Whether three, four or five petaled designs, the pattern most complements those with more prominent noses. For an everyday and simplistic look, pick a small floral design, and if you are going for a bolder statement, oversized floral nose pins in diamonds or Navratnas are a perfect choice.
Hoop Nose Rings
The hoops are ideal for a chic and classy look. It goes along with traditional and western outfits and comes in various designs and sizes.
Plain gold rings are great for casual wear and if you want to take it up a notch, choose the diamond-studded ones that add a bling to your day.
Whether small or large, the hoops look beautiful on women with long, sharp noses.
L Nose Pin
If you don't want to go all the way and try the hoop rings, the L shaped nose pin or half hoops are your perfect pick. These are trending and very popular and go along with any outfit. It also suits most face shapes and is studded mostly with diamonds.
So have you found your style yet? Whatever style or styles you choose, you can never go wrong with a gold nose pin because the nose pin profile grows on you over time, making it a part of who you are.