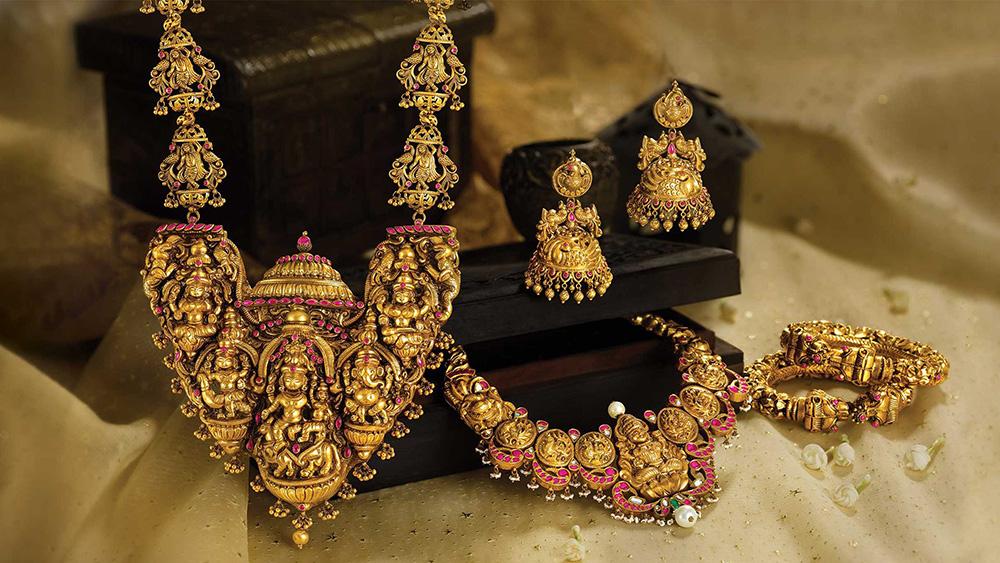 Temple jewellery - The timeless classic
Temple jewellery - one of India's crafted treasures, has adorned the jewellery boxes of the Indian woman for decades. Made of gold and precious stones, traditional and ethnic temple jewellery is handcrafted to perfection, inspired by the historic architecture and paintings of gods and goddesses.
Temple jewellery is said to have originated in the 9th century A.D during the reign of the Chola and Pandya dynasties in south India. Initially adorned only by temple deities and members of the royal families, temple jewellery has become a favourite part of every bride's trousseau over time. It is also adorned during auspicious occasions and festivals as it is believed to bring good luck, fortune, and prosperity.
Traditional temple jewellery is handcrafted in pure gold and studded with precious and semi-precious stones like emeralds, diamonds, pearls, and rubies. The motifs are mostly inspired by Lord Shiva, Ganapathi, Goddess Lakshmi, peacocks, and flowers. Known for its intricate craftsmanship and timeless elegance, brides love to add pieces of temple jewellery to their bridal jewellery.
South Indian brides love to adorn exquisite temple jewellery on their wedding day. The Lakshmi haram is a favourite among brides of all times. It is a long necklace with intricate designs studded with precious stones and gems with motifs of Goddess Lakshmi.
A choker necklace in the antique finish is another favourite of brides in temple jewellery. Studded with precious stones, diamonds, and gems, they usually have motifs of peacocks or flowers.
A beautiful antique finished temple jhumka is almost a staple in the south Indian bride's jewellery box. It exudes elegance and charm to her bridal look. Brides also love to adorn kadas or chunky bangles intricately designed with motifs of gods and goddesses in temple jewellery.
While temple jewellery has always been a part of the South Indian bride's trousseau, it is now gaining popularity among north Indian brides. Traditional designs embedded with Kundan, Polki, and Meenakari work are getting popular among north Indian brides. The defining characteristic of temple jewellery is that each piece is handcrafted to perfection, adding unmatched sophistication to the bridal look.
Temple jewellery will always be a prized possession for years to come with the promise of its craft and artistry. With its popularity only increasing over the decades, temple jewellery has stood the test of time to become a timeless classic.