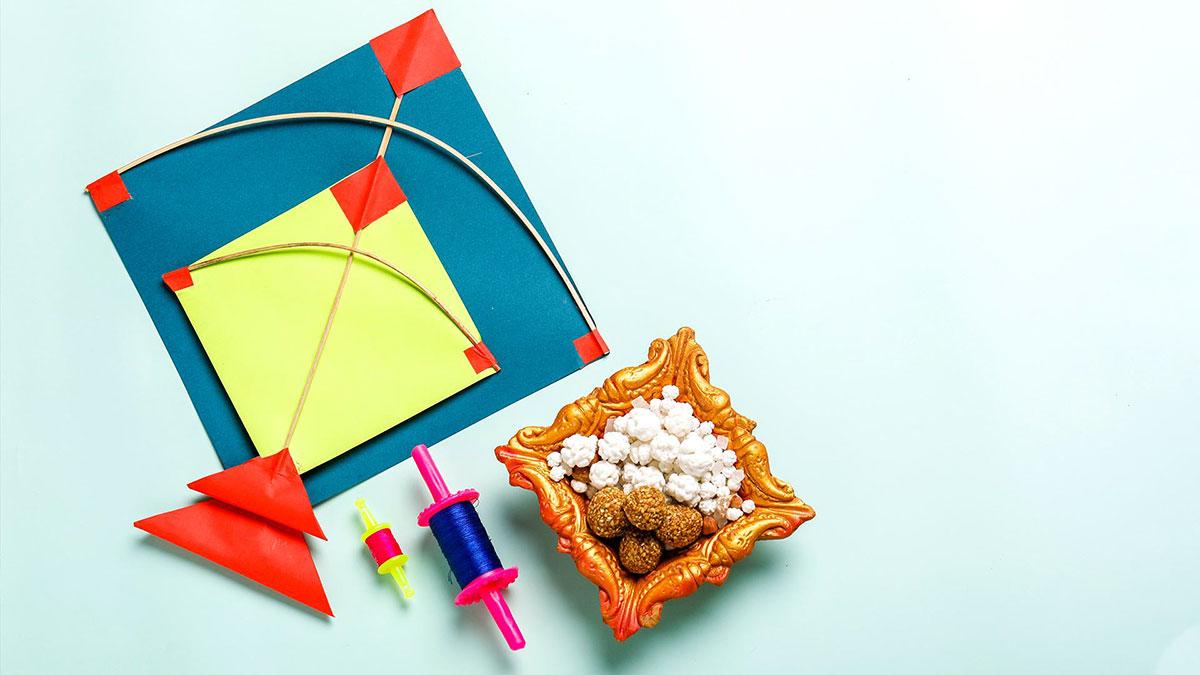 Style this Makar Sankranti with Nature-inspired Jewellery
Celebrated right after New Year, Makar Sankranti is an auspicious day for Hindus. It is celebrated mid-January on the first day of Makara Masa as per the Hindu Calendar. The Sankrant festival is dedicated to the Sun god. The festival symbolizes the end of the winter season and the onset of a new harvest season. It is known as Uttarayan in Gujarat, Pongal in Tamil Nadu, Poush Sôngkrānti in Maharashtra and Bengal, and Bhogali Bihu in Assam. Makar Sankranti is celebrated in different states under different names.
It is the day when the skies are filled with colourful kites in the day and lanterns at night. Associated with the smell of sesame seeds, coconut and jaggery wafting through households, people celebrate this day by gathering with their friends and family, flying kites, setting up bonfires, playing games, and more.
New clothes and jewellery are a big part of the Sankrant celebration. It is a festival that marks the end of winter and the beginning of longer days. The weather is different in different parts of India, and it allows to accecorize with panache. While most people prefer wearing something traditional, you could add a dash of contemporary to your Indian wear. Otherwise considered inauspicious on festive occasions, Makar Sankranti is a festival where some people, especially Maharashtrians, dress in black. However, you can also adorn yourself by pairing bright colours with exquisite jewellery. As they say, it's all in the details; accessories elevate your outfit immediately.
As this festival is about transition and solar movement that connects with mother nature, you can create a look with some elements borrowed from nature. Nature-inspired jewellery has been part of Indian heritage and tradition. Animal and floral motifs, pearls, diamonds, and gemstones are the perfect jewellery ideas to embrace in this season. These ornaments can work as great statement pieces that'll help add magic to your outfit.
If you're wearing something colourful and bright-coloured, you could wear earrings, pendants, or bracelets with leaf motifs. Zardozi work and a leaf-shaped ornament can blend perfectly. The enigmatic designs influenced by the wild and intricate can make you look stunning.
Minimalist yet sassy, animal motifs have always been the evergreen trend. Peacock, elephant and butterfly motifs make exciting designs. Be it danglers or studs; animal motifs are versatile accessories that go well with all outfits. You could pair them up with palazzos, shararas, sarees, and cholis!
Likewise, floral motifs are our eternal favourites. Intricately designed rings and necklaces have ruled the trends, season after season. Cute rose and daisy pendants can never go wrong. If you're planning to ditch traditional wear, then you could wear harem pants or a dress with a floral design ring or pendant.
Festivals are the perfect reason to add bling to your outfits. Diamonds are the perfect creations of nature, simple yet elegant. Be it pastel blue, blush pink or mint green, adding a diamond statement piece can hit the right spot. For example, you could wear a plain pastel silk saree or a pastel Kurti with a printed palazzo, which is a winning choice. Adding a diamond bracelet and a diamond ring will accentuate the outfit. You can also add a diamond necklace for some extra bling!
Pearls are synonymous with sophistication. Pearl necklaces define timelessness. It's like carrying a part of the ocean with you wherever you go. If you like precious yet straightforward jewellery, then pearls are the right pick for you. The best thing about pearls is that you can pair them with all outfits - Indian, Western, Indo-Western, or Boho. In addition, they complement all colours - red, black, royal blue, any pastel shade. A single-strand white pearl necklace, pearl drop earrings, and a pearl pendant are jewellery pieces that not only qualify as everyday favourites but can also help to complete your festive look.
Accessorizing stone jewellery is a great way to add colours to your outfit. Available in several colours like blue, green, red, yellow, or even purple, gemstones are the perfect addition to your collection. They can add glamour and sparkle to any outfit. For example, if you're looking for a fabulous pop of red in your outfit, then ruby chokers or ruby bangles are what you're looking for. Likewise, an emerald studded finger ring or earrings will add glamour to your outfit.
Any discussion on nature and jewellery is incomplete without mentioning gold. It's a misconception that gold jewellery can only be paired with ostentatious outfits. However, it has nailed the minimalist trend too. If you're looking for something simple, you should invest in a gold ring. It can be as simple as a gold band. Simple gold layered necklaces and anklets are some amazing ideas to complete your Makar Sankranti look. Birds have influenced meenakari gold designs with motifs of lovebirds and peacocks. Some designs go beyond flora and fauna too. We marvel at Kalyan jewellers' collection that takes inspiration from wood, leaves, roots, rocks, and stones - a persuasion of beauty and elegance and tradition!!!