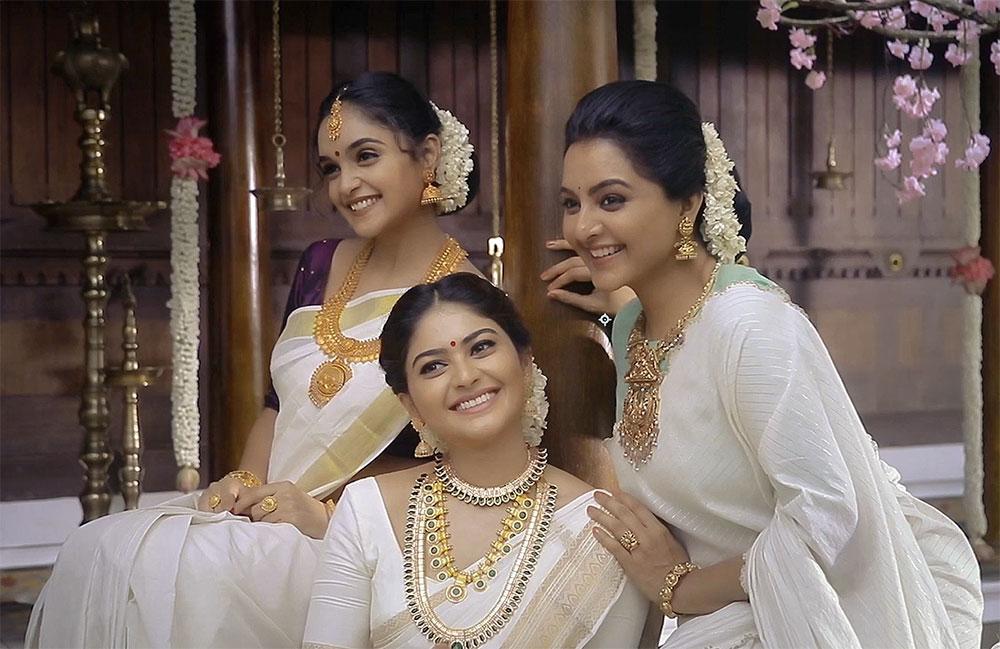 Onam Jewellery Inspiration From Kalyan jewellers
It is the month of Chingam in Kerala and the air is filled with the aroma of festivities of the month. Onam, the most enjoyed and dearest festival of any 'Malayalee' is celebrated with utmost grandeur, love and oneness all around the world. The dire situation of the pandemic may tarnish the grandeur of the festivities but the true spirit and the togetherness spread by Onam is unshakable.
Onam is celebrated as the welcome party of Mahabali, an Asura king who ruled the land in ancient times, according to Hindu mythology. People clean their houses, decorate the front yard with beautiful 'Pookalams' filled with vibrant flowers and brightly lit lamps, make clay cones called 'Onathappan' to be kept at the center of the 'Pookalams' and cook an elaborate meal – 'Sadhya', which can leave anyone in food coma.
The women are dressed in the traditional Kasavu saree woven by the local weavers. The specialty of this saree is that it always comes in a creamy hue with a dazzling gold zari border. It is so popular that it is also nicknamed as the 'Onam Saree'. Any bright colored blouse matches beautifully with the Kasavu saree. When tightly woven jasmine flowers and sparkling Onam jewelry are added to the mix, a show stopping look is inevitable.
Onam is also a celebration of prosperity and growth. Our women have symbolically showcased that by adorning gold jewelry for this auspicious occasion. The line-up of traditional Kerala jewelry including the evergreen Koda Kadukkan, the iconic Kasu malai, the alluring Jasmine bud necklace, the ever so charismatic gooseberry necklace (Nellika Malai), the bold and chunky traditional temple jewelry set have made the Onam look one of its kind.
As time passes, the new generation add their own flavor to the mix, enhancing such styling to greater proportions. Light weight gold jewelry and minimalistic designs are some of the key additions by our current generation. The Kasavu saree being cream and gold colored, gold jewelry with pearls encrusted in them is a Chic combination which gives a trendy monotone outlook. Albeit simple, these looks are iconic in their own way and suit the taste of the current generation.
Grand or subtle, every Onam look is a mix of century old traditions coupled with the flair of the modern day. Kalyan Jewellers provides you a variety of options to choose from and style yourself in your favorite manner.