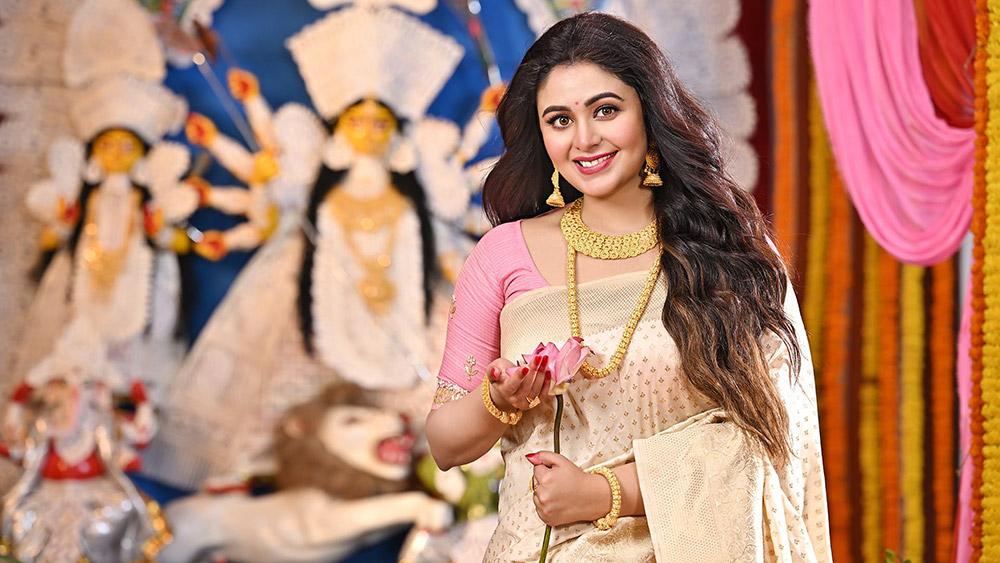 Navrathri Navras
Navratri - a time-honoured tradition that celebrates the Divine feminine. A celebration replete with culture, festivities and spirituality. Navratri means nine nights and is glorified in honour of the many forms of Maa Durga. For women, it is not only a time to reflect upon the inner divinity in each one of us but also to deck up and explore our feminine beauty.
Navratri celebrations aren't complete without the Dandiya and Garbha. This is the ideal opportunity for women to dress up and look their divine best. Here's a special Navratri Navras style guide to looking fab each of the nine nights.
Pratipada - White
Mark the beginning of Navratri by adorning white jewellery in all its glory. Exquisite strands of white pearls that form a long necklace, when paired with a bright-coloured attire, can elevate the grandeur of your look.
If pearls aren't your style, go the bold way with Polki jewellery that will add a sparkle to your night.
Dwitiya - Red
Raise some eyes with Ruby red danglers and choker necklaces on the second day of Navratri celebrations. You can choose to contrast with a white ensemble to bring out the depths of the
coloured jewellery. Don't forget to pair them up with red and gold bangles for that pretty sounding "Khanak" throughout your dance routines.
Tritiya - Blue
Reflect the night's mood with a royal blue jewellery piece. And nothing says blue like the brilliant Blue Sapphire. A dainty sapphire necklace paired with a bold set of danglers in the same stone, and you are sure to steal the night away.
Chaturthi- Yellow
If today is the night you are planning on wearing your bright pink or that deep green outfit, we suggest opting for the Yellow Sapphire gemstone to match the magnificence of your ensemble. Keep it simple with a yellow sapphire pendant and studs with glass bangles to dance away the night.
Panchami- Green
Go green tonight with a gorgeous necklace studded with precious emeralds. Mirror this beauty in long danglers or bold studs of the same stone as you pair it with a pastel attire that offsets your favourite jewellery.
Sashti - Navratna
Blow away the grey skies and bring on the myriad colours of the festivities. Although this day is marked with the colour grey, we suggest brightening it up with all the Navras of the Navrathri. Pick out your favourite jewellery pieces from our Navratna collection - earrings, necklaces, bold rings and bangles and make this night a colourful one.
Saptami - Orange
If you are planning to wear a purple outfit for this night, then we have the perfect jewellery for you. Adorn the Garnet gemstone encrusted jewellery that contrasts your ensemble and shines forth the fire within you.
Ashtami- Peacock Green
Peridot gemstone is your go-to jewellery choice tonight. Choose a big and bold piece to pair with a royal blue saree or kurta. Don't forget to pair it up with bangles in the same colour, with thin gold bangles placed intermittently to shine through.
Navami- Pink
It's the last night of the celebrations. While everyone decides to go all bold and bright, the one way to stand out gleaming and unique is to go the opposite route. Pick pretty Pink Sapphires- a long neckpiece paired with long dangler earrings studded with Pink Sapphires will look absolutely stunning when paired with a subtle pastel hue in shades of white.
So now you're all set to own this Navrathri and yourself. May the divine Maa's blessings shower you with strength, courage and beauty.