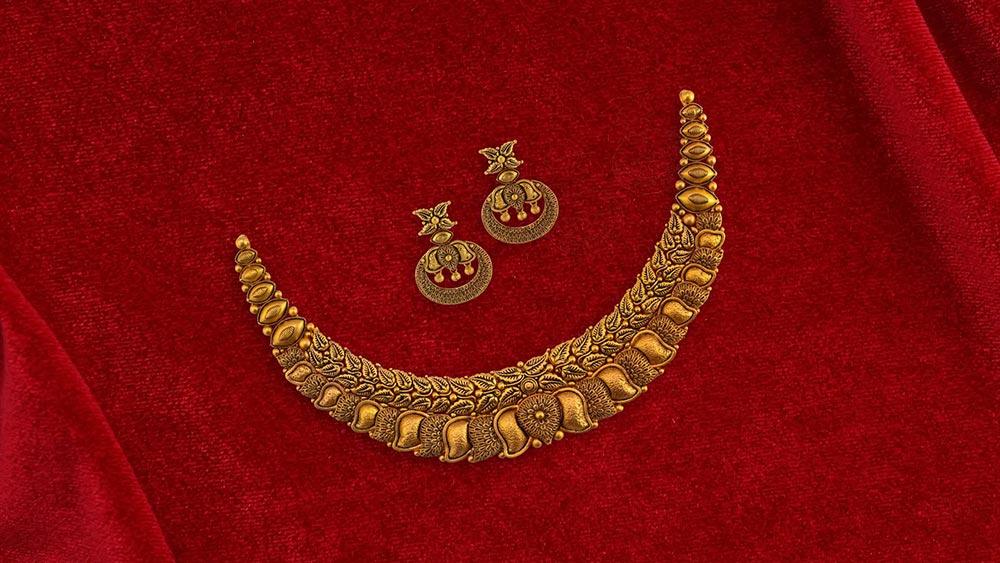 Matte Finish Jewellery - A classic for traditional and modern wardrobes
Matte finish gold jewellery refers to any piece with a muted and brushed look. When done correctly, it creates a stunning and distinctive look that's highly versatile. The finish is achieved either through a chemical process or by using an abrasive material to scratch up the top layer. The brushed look is attainable in all colours of gold and metals like silver and platinum.
It is no wonder that the trend of matte jewellery has slowly but steadily taken the world by storm! The finish goes well on both antique jewellery and modern pieces.
So why is matte jewellery in vogue right now? Here are a few reasons:-
A unique look
Matte jewellery offers a muted look compared to traditional polished jewellery. The satin finish has a warmer and subtler vibe that does not overpower the rest of your outfit.
Available in a variety of designs
Matte finish jewellery is available in various designs, from nature-inspired pieces to modern geometric ones and antique pieces.
Versatility
Matte jewellery offers a high level of versatility. From parties to work, they are perfect for dressing up or down as per the occasion!
What kinds of jewellery look best with a matte finish?
All types of jewellery, from bangles to earrings, pendants to necklaces and more, look stunning in a matte finish! Which piece one finds the most attractive is a matter of personal preference.
How can you style matte finish jewellery?
Matte finish pieces can be styled primarily in two ways:-
The first way of styling is using brushed statement pieces that create a chic and modern look.
The second way of styling is to mix and match matte finish pieces with polished ones. When done right, it creates a uniquely refreshing combination with the perfect amount of glitz.
While matte finish jewellery has picked up steam recently, it's been a style that never fails to captivate. If you want your jewellery to stand out from the traditional polished style, grab a matte finish statement piece today!