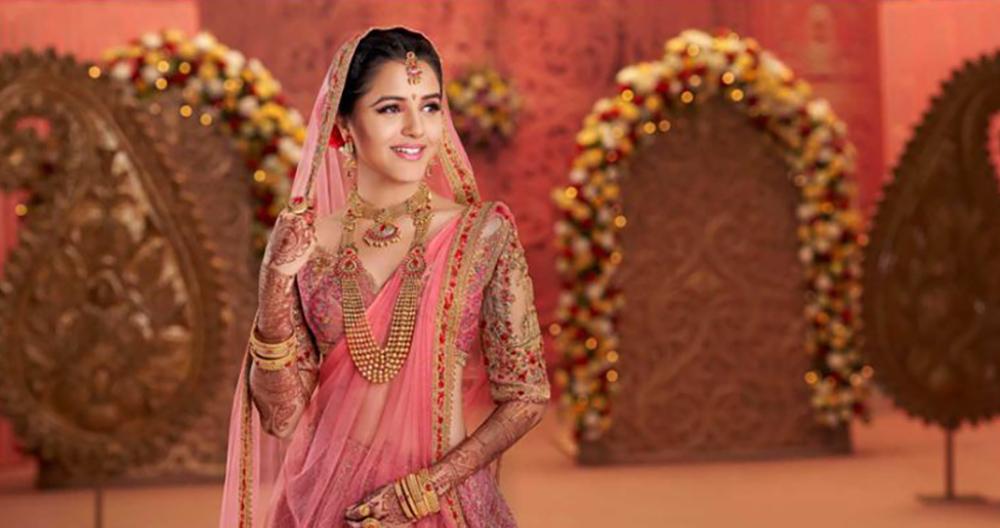 Mangalsutra
The climax of any Hindu wedding ceremony is the process of "tying the knot". The priest invokes the blessings of the Almighty by chanting several mantras and hands over the sacred thread to the groom. Everyone's attention is focused on the bride and groom and the air is crisp with tension. The bride is anxious and overwhelmed with emotions. The groom reaches out to her with all the love he can muster and circles the sacred thread around her neck and secures the knot. The entire hall erupts in triumphant joys; the instruments play the holy music loudly; the close friends and family of the couple are overwhelmed with emotion and shed even a teardrop or two. And mainly, the entire stage is buried under flowers and holy yellow rice thrown in the form of blessings by all the spectators. This is the moment anyone in a wedding ceremony anxiously waits for
The marks of a Hindu married woman are the Kumkum on her forehead, nose stud, Mangalsutra, glass bangles and toe rings. Of this all, the Mangalsutra is of prime importance. The Mangalsutra (Mangal means sacred and Sutra meaning thread in Sanskrit) is a holy thread that binds two souls into one for eternity. It signifies that the holy matrimony is blessed by the Gods and also serves as a mark of love between the couple. The ancient Hindu epics have no evidence of such a symbol. There is, however, a belief that this custom has originated in the South of India and is now prevalent across the nation and even in certain countries outside India. Each region has its spin on the design of the Mangalsutra. Essentially, the Mangalsutra comprises of a thread predominantly made of gold or a string of black beads and a golden pendant. Now-a-days it is possible to customise the Mangalsutra by adding accessories, making it bold and heavy to suit traditional attires, making it light to suit westernised clothing, converting it into bracelets etc. Let's look at some unique Mangalsutra deigns.
In the southern state of Tamilnadu, the thread (thaalikodi) is made of gold and an M shaped plate like pendant (Thirumangalyam) is accompanied by 2 small gold balls on the side. The picture of Shiva Lingam and/or a Tulsi plant is etched on it. Sometimes corals or other beads and small gold coins are also strung along. There are more than 30 different designs of the thirumangalyam. In Kerala, the pendant (thaali) is made mimicking the shape of a banyan tree leaf. The Christian Mangalsutra used in some parts of Kerala has a cross as its pendant and is called a 'Minnu'. In Andhra Pradesh, Telangana and Karnataka the pendant is made of 2 round gold discs one from the bride's side and one from the groom's. Goan Mangalsutra known as Kasithaali is made of a gold chain strung with corals and/or gold beads and a pendant. The north Indian Mangalsutras are predominantly made with a string of black beads with a gold pendant sometimes encrusted with diamonds in the centre. In the case of Sikhs, the bride dons a set of bangles (Choora) in the place of Mangalsutra. The traditional jewel of Kashmiri Pandits for the wedding is called Dehjoor which is a pair of gold coins woven with red silk thread. At the wedding ceremony, it is worn by the bride on her ears as a symbol of being married. After the ceremony they are replaced by a chain called Aath.
Diversity, the one quality India is most known for adds immense beauty and value to the symbol of love, union and eternity. The Mangalsutra is a mesmerising proof for the same.