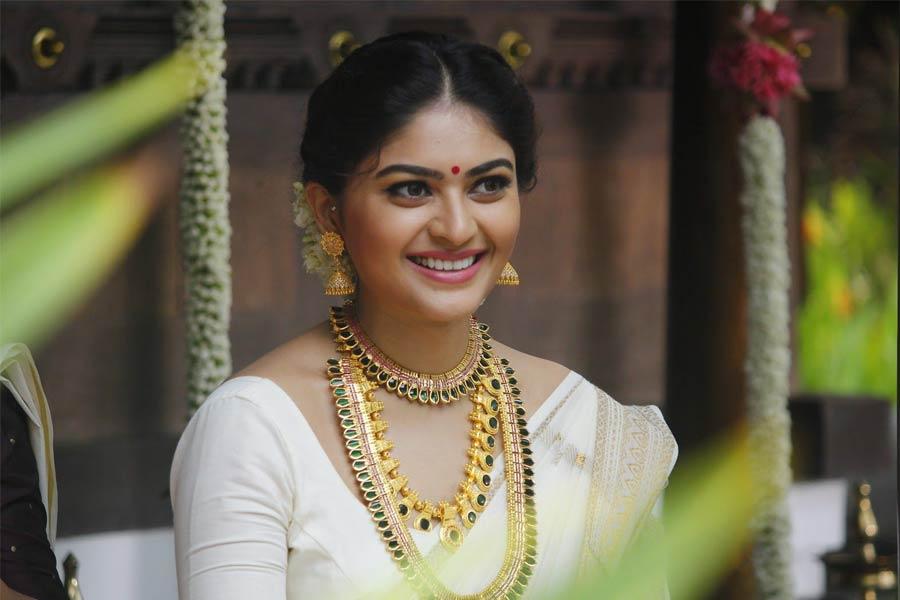 Local Designs: Kerala
Kerala is a region that is associated with gold since ages. Kerala and gold go hand in hand to a point of being stereotyped for the same. For a land that is rich in culture and tradition, this state has its fair share to contribute to the world of jewellery designs. Unlike other regions, Kerala concentrates more over gold jewels than other varieties.
A typical Kerala bride is dressed in the iconic white with gold "Kerala sari", often known as "Onam sari". The sari acts as a blank canvas to be painted with the multitudes of beautiful traditional Kerala jewellery. The array of gold jewels coupled with this sari brings out the beauty of the sari as well as the jewels. Some of the traditional Kerala jewellery designs that are famous worldwide are Koda Kadukkan (gold Jhumka) with ornamental Maatal, Palakka nose studs(green stone, usually shaped like a mango), 3-5 stone diamond noserings, jasmine bud necklace, Kasumalai (little gold coins strung in a gold chain), Mangamalai(a number of small mango shaped pendants attached to a chain), Nellikamalai(chain made up of small gold balls that resemble gooseberries), two/three layer chains, Palakka malai, cluster of gold hipchains, amulets, gold and silver anklets, gold and diamond rings, Navaratna "TV" ring, Navaratna bangles, Kada bangles(big and heavy ornate bangles) and bangles matching the various types of chains mentioned above. The chains come in various sizes as they are displayed in a lineup starting at the neck and hanging till the hipchain of the Bride's body. These necklaces and sets i.e. matching earrings, bangles and sometimes rings, are now available in various sizes ranging from chokers to necklaces to long Harams, suiting our taste and preference. These chains sometimes have an ornamental pendant at the centre, mostly stone-encrusted or with the etching of a beloved deity.
Though modern designs have their own charm, suiting western style of dressing, the traditional designs always have a special place in our hearts. This is probably why these designs stay afresh despite being decades old.