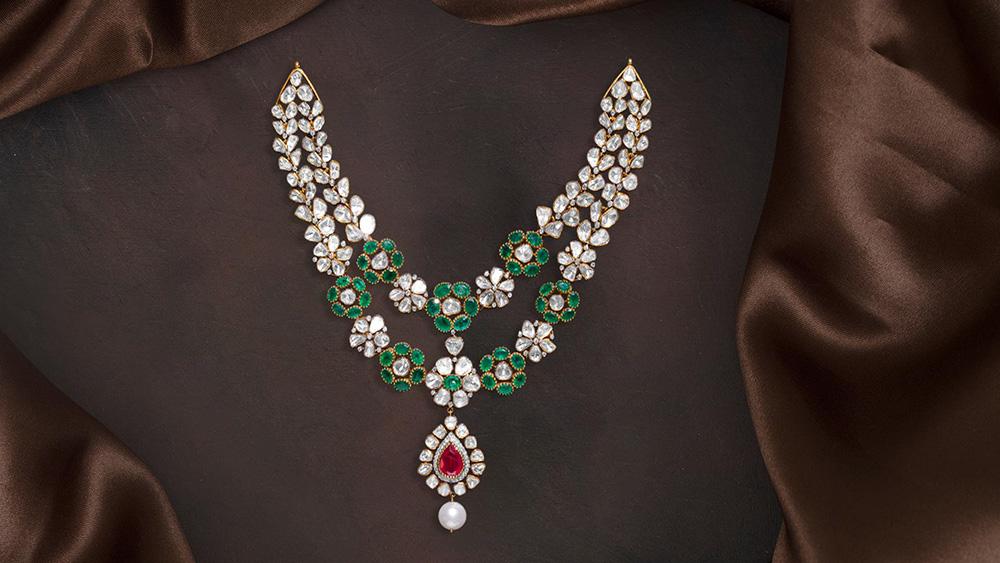 Keep your Diamond and Polki Jewellery Shining forever with these tips!
We all love our diamond-studded wonders and mesmerising Polki jewellery! Whether it's for their sparkle or the intricacies of design, a diamond or Polki piece is a must-have!
But what most people forget is that owning such an exquisite piece is a commitment. While they look stunning, they are also delicate and must be handled with care. Here's a guide on the dos and the don'ts of handling your favourite pieces of jewellery.
Dos
Always keep your jewellery away from direct or indirect heat when storing. We recommend this as the heat may modify the stone's shape or colour as it is not protected from the same on the backside.
Avoid storing your diamond or Polki jewellery for long durations in environments with moisture. Also, store each jewellery piece separately to prevent different pieces from scratching against each other, causing abrasions. We recommend storing them in individual protective jewellery boxes or boxes with individual slots to avoid the various parts rubbing against each other. Alternatively, you can wrap your jewellery in a cotton/muslin cloth or store them in plastic ziplock bags.
If your Polki or diamond piece is starting to look dull, gently rub away the dirt with a microfiber polishing cloth. (You can always take your piece to a jeweller to have them clean it professionally).
Diamond and Polki jewellery are unique displays of craftsmanship and, as such, deserve only to be worn on the right occasions! Avoid wearing them while doing strenuous tasks like cleaning or gardening.
While your prized gems are hydrophobic, they tend to attract oil and grease, so avoid touching them unnecessarily to prevent them from drawing the oil from your hand, which can dull their shine.
Don'ts
A widespread misconception is that toothpaste is a good option for cleaning your Polki and Diamond jewellery. But the truth is that one shouldn't be using toothpaste or a toothbrush to clean as it can damage the stone.
Secondly, don't let your precious pieces come in contact with perfumes and other chemicals, including moisturisers, sun-screen and handwash. Instead, apply all the products first and wear your jewellery last.
Don't let your jewellery suffocate! Make sure to take it out of a closed environment, allowing it to breathe. If the prongs holding the stones in place get stuck on your dress, do not yank it out. Instead, gently untie the same and ensure the prongs aren't damaged.
Your jewellery shouldn't be your bedtime partner! Remove your studded wonders before going to bed, as it can cause damage to the setting of the stone. Lastly, never tuck away your pieces after you're done wearing them! Instead, occasionally inspect them for any signs of wear and tear.
As our closing remark, we recommend taking your pieces to the jeweller every six months for a thorough cleaning and checkup. This is also a great time to remind you that all pieces of jewellery bought from Kalyan Jewellers are eligible for free lifetime maintenance as part of our 4-level assurance. So enjoy your studded wonders in peace, knowing your excellent care will keep them shining for an eternity!