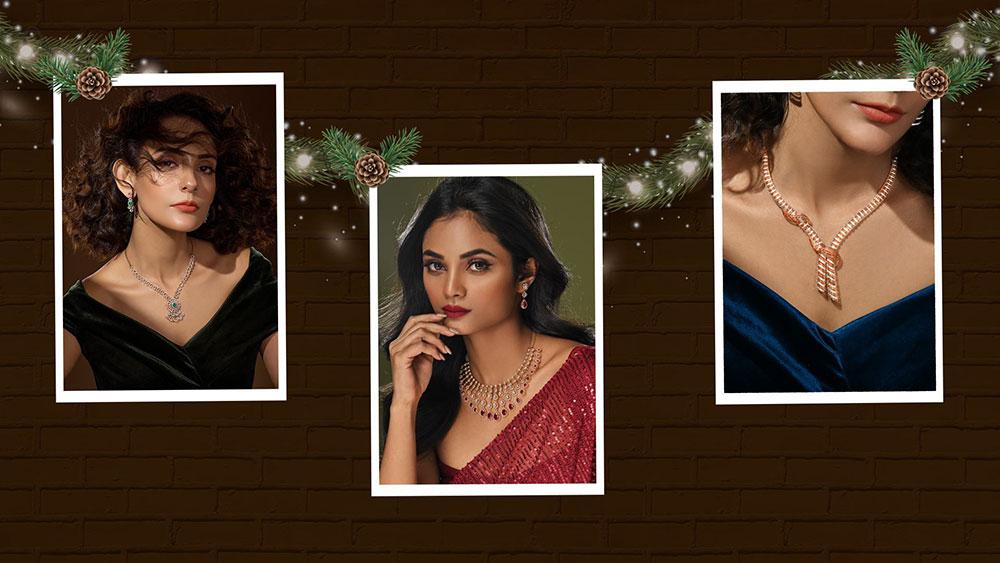 Jewel Up this festive season!
The sleigh bells- a-ringing, the carollers-a- singing, and all the hallways are decked to welcome you!- Tis' the season to be merry.
So put on your hat on and usher in the festive season with colour, dazzle and lots of sparkles. And what better way to spread the Christmas cheer than dressing up to the nines for the occasion! We know you must have already picked out that perfect outfit for the big celebrations ahead. Now it's time to accessorize to the tee. Our Christmas Guide to jewelling up is just what you need. So go ahead and colour your Christmas with shades of the festive season.
Christmas is all about shimmers, sparkles and brights. So let's break it down and find the one that's made for you.
Golds and Silvers
Pair your pastels and darks with all glimmering golds in yellows, whites and even rose. A statement gold choker piece in a contemporary design is that eye-catcher you were looking for to pair up with your glimmering black chiffon saree. If a gown or bodycon is your choice for the merry day, pair it up with a dainty necklace in platinum or rose gold. Accessorize further with matching earring drops that dangerously caress your shoulder blades. Or how about a tennis bracelet that gives you that extra bling?
Reds and Greens
Let's celebrate the traditional colours of Christmas by adorning bejewelled pieces of art encrusted with red and green precious stones. If you are one of those who have kept a tab on the trends this season, we are sure you would have picked out a gold or silver shimmer outfit to
sparkle at those festive parties. It's the perfect occasion to add colour to your wardrobe. So bring your dazzling red rubies and the exotic green emeralds to steal the show. An intricately set minimalistic( not too much, though), encrusted with rubies or emeralds when paired with a matching set of danglers, is sure to bring festive merriment to the party. If you are choosing a traditional attire for the evening, add on a couple of bangles that sparkle with the colours of festivity.
Blues and Sparkles
If reds and greens are on the warmer side of the spectrum for your choice, stay cool with shades of blues or neutrals with diamonds.
That white outfit you have been planning to wear for Christmas day needs a little sparkle and colour. Why not choose a statement piece in blue sapphires and a pair of matching studs that scream for attention. If subtle yet elegant is what you are going for, let the diamonds do the talking. Pick an entire set of a diamond necklace, earrings and bangles (how about a ring to finish it off?) that is sure to make you sparkle like the shining star in the winter sky.