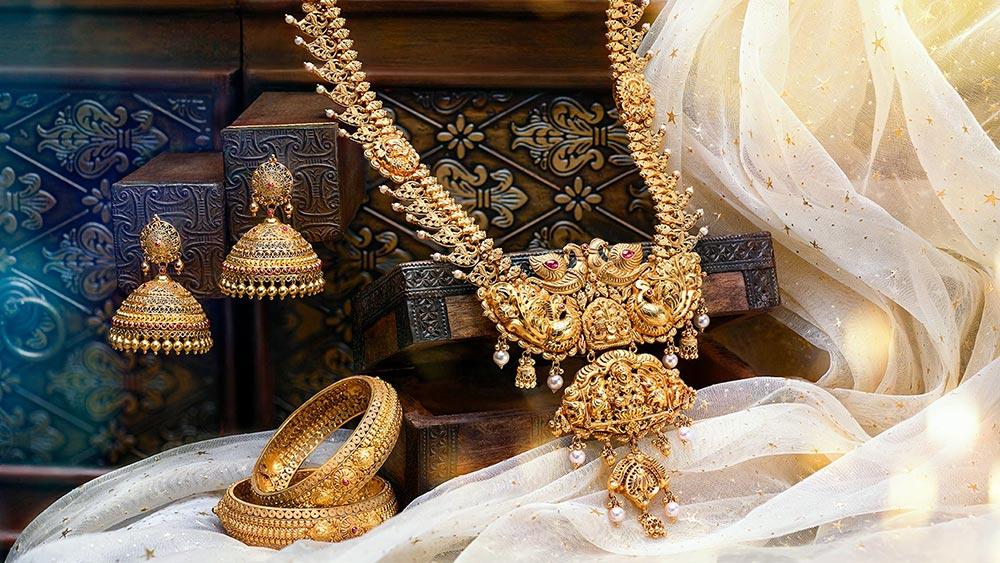 Heirloom Jewellery - Symbol of Tradition and Love
The inspiration behind a vintage bride is the very mention of heirloom jewellery. Heirloom jewellery transcends the past, present, and future beautifully, embodying the values of generations with reverence and delicacy.
Heirloom jewellery is precious in every way. Brides today love including an element from the past to personalize their bridal look. It reminds them of their roots, family legacy, and the blessings of ancestors, which makes each heirloom piece priceless. Here are a few traditional jewellery pieces that have stood the test of time and been passed down from generation to generation.
The traditional Palakka necklace with mango-shaped emeralds studded with rubies has been a statement bridal jewellery for Kerala brides. It is still in vogue as many brides adorn Palakka necklaces handed down by their mothers and grandmothers. And for those who don't have an heirloom handed down to them, the palakka necklace is one of the best jewellery pieces to start the tradition.
Vangi, an armband in gold, is an heirloom bridal jewellery from Tamil Nadu. The V-shaped armband usually has exquisite designs and motifs in the center. The motifs are generally floral or peacock-themed, and sometimes they are also studded with pearls or precious jewels. Pair it with an exquisite handwoven Kanchipuram silk saree, and you are sure to be the talk of the town on your special day.
The fun, fearless Punjabi brides take pride in the Peepal Patti, a heritage necklace design that has adorned many generations. Encrusted with precious stones and gems, Peepal Patti is still a statement classic among Punjabi brides.
Woven with pearls or gold beads, Tushi is a choker-type necklace worn by Marathi brides on their big day. Passed down from one generation to the next, Tushi eludes charm and sophistication. Adorn a beautiful Tushi to make your wedding day more special, and rooted to tradition.
Kadagas are traditional gold bangles that clasp at the wrist-worn by a Kodavathi or a Coorg bride. The design comes in single, double, or triple bonds and is sometimes studded with rubies or other precious stones. They are usually paired with colourful glass bangles that the bride mixes up to elude a dash playful on her special day.
Often passed down as a family heirloom, Saath Noli Haar is a seven-layered gold necklace worn by the traditional Bengali bride. It is usually gifted to the bride by her mother or mother - in law. It gets its name from the seven layers of gold. Saath Noli Haar is an epitome of intricate crafsmanship making it the perfect gift for your new daughter -in- law, wouldn't you agree?
A wedding is a very emotionally close-to-heart occasion, especially for the bride. Adorning an heirloom jewellery piece or a wedding trousseau that comes from her mother or grandmother on her big day is a symbol of tradition, love, and family values that the bride carries with her as she enters a new phase of her life. Choose from a collection as unique as a medley of refined artistry and craftsmanship at Kalyan Jewellers to make your special day more memorable.