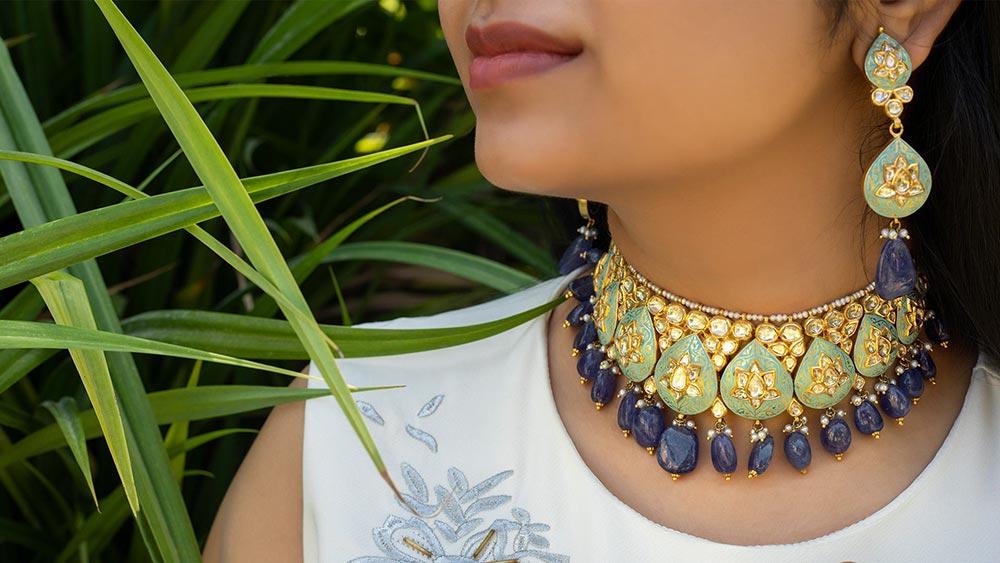 Flaunt your style statement - The Choker Edit
Choker chains and necklaceshave an exquisite charm about themselves. An entire ensemble can come together with the right choker. Molded to trends of the season, studded with generation's choices and resized to the wearer's comfort, this piece of jewellery has stood the test of time and has been celebrated every time.
With an unlimited number of styles and choices, you are sure to find the perfect one for your outfit!
Let's start off with the big ones- the big weddings, the big engagements, and all the big moments in your life. They deserve a big style statement for the company. So don't go shy with your chokers either!
If diamonds are your best friend, make a bold choice with the unparalleled Polki choker. The unique cuts encrusted in glimmering gold will definitely add a sparkle to your occasion.
If Polki isn't your first choice, but you still prefer the bling of gems, try the Diamond-studded chokers paired beautifully with gold and semi-precious stones.
Occasions are where memories are created. Make those moments everlasting with something unique and something grand. Since most occasions in our culture are traditional, fashion your outfit, whether a brocade saree, a silk kurta or zardozi lehenga with a traditional statement choker. Again, there are a variety of designs among these chokers. You can opt for an all gold
design with traditional motifs or temple designs that complement your heritage and bring in appreciation for all quarters.
Chokers also make a perfect gift for your loved one or that special someone in your life. If you are unsure which design to choose, the trendy chokers are always a favourite with women who have an eye for fashion.
These choker designs are sleek and usually studded with diamonds and colourful semi-precious stones to pair perfectly with the colour of the outfit.
But we also know that not all women prefer to go out all bold. Some prefer the simplistic and elegant designs that can complement almost any ensemble. For them, there are the thinner choker options. They come in charming designs and elegant cuts that make a subtle statement without drawing the eye too much. The close necks and collar necklaces can also be considered a less dramatic option for those who still like to wear their necklaces closer to the neckline.
Chokers fit all are designed to break the barrier between the traditional and contemporary. They are for everyone and everywhere and are sure to lock up some great style points every time you wear them.