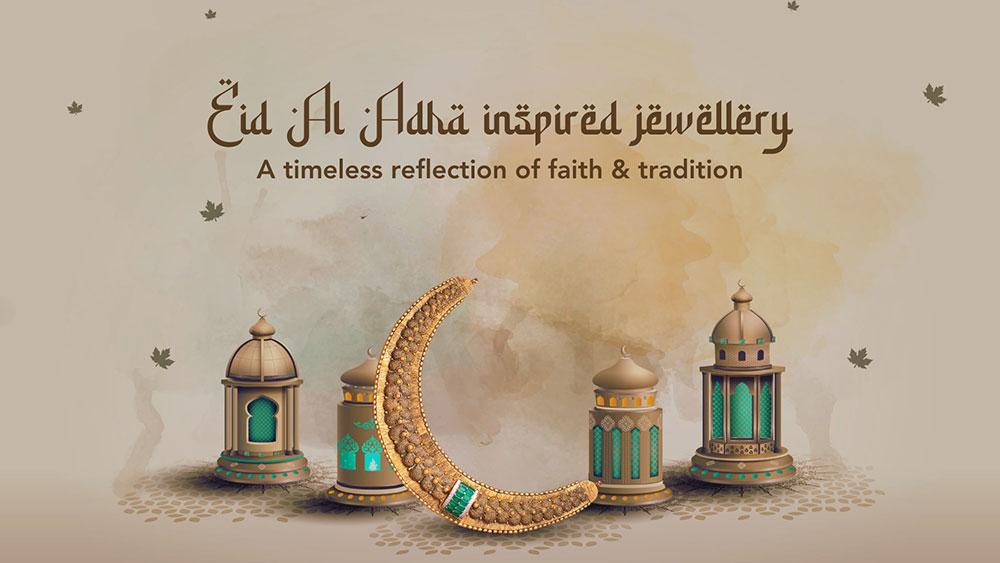 Eid Al-Adha inspired jewellery - A timeless reflection of faith and tradition
Eid-Al-Adha, also known as the Festival of Sacrifice, is a significant festival that Muslims celebrate worldwide. Prayers, feasts, acts of charity, and the exchange of gifts mark this sacred festival.
Since Eid-Al-Adha is around the corner let us celebrate the occasion with some jewellery that serves as a timeless reflection of faith and tradition. Ornaments studded with precious stones are excellent gifting options for this festive season.
Throughout history, jewellery has maintained an extraordinary significance within human culture, reflecting the personal style, heartfelt emotions, and momentous life milestones. Drawing inspiration from the vibrant cultural heritage surrounding Eid-Al-Adha, skilled artisans have meticulously crafted awe-inspiring ornaments that encapsulate the true essence of this festival. From exquisitely crafted necklaces in gold and silver to intricately designed bangles studded with gems and precious stones, and from captivating rings to mesmerizing bracelets, these works of art effortlessly blend tradition with modern aesthetics.
Adorning oneself with jewellery during the festive occasion is a way to express individual style and beauty while respecting the heritage. Whether it's a statement necklace or an elaborate necklace known as 'haar', it is often adorned with gemstones, pearls, and intricate metalwork reflecting the opulence of the festival. Delicate jhumkas on your ears along with 'choodis' on your hands, an emerald studded ring, will well complement your Eid ensemble.
Similarly adorning children with jewellery for the festival ignites their excitement and joy making the occasion extraordinary and sparkling. Simple and lightweight bracelets and pendants featuring a crescent moon and stars will make charming choices. When it comes to small studs or delicate hoops for the little ones you can choose from a plethora of designs featuring flowers, butterflies, or hearts in gemstones and pearls.
This Eid, make sure to gift your loved ones a piece of jewellery. Express your gratitude for their love and acknowledge their importance in your life with this wearable art. Add a touch of elegance to your festivities.