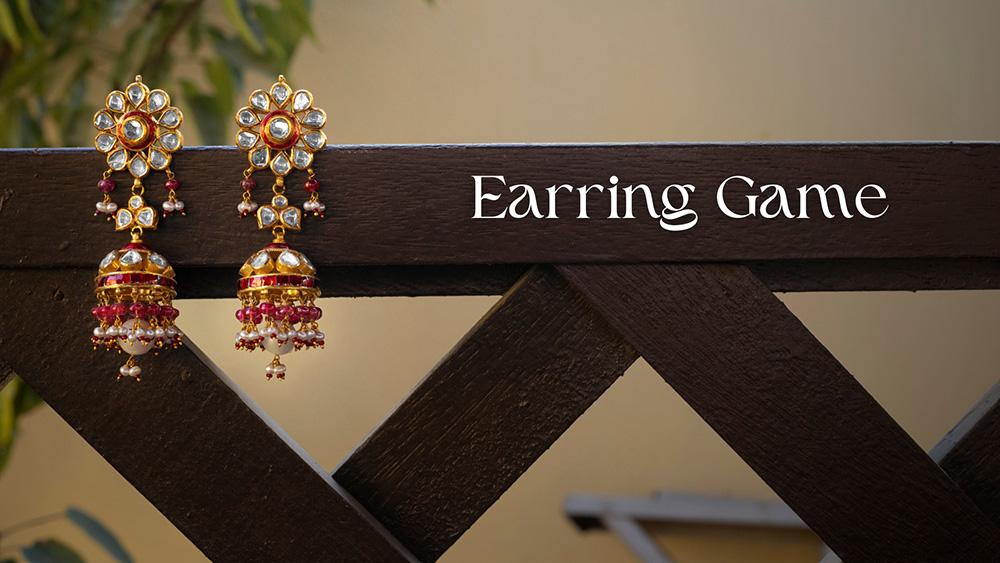 Earring Game
Gold jewellery has been a timeless classic for centuries. Of all jewellery pieces, earrings have always been a go-to accessory to add zest and glamour to any look. Earrings come in various shapes, sizes, designs and materials, but gold earrings have a unique charm of their own. Their versatility can complement any style and occasion, whether traditional or contemporary.
Your earring game can elevate your look as it frames your face and adds glamour. But with so many different types of earrings to choose from, it can be challenging to know which ones to wear for different occasions. Here are some different types of gold earrings and how to wear them with different outfits:
Stud Earrings
Gold stud earrings are a classic and timeless choice. They are simple and elegant and can be worn casually and formally. They are perfect for everyday wear, and their subtle nature makes them great for work or school. For a more formal occasion, opt for diamond or pearl stud earrings to add a touch of glamour.
Hoop Earrings
Gold hoop earrings are a popular choice for adding extra flair to any look. They come in various sizes, from small to large, and can be worn with casual or formal attire alike. Small hoop earrings are perfect for a day out with friends or work, while large hoop earrings can be paired with a simple dress for a night out.
Drop Earrings
Perfect choice to add drama to any occasion, gold drop earrings have a personality of their own. They come in various lengths, from short to long, and can be worn with both casual and formal attire. Short drop earrings are perfect for brunch with friends, while long drop earrings can be worn with formal gowns to add elegance to the whole look.
Chandelier Earrings
Chandelier earrings are a statement piece that can take any outfit to the next level. They are usually long and intricate, with multiple layers and embellishments. Beautiful diamond studded chandelier earrings are perfect for formal occasions such as weddings and receptions.
Jhumkas
An all-time classic favourite for traditional or ethnic occasions, jhumkas have a versatile charm of their own. A traditional gold jhumka is an integral part of most south Indian weddings. From all gold jhumkas, you can opt from ones studded with precious stones and diamonds to glam up your look. They can be worn beautifully with a saree for weddings and other traditional occasions or with ethnic wear such as lehengas or kurtas.
Ear Cuffs
Ear cuffs are a unique and trendy choice for those who want to add some edge to their outfit. They wrap around the ear, giving the illusion of multiple piercings. They can be worn with casual and formal attire, but they are especially great for adding extra oomph to an outfit for a night out. Diamond studded ear cuffs are a statement piece that will make heads turn.
No matter what type of gold earrings you choose, they will surely add elegance and sophistication to your outfit. So go ahead and experiment with different types of gold earrings to find the perfect match for your outfit.