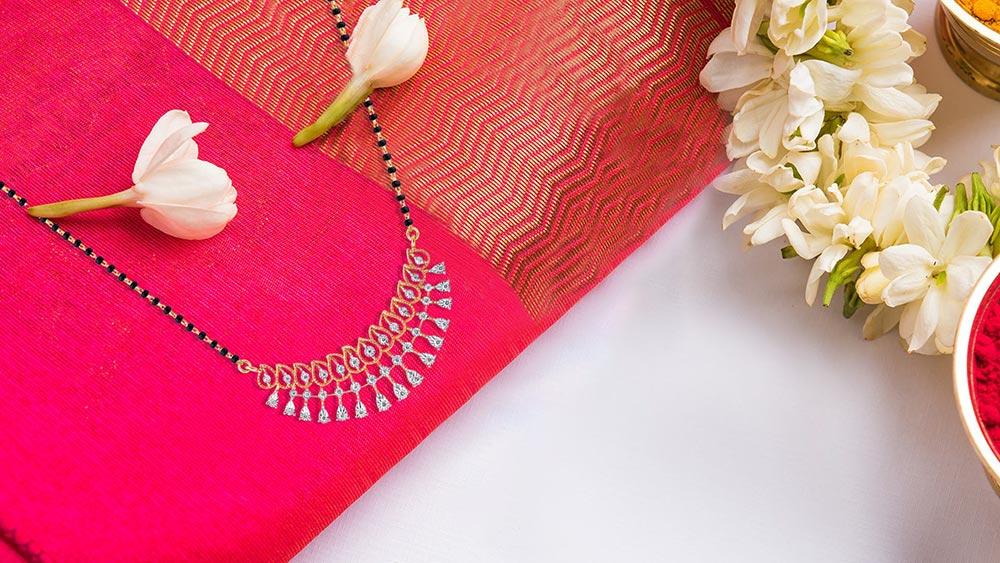 Different types of Mangalsutra designs
The Mangalsutra is a vital element of Indian wedding rituals and Indian bridal jewellery. Mangalsutra means 'auspicious or sacred thread,' and it signifies the union of marriage. A symbol of marital status, it beautifully represents the forever union of two souls.
Almost every community and region in India has its own version of the mangalsutra. As gold represents prosperity and eternity, women adorn mangalsutra in gold all over the country. The sanctity of the mangalsutra transcends all boundaries of languages, culture, and even religion. In its literal form, the mangalsutra is a yellow thread with black beads.
Here are some different types of mangalsutras adorned by brides across India.
The Kashmiri brides adorn mangalsutras known as Dijhor or Dejhoor. It has a fascinating design as they are earrings made of gold, woven with a red thread. Presented by the bride's parents, the red thread gets replaced with a gold chain by the groom's parents after the marriage ceremony. The gold chain is known as the 'aath.'
The Maharashtrian mangalsutra design is known as vati. This design includes two small gold cup-like pendants worn on a black and gold beaded chain. The two-cup design depicts the union of the male and female. This design is prevalent even in Gujarat and some parts of northern Karnataka.
In the Sindhi community, the groom presents the mangalsutra to the bride on the wedding day. It is usually a golden pendant worn on a black and gold beaded chain.
The Bihari bride wears a mangalsutra known as 'Taagpaag.' It usually has an arc-shaped pendant with different designs and is worn on a black beaded gold chain. In addition, in the Bihari culture, a toe ring known as 'Bichwa' is also a vital part of bridal jewellery.
Coming down to the southern states, the Hindu brides of Kerala adorn a mangalsutra known as 'Thali' or 'Ela Thali,' which resembles the shape of a leaf. This mangalsutra design is further customized with diamonds, Om symbol, or the groom's initials. The mangalsutra of Syrian Christians of Kerala is known as 'Minnu,' and it has the sign of a cross on it. These mangalsutras are generally worn on a gold chain.
In Tamil Nadu, the mangalsutra has many names, such as 'Thali,' 'Thirumangalyam, 'Mangalyam,' and 'Thali Koodu.' Based on different communities, the designs on it differ with motifs of tulsi, lord Shiva, Lord Vishnu, Goddess Meenakshi, etc. The groom ties the Mangalsutra to the bride on a yellow thread on the wedding day.
Indian weddings are rich in culture and traditions. The sacred thread worn by the woman of many generations reflects so many emotions. It is easily the most treasured piece of jewellery for the married Indian woman. Millennial brides are customizing their mangalsutras with diamonds, precious gems, and pearls to make them more unique.
Browse through our collection to choose the right one for you!