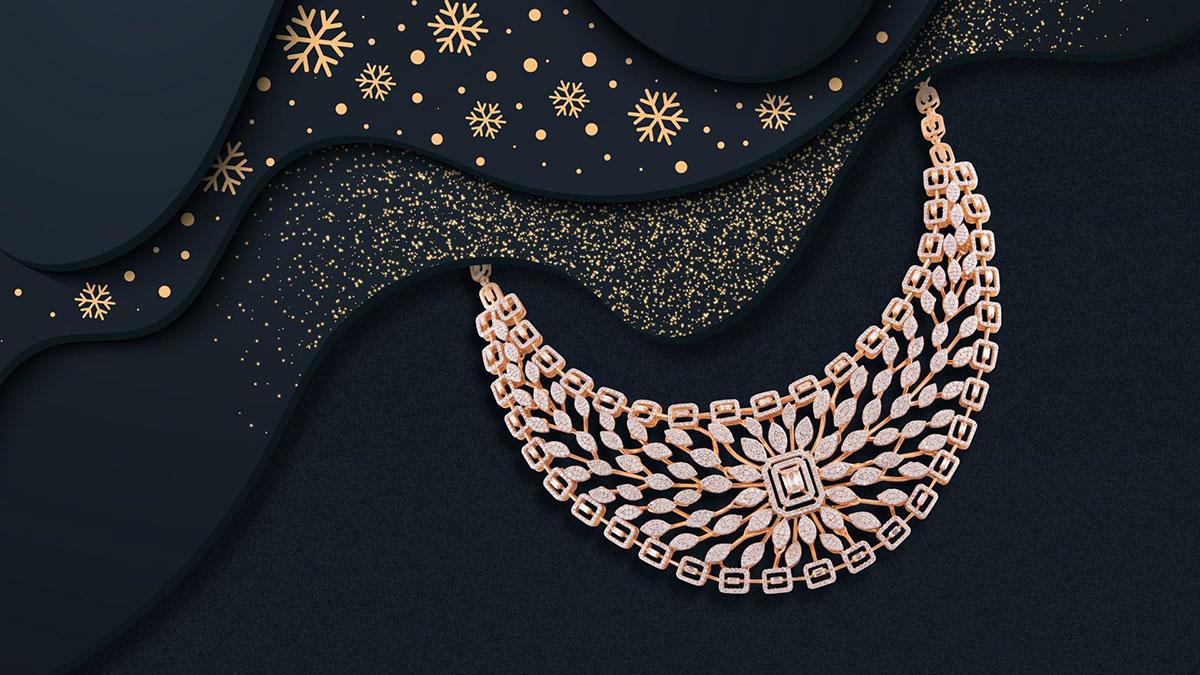 Diamonds to take you into this festive season & beyond
Diamonds are timeless. You never actually need an excuse to buy a set of jewellery sparkling with resplendent designs with beautiful diamonds. Diamonds find a way to suit every occasion. Whether it is a festival, a wedding, or a casual, fun-filled evening, diamonds bring a sparkle into your special days. With winter being around the corner, it is that time of the year when there are weddings and an overall festive feeling all around.
If you are a soon-to-be bride, you don't want to hold back; you need to be dressed with the utmost luxury and grandeur possible because it is your special day. You want to look like a million bucks, and this is the day when you should not cringe about spending a trillion on what you wear.
Invest in scintillating jewellery pieces sparkling with diamonds and gems to sparkle on your special day. Wear a maang tikka, dazzling with diamonds, rubies, and emeralds, combined with head chains, that pay tribute to the rich Indian craftsmanship. We suggest combining this headpiece with a nath to complete the traditional and pure bridal look. It brings a marriage between soft and delicate simplicity that exudes opulent elegance.
If you are attending a wedding, wear a choker, along with a longer necklace like a sita haar or multiple necklaces of varying lengths and wear a sheer saree to look like a diva. Ensure that they do not overlap and cover each other. However, the jewels used in the jewellery pieces need to be well coordinated. Mix and match, go for the unusual, create an alchemy of softness and brilliance with different coloured stones, along with the purity of polki and pearls.
If you are the one getting hitched and your bridal attire is red, gold and rich in zardozi work, in that case, choose a diamond and ruby gold jadau necklace with earrings and bangles. Complete the look with an intricately designed anklet. Jewellery set in gold but embellished with diamonds and pearls complement earthy shades.
You can opt for timeless and graceful temple jewellery. Temple jewellery reflects eternal grandeur with its traditional designs and motifs. Also, a wedding look is incomplete without popular and unique pieces like a hand chain. These rings with chains linking them to a bracelet are so beautiful and enhance the delicate beauty of your hands. This ornament makes any festive look more radiating and feminine. The rings, the links, and bracelets are often embellished with diamonds and stones and rubies that make them look enchanting.
Another must-have for an Indian wedding is a pair of diamond chandelier earrings. You deserve to stand out with chandelier earrings embellished with diamonds. What makes a pair of diamond chandelier earrings even more unique is when they have a hint of colour, usually in the form of a gemstone. A forever favourite is a combination of scintillating diamonds with the most exceptional emeralds. It is worth investing in ravishing pieces sparkling with diamonds that last through years, with timeless class and elegance.
Diamonds are an alluring part of Polki jewellery. The use of uncut diamonds in Polki jewellery makes it special, unique, and attractive. Uncut diamonds refer to diamonds in their purest form. When you purchase a piece of Polki jewellery, you are buying an untreated diamond. They emanate elegance with a hint of playfulness as they illuminate and sparkle, matching the bridal glow. We love chandbalis that suit every attire and every occasion. For functionality, you can opt for a multi-layered polki diamond necklace as it is, or one can reverse it to showcase beautiful gemstones like rubies. Not only weddings, but winters are also about partying. Wear a wine-red dress or black satin, and pair it with a signature solitaire ring. Invest in droplet earrings or an ear cuff to create a fusion of Indian heritage with western fashion trends.
Navratna jewellery is becoming exceedingly popular amongst brides because of its opulence factor. They combine gemstones and diamonds with adding colour to your ornaments and embodies astrological balance for good luck on the day of your wedding rituals. A collared Navratna necklace can make you feel and look like royalty. Navratna jewellery is perfect for you if you go for the look of tradition with a modern twist.
Lastly, we come to Jadau jewellery; it includes Polki, Kundan, and Meenakari jewellery. Jadau jewellery is one of the most opulent forms of jewellery because it is almost always handmade; each piece takes about three to four months to create. Every piece of ornament you buy is a labour of love, years of hard work and talent of the craftsman. These pieces hail from the Mughal and Rajput eras, making them perfect for the luxury that you deserve on your special day. Each piece is made with diamonds and other stones such as pearls, rubies, and emeralds, but mostly diamonds embezzled onto pure gold, often 22-24K. A jadau panch lada with diamonds and rubies can be an outstanding addition to your bridal collection. Exude an old-world charm with a modern tone by pairing an emerald and diamond choker with a multi-layered polki diamond necklace.
Similarly, gold jewellery studded with diamonds adds a touch of glamour to a Sangeet or a Mehendi. Taking inspiration from the Andhra brides, we recommend adding a Kamar bandh and intricately designed bangles handcrafted by skilled artisans in bewitching diamonds and gold.
Diamonds are extremely fluid by nature. They sparkle solo and look equally beautiful combined with other stones and metals. So, create a collection, with a mix of pieces that are sleek and easy to pair with both western and Indian wear. The idea is to strike a balance between grandeur and elegance, craft and value and finally, style and fashion.