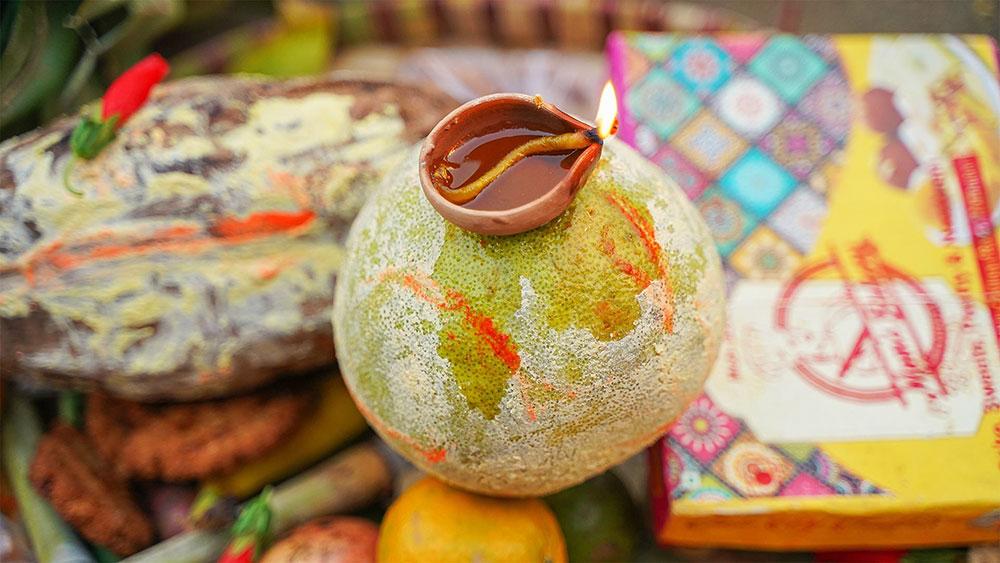 Chhath puja and the 4 unique looks
This year, select your jewellery for Chhath Puja from the unique festive collection from Kalyan Jewellers.
Chhath Puja is one of the most important Hindu festivals celebrated in Bihar, Uttar Pradesh, and Nepal. Chhath Puja is for worshipping the Sun God, Surya, also known as Aditya, and his wife, Usha. According to Hinduism, the Sun has miraculous healing properties and is capable of reversing adverse conditions and calamities. Thus, the Sun ensures the longevity of your life, prosperity, progress, and well-being. The festival is celebrated by following a rigorous routine of rituals that lasts for four days. These complex yet satisfying rituals involve fasting (including temperance from drinking water), bathing in the river Ganga, offering prayers to the rising Sun and the setting Sun, and meditating while standing in water. According to belief, Rama and his wife Sita had started to fast and offer prayers in the month of Kartika in Sita Paksha, for Surya and his wife, Usha, after returning to Ayodhya after they had completed their exile of fourteen years. Chhath Puja has become one of the most traditional and significant Hindu festivals celebrated with zeal and zest every year.
The favourite part of any festival, truthfully, is the adorning of our finest clothes and ornaments. Chhath Puja is no exception. In case you have not decided on your festive attire yet, we have created four looks to help you make a decision.
The First Day, Naya Khay (Bath and Eat):
This is the very first day of Dala Chhath. The Vratti takes a holy bath in the river Ganga and brings back the sacred water of the river to their homes to make prasad. Since this is the first day, the festivities are on the laid-back side of the spectrum.
The ornaments we suggest for this outfit are a tikli and bangles. This combination of jewellery complements the simplicity of the occasion while proving that there is beauty in simplicity. A tikli, similar to the maang tikka, is a thin head ornament worn on the middle parting of a bride's head, making it a simple, glamorous addition to this combination. No look is complete without bangles, whether colourful glass ones or gorgeous gold one's twinkle on your wrists, making you look picture perfect. You can complete this look with simple studded diamond earrings on your ears so that the earrings do not overpower the look.
So, while it is better to reserve your heavier sarees for the rest of the days, you can still dress up to stand out without looking overdressed. We suggest wearing a yellow saree with gold or a contrasting blue border on this day. In addition, you can pair your elegant saree with nude or coral lipstick and a smoky eye look. Use a hint of coral or bronze eyeshadow and eyeliner along the lower lash line.
The Second Day, Kharna:
A long day of fasting ends in the evening by worshipping Chhathi Maiya and eating prasad made the previous day. The prasad, made of rasiao, consists of kheer (cooked rice in milk), puris (deep-fried puffs), chapattis, and bananas. The celebrations begin by distributing these delectable sweets amongst family members and neighbours.
Being the second day of the festivities, it builds up the excitement and extravagance. Therefore, we suggest an orange saree on this day or a saree with a pinkish hue. Orange is extremely close to the three primary colours worn on the day of Chhath Puja. Still, since this is the second day, we suggest a deviation and veer towards the pink.
We suggest wearing the traditional Chudha on your wrists for this look. A piece of traditional and tribal Bihari jewellery, a set of Chudha is perfect for this occasion. It draws attention to the glamour of your rich heritage. You can also try wearing the traditional Kardhani around your waist. We also suggest that you complement these beautiful tribal pieces with a Dholna, a drum-shaped locket. Dholna has an everlasting charm, and it is worn not only by brides but also by beautiful women of all ages to enhance the beauty of your neck and collarbones. Finally, you can complete this look by adorning your ears with small jhumkis consistent with the traditional and heirloom pieces.
The Third Day, Sandhya Arghya (Evening Offering):
The evening rituals take place near-transparent water bodies, such as banks of rivers or ponds. Kosiya or Kosi Bharna, also celebrated on the third day, is one of the most glamorous and opulent events of Chhath Puja. It takes place after the Sandhya Arghya or Sanjhiya Ghaat, in the courtyard of the house of the Vrattis. This glorious ritual of Kosi is celebrated on the Ghats early in the morning before Bhorwa, Bihani, or Morning Arghya.
It is the perfect day to wear a saree in the traditional colour of Chhath Puja, yellow. However, instead of a rich yellow saree, you can also wear an opulent red saree or a beautiful golden saree. We suggest makeup with shimmers.
The last days of the puja are when you can bring out all your fineries. First, we suggest a contemporary piece for your ears. Contemporary designs add a modern twist to your look, and you are sure to be asked where you got your earrings a few times. Around your neck, we suggest a Satlari, a beautiful set layered with seven necklaces engraved with pearls and jewels that glisten and glimmer on your decolletage. We also recommend a Bichua with this look, a thick, beautiful anklet usually worn by Bihari brides that will adorn your feet with such elegance this Chhath Puja. You can wear toe rings on your middle toes to complement the Bichua. The jewels engraved in the Bichua and the toe rings sparkle on your feet and give you the look of youthful beauty.
The Fourth Day, Bihaniya or Bhorwa Ghat (Morning Arghya):
This is the final day of this auspicious and holy festival. The Vrattis gather at the river banks with their loved ones to offer Bhorwa Arghya (morning offerings) to the rising Sun.
This is the last day of the festivities, and as disheartening as it sounds, Chhath Puja will be returning next year soon. We suggest an alluring gold, orange or red saree for this occasion. Since it is a morning event, you might need simple makeup.
Even if your makeup is on the simple side, your ornaments can bring extravagance to your look. We suggest a nath for this day, a bold ornament that adorns your nose and highlights the beauty of your face. You can wear a Sita Haar or a Choker or both since the beautiful, long Sita Haar necklace looks absolutely gorgeous with a shorter necklace. The combination of a Sita Haar and a Choker makes you look opulent and elegant.