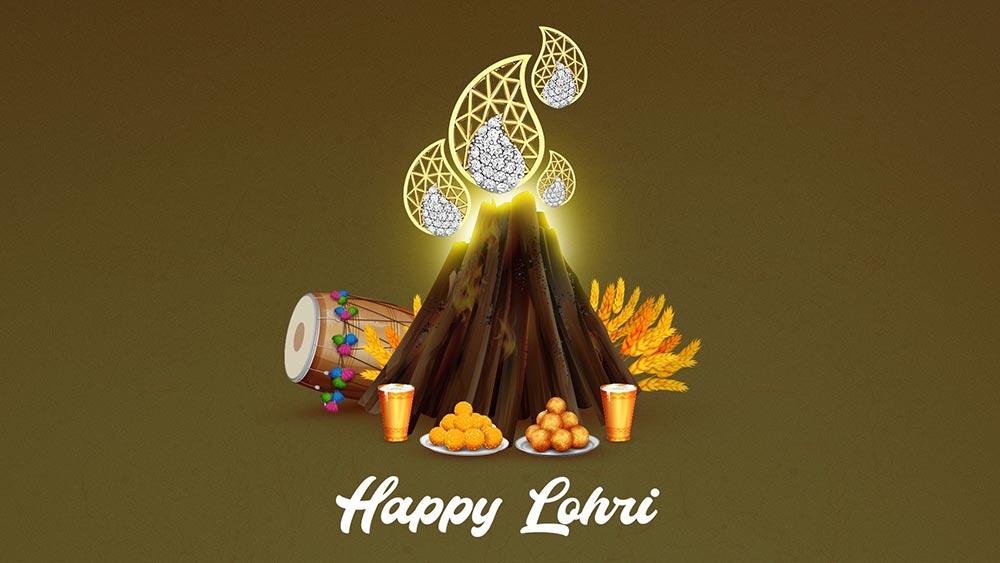 Celebrate Lohri adorning jewellery with a touch of rustic charm
Zestful men and women dressed to the nines, dancing and singing around bonfires, is what the Lohri vibe is all about. Bonfires, family gatherings, mouth-watering delicacies, lots of dance and music, and shimmering outfits are the nitty-gritty of this celebration. Lohri, a winter folk festival celebrated in North India, is celebrated in January. Linked to the Bikrami calendar, Lohri is usually observed on the night before Makar Sankranti. It is primarily celebrated by Hindus and Sikhs all over the world. Though there are numerous folk tales associated with Lohri, it predominantly marks the arrival of the harvest season.
Lohri is the night when women are decked up in the brightest colours and the finest pieces of jewellery. It is the day to flaunt all your flamboyant outfits. You can't shy away from adding bling and sparkle to your outfit. Celebrated with much pomp and vigour, the festival is a perfect blend of style and comfort. From resplendent Patiala suits to rocking sharara outfits, there is a good deal of outfit options to style your Lohri look. So you'll blend right in the happy vibes, dazzling colours, and even more dazzling smiles. Furthermore, your makeup and jewellery make your Lohri look apart from your clothes. Radiant makeup and authentic jewellery are sure to make heads turn.
The first Lohri is magical for the newlyweds. We know how important and special the first Lohri is to all the Punjabi brides. Every bride has the desire to look their best on this day. Bright-coloured Patiala suits with heavy embroidery or zardozi work are our number one sartorial choice in our list. Bangles, lots and lots of them, are pivotal in your outfit. There is something strangely creative about stacking up bangles. You could wear bangles that are a mix of colours with a set of traditional gold Kundan bangles or beaded bangles. Gold kadas would be a great choice. You could add two statement pieces on both ends. One can mix and match Kundan, gold, diamonds along with glass bangles to give a rustic twist to your look.
We all know that any outfit is incomplete without a pairing of stunning earrings. Lohri is the perfect night to flaunt your jhumkas and latkans. Heavy gold jhumkas and big chandbali are the quintessential traditional Punjabi earrings that can take your outfit to another level. However, to add a touch of contemporary to your outfit, you could wear gold-based diamond-studded chandelier earrings.
Chokers are as festive as it gets. They are versatile and can be worn with Patiala suits, shararas, sarees, lehengas, and a lot more. You could wear a choker standalone or pair it with rani haar. Make sure to keep your earrings, bangles, and choker in the same colour palette as your outfit. If you wish to catch everyone's eye, there's nothing like a gold necklace with a dull and matte finish. It will add an exquisite vintage charm to your outfit.
Sometimes underrated, we wear our regular rings to any occasion. However, adding a statement ring with a large solitaire or a jewel-studded floral ring can draw attention to your beautifully manicured hands. Rich with versatility in designs, rings are an exquisite piece of jewellery that enhances your look. They are the life of every outfit. You can choose from various options like gold, diamond, platinum, and gemstone rings. Combining gold or platinum with diamonds is the perfect choice to look ravishing. In addition, you can wear multiple rings to accentuate your ensemble. After all, the more, the merrier.
To achieve the authentic Punjabi kudi look, do not forget to include nath, maang tika, and pajeb. Maang tika is a signature traditional Punjabi jewellery. Available in beautiful designs and bright colours, maang tika is undoubtedly the best part of the attire that highlights your face. You can rock it with a heavily embroidered salwar kameez or a fancy lehenga.
Does an outfit without a paranda, nath, and pajeb qualify as a Lohri outfit? No, we guess. A nath is a traditional nose ring that is an integral part of the Punjabi culture. The conventional Punjabi nath is commonly available in two different types - Shikarpuri nath and Laung. The Shikharpuri Nath is a huge nose ring attached to a pendant. At the same time, a laung is a small nose pin/stud. Both these nath choices are great, and you can choose the one that complements your outfit better.
Finally, look your best and keep in mind that it is a festival that signifies happiness and hope. So wear the best of jewellery and traditional clothes and be unabashedly beautiful. However, wear jewellery that does not restrict your movements. As the night progresses, lose yourself while dancing away to the beat of the music. You know that it marks a new beginning.