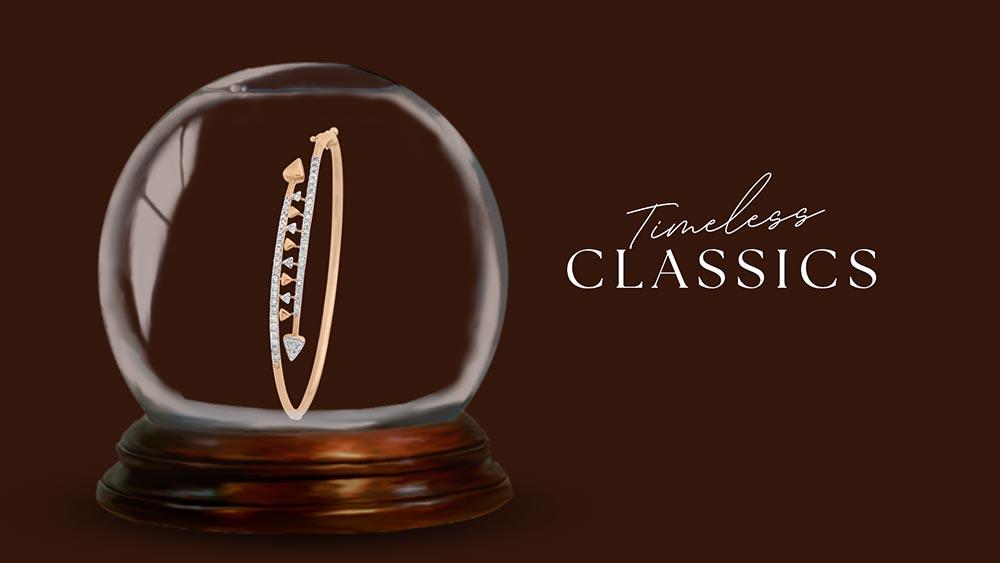 Bracelets - Timeless classics
Bracelets are one of the most versatile pieces in a jewellery box. Wearing a bracelet can transform any look, from ordinary to chic and classic, in no time. Bracelets are timeless classics that transcend time and gender, as it is one of those jewellery pieces loved by both men and women alike.
Material matters
Although gold bracelets are popular, rose gold bracelets exude a charm of their own. Studded with diamonds and rubies, they can look trendy for any occasion. Rose gold bracelets studded with diamonds are also popular among teenagers.
Add gracefulness to your look by choosing bracelets in antique gold. Antique gold designs radiate an old-world charm and warmth that can add sophistication to a traditional look.
If you are looking for an ideal bracelet for an evening function, go for trendy bracelets in platinum. A single-line or double-lined diamond studded bracelet can transform your whole look and make heads turn.
White bracelets have always been a popular choice among jewellery lovers. Beautifully crafted bracelets in white gold studded with diamonds or pearls can add elegance and beauty to your look. White gold bracelets are also a good choice for office wear or official functions.
Occasion is king
A wedding is a beautiful occasion to adorn your best jewellery. A gold bracelet with intricate designs studded with diamonds and precious stones can be a visual delight. Just like weddings, wedding anniversaries are special occasions to show up in your best self. Adding a beautiful bracelet can elevate your look. It is also a thoughtful gift to give your better half as a perfect wedding anniversary gift.
The most beautiful thing about bracelets is that it is not just confined to special occasions. Bracelets can be worn as a simple ornament, taking your everyday look to another level. For daily wear, choose from beaded bracelets or simple bracelets in gold.
Bracelets for men
Bracelets are one such jewellery piece that is not confined to one gender. It is an ornament that is popular among both men and women.
For the fashion-cautious men of today, bracelets add a sophisticated charm to their entire look. From opting for a simple gold bracelet, options are endless for men. Try going for a chain bracelet in gold, platinum, or white gold. Gold kadas are also an all-time favourite among men.
Bracelets for kids
Make those tiny hands look more adorable by adding gold bracelets to them. Choose from colourful, enamel-painted designs that resonate with their happy and cheerful nature. You can also gift them bracelets with their favourite cartoon characters, which will make them happy.
The perfect gift
Stylish and cute bracelets for babies in different designs are also an excellent gifting option. Bracelets are also a brilliant and thoughtful gift for any occasion. As a birthday gift, a gift for a friend, or a memoir for your lover, they are the perfect choice for any event.
Choose from a myriad of unique and beautiful bracelets from Kalyan Jewellers today!