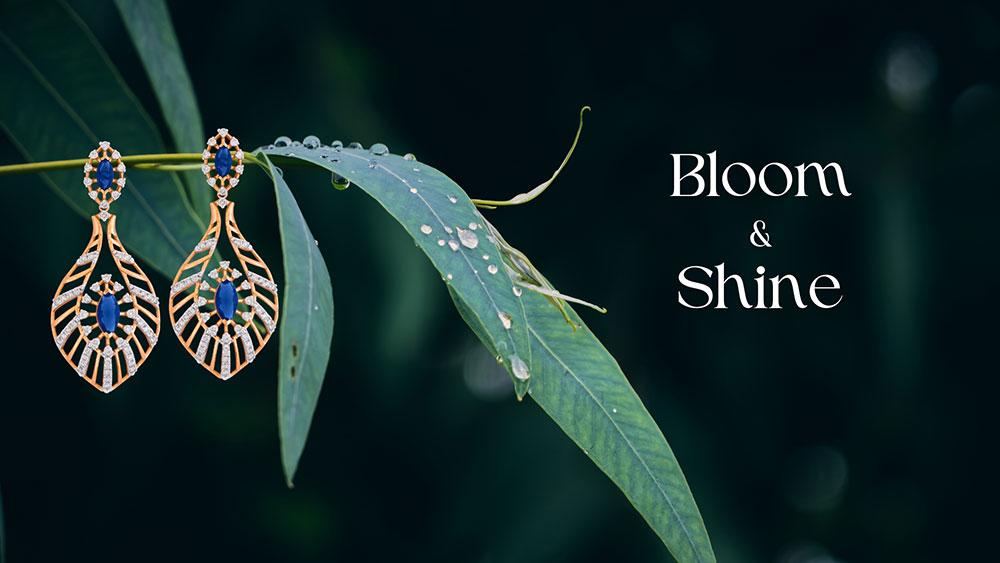 Bloom and shine this Monsoon!
The monsoon season has arrived, casting its enchanting spell upon Mother Nature. Inspired by the refreshing showers and blossoming flowers, monsoon-inspired gold jewellery has captivated the attention of jewellery lovers. These exquisite pieces, featuring floral and droplet-shaped designs, perfectly capture the whimsical allure of nature's magnificence.
Monsoon-inspired gold jewellery complements a variety of styles and occasions. Whether you're attending a formal event or simply want to add a whimsical touch to your everyday attire, these floral and droplet-shaped pieces offer versatility and timeless elegance.
Among the must-have monsoon-inspired gold jewellery pieces are those inspired by raindrops. These delicate, fluid designs reflect the ever-changing moods of the monsoon season. Drop earrings, with their elegant and elongated forms, offer a graceful cascade of diamonds or precious gems that sway with every movement. They add charm and sophistication to any attire, making them perfect for both casual daytime looks and elegant evening ensembles. A pair of raindrop-shaped drop earrings is a must-have addition to any jewellery collection.
Droplet-shaped pendants, often adorned with diamonds or precious gemstones, evoke the enchanting moment when a raindrop kisses the earth. These pendants are another essential piece for monsoon-inspired jewellery enthusiasts, as they beautifully capture the essence of the season.
Flowers have always held symbolic significance, representing love, beauty, and renewal. Monsoon-inspired jewellery celebrates these enchanting blossoms, incorporating intricate floral motifs into their designs. From earrings to pendants and rings, each piece showcases the intricate beauty of nature's rebirth.
A floral-themed necklace can add grace and beauty to any look. Adorned with gemstones and diamonds in various colours and designs, these necklaces are not only aesthetically pleasing but also a dream come true for jewellery collectors.
Delicate floral earrings, with their graceful curves and finely crafted petals, dangle elegantly, infusing the wearer's look with tranquillity and grace. Floral-inspired pendants and rings also grace the collection, serving as beautiful reminders of inner peace and strength.
Pair a delicate floral pendant with a flowing summer dress to create a romantic and feminine look, or wear droplet earrings with a sleek updo for a touch of sophistication. These pieces also make thoughtful gifts, carrying the essence of renewal and beauty for your loved ones.
Add a touch of sophistication to your office attire with monsoon-inspired jewellery. Opt for drop-shaped earrings with a classic twist, such as pearls or diamonds, to elevate your look. Pair them with a crisp white shirt, tailored pants, and a sleek updo for a polished and professional appearance. Floral design pendants, adorned with diamonds or coloured gemstones, can be layered with a dainty gold chain for a subtle yet elegant statement
Monsoon-inspired jewellery brings the enchantment of the rain-kissed season to life through exquisite floral and droplet-shaped designs. Experiment with different combinations, mix and match with your wardrobe, and let your monsoon-inspired jewellery become a reflection of your personal style and love for nature's beauty. With their delicate forms, vibrant colours, and shimmering gemstones, these pieces capture the essence of nature's beauty, allowing wearers to embrace the refreshing allure of the monsoon throughout the year.