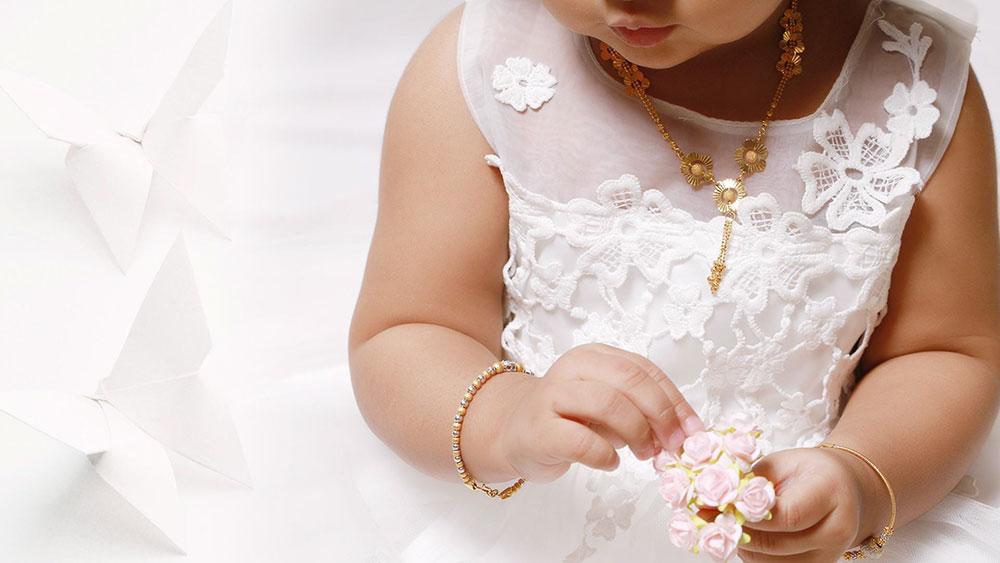 Best Kids Jewellery for Special Occasions
Celebrating your child's first milestones is something that will always stay close to your heart. Their first birthday, the first time they had solid food, or the first time they step into adolescence are all special occasions that call for celebrations. One way to add more shine and splendor to these joyous occasions is by gifting them something beautiful like precious jewellery.
An intricately crafted minimalist piece of jewellery is the perfect way to show your child how much you love and cherish your little one. Each piece of jewellery is also an excellent investment for their future. It is not just a symbol of your love that they would cherish for life, but it can also help to give wings to their dreams. Each small piece of jewellery, be it studs, necklaces, charm bracelets, or elegant rings, adds up and opens a wide door of opportunities for them.
As the years' pass, one of these jewellery pieces is sure to become a treasured piece for them, reminding them of your love and warmth. If you are confused about choosing an occasion or an item for gifting them, here are our top five occasions when you can shower your little one with your love in the form of these beautiful gifts.
1. Their first birthday: The day your child turns one, is one of the most joyful days of your life. You must have planned an elaborate birthday party keeping their favorite cartoon character theme in mind. Your little princess's first birthday is the perfect occasion to gift her something beautiful and precious for the first time. Although she is too small to understand the importance and value of the gift now, as she grows up, the photographs and videos of it would make her feel very special and loved.
Such an important milestone in her life deserves nothing less than a dainty little diamond bracelet to match her little royal gown and her cute little princess tiara.
2. Annaprashan: Feeding your baby, their first solid food, is an emotional and close to heart ritual. It has different names in different parts of India. For this auspicious ceremony, serve them food on a silver platter and feed them using a silver spoon and bowl. Dress your little boy in a kurta pajama or a perfect little tailored three-piece suit . Make him wear a beautiful waistband or a chain on his special day to match his attire. For your little girl, doll her up in a bright and colorful ghagra and choli with a veil. Make her wear a cute payal or a chain with a small pendant.
3. Ritu Kala Samskara: This occasion is a rollercoaster of emotions for parents. You are overwhelmed that your little girl is growing up so fast, yet you are also looking forward to her becoming an independent, and beautiful young woman. A celebration of your daughter's first step into womanhood calls for an elegant traditional necklace. A lightweight chain with a pretty pendant is a great option to consider.
4. Bhaidooj: This is a festival loved by all kids alike. Sisters get gifts from their brothers, and brothers flaunt the ceremonial tika and act like little protectors. The gift can be jewellery for them to make this festival more memorable. A small but smart gold cuff or gold ring looks great on boys, while cute and elegant little gold bracelets and rings look fabulous on girls. You could even get them matching ones to symbolize their unbreakable bond. This way, no matter how far they might be from each other, they will always be reminded of their love for one another.
5. Diwali: The festival of lights is a special occasion that calls for a special touch of gold and diamond jewellery for your little ones. Cute and tiny earrings for little girls and bracelets for little boys make perfect gifts. It teaches them the importance of traditions and values, togetherness, and the symbolic light that removes darkness from our lives. Keep your child's tastes and preferences in mind, and you will have created a fine jewellery collection for them.
6. Christmas: Naughty or nice, give your children some extra love by gifting them cute and beautiful pieces of jewellery. Not only will they love Santa much more after this, but they may also strive to be nice all year round till next Christmas. So, you can buy a chain, or a minimalistic ring for your son. In addition, you can get a pair of earrings, a rose gold charm bracelet, or a dainty necklace for your daughter.
When in doubt, always go with a small piece of jewellery that will look adorable on your cute little angel. This way, it won't restrict their movements or cause them any discomfort. Also, keep an eye on the safety factor, and may your love for your child shine bright through these precious metals.