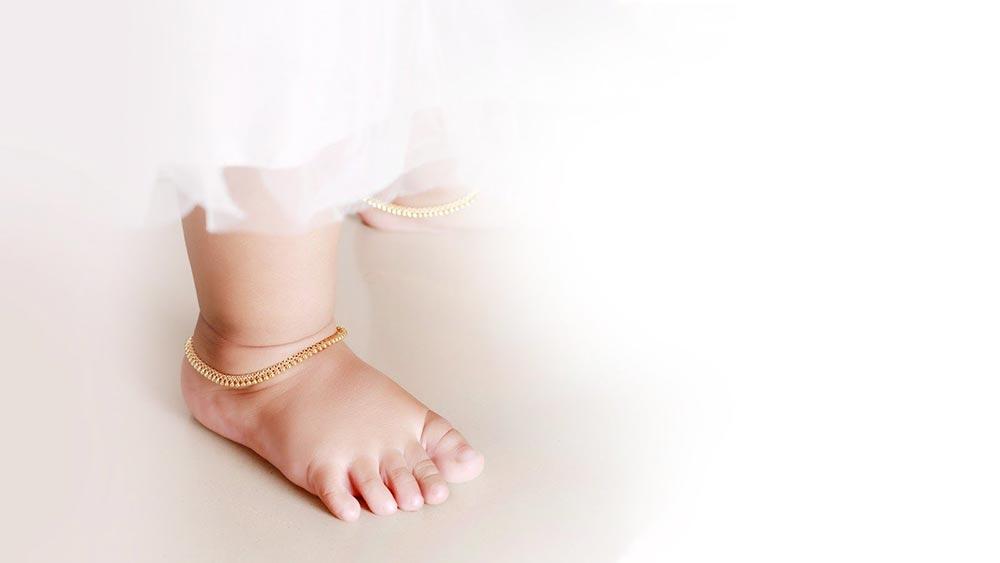 Anklets
The joy of a precious little baby trying to balance the hands and knees and crawl away in express speed knows no bounds. The sweet music-like sound of the kid's laughter is also accompanied by the soft tinkling of the little silver bells strung around the child's ankles. Assuming that the sound is following him/her, the child looks back and laughs playfully while working the hands and knees with expertise trying to outrun the sound of the bells. Such is the beautiful innocence of God's finest creation. No wonder, every parent/well-wisher tries to beautify the kids with one of the most amazing pieces of jewellery, the anklet .
Anklets are made up of ornate designs encrusted on silver, platinum or gold strings with little bells fixed on the hooks that would circle the ankle. From new-born kids to fully grown women, anklets are available to suit all ages. Though anklets are not worn by boys or men, infant boys are normally adorned with tiny anklets.
There have been historic references to anklets all around the world. From ancient Egypt to medieval Europe, anklets have been used to beautify women of all classes. In India, the origin of anklets dates back to Hindu mythology, where there are stories about young Lord Krishna trying to sneak up on people and his tinkling anklets giving him away. Though gold anklets were not prevalent among the common public, the women from royalty owned several gold anklets embedded with precious stones. There is also an acclaimed Tamil literature by the name Silappadhikaram i.e. the story of the anklet which revolves around a pair of anklet. Anklets have also been the focal point of several dance forms across India. The huge chunky bells bedecked by Bharathnatyam/Kuchipudi/Kathak/Odissi/Mohiniattam dancers clunk in tune with the rhythm, rendering the spectators awestruck. Anklets are also used to stress the significance of several communities in India. The Rajasthani anklets which are huge and made out of silver are worn, even today, by married women as per the tradition of their tribes. Adopted by Western culture as a fashion statement, anklets are now-a-days worn across the world in either one or both legs.
Anklet is one such accessory that has been in trend for centuries. Changes in designs have been made along the way, suiting the preferences of the wearers of the era.