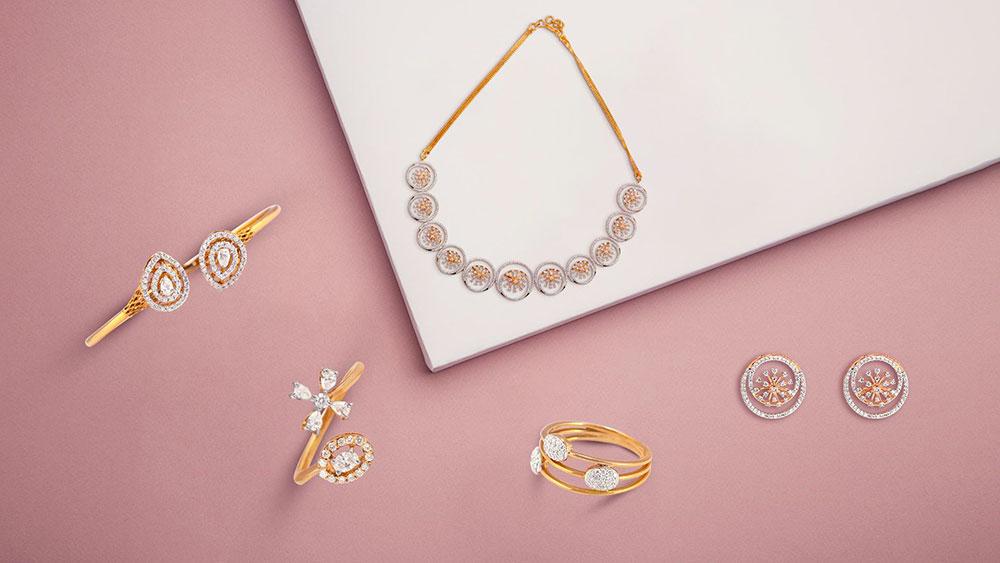 Jewellery Trends
Jewellery has always been a beautiful form of self-expression. Our taste in jewellery reflects not just our personal style, but also our moods, our values, and our belief systems. A new year has just begun, ushering in hopes of new beginnings all over again. Jewellery trending this year will also be a reflection of this hope. Along with showcasing tradition and heritage, the jewellery you choose this year will be all about self-expression and portraying the real you.
The trending styles of 2022 are bling, colours, and chunky jewellery. In addition to this, zodiac sign motifs of spirit animals and charms are also getting popular day by day.
Here are some of the jewellery trends expected to top the list in 2022.
Colourful Stones
Precious and semi-precious stones will continue to be on the much-loved list this year. Topaz, pearls, amethysts, tourmaline along with sapphires, emeralds, and rubies will continue to be the top favorites. Predicted to be the top picks of the year are emerald and ruby pendants and also cocktail rings studded with colorful semi-precious stones.
Diamonds
Diamonds are timeless classics. The cut of the diamond you choose reflects your unique style and personality. Large solitaires, pear-shaped rings, trapezoid cut diamond earrings, diamond droplet pendants are all-time favourites.
Expected to be on the top of the trending list this year are platinum threaders with little star-shaped diamonds spangled at the end. Another rising trendsetter is the multi-stranded, diamond-studded dainty necklace in rose or white gold.
Hoops
Large hoop earrings have always been an all-time favorite among women. A rising trend predicted this year is the front-facing hoops studded with diamonds and precious stones. Another trendsetter is the extra bling added to classic gold hoops. A sapphire droplet hooked to a rose gold hoop or a diamond drop added to a large platinum hoop brings a twist to the style. Double-layered hoops in white gold and diamonds are another trend topper this year.
Riviere and Eternity
The belief of "let it flow" are also reflected in 2022 jewellery trends. Eternity necklaces stemming from riviere necklaces have been a popular choice not only on the red carpet and designer studios but have also become a favorite accessory among women. Eternity ring styles are no longer limited to small cut diamonds, they have become more experimental with rubies, emeralds, and even yellow sapphires. The eternity necklaces which have a flow of cut diamonds till the end create a beautiful illusion of a flowing river. In addition to this, yellow sapphires and small pink diamonds have been an evolving choice for these riviere necklaces.
Bracelets
Bracelets have always been a beautiful accessory that adds to your elegance and style. An upcoming trend this year is to create a style statement with thick bracelets. Thick yellow gold bracelets are very much in vogue. Adding colours and bling are also in trend in 2022. Thick platinum or gold bracelets studded with cut diamonds or an array of precious stones are this year's trendsetters.
Talisman and Charms
Wearing lucky charms or our spirit animals to carry our luck forward is an ongoing trend in 2022 too. In the last two years, gold chains with zodiac signs, an evil eye, a spirit animal have created quite a buzz. This year too, statement pieces with such charms are expected to be on top of the trending list. Consider adding long gold chains with your favourite charms or bracelets with your zodiac signs to your collection.
Traditional ethnic jewellery- Traditional ethnic jewellery has always had a special place in every jewellery box. Experimenting with ethnic jewellery has always been an area of interest for jewellery designers. The beautiful uncut polki, strands of pearls, chandeliers, chokers are still trendsetters this year too .
Polki
Polki, or the traditional uncut diamond originating from Bikaner, Rajasthan has been an all-time favorite. A classic favorite among women is a gorgeous gold choker with polki or a jadau necklace studded with polki diamonds. Royal Polkis which were reserved for wedding
trousseus and traditional gatherings earlier, have now emerged as the most trending and happening entrant among fusion accessories. A cocktail polki ring or a large polki pendant looks radiant and stylish not just with a saree but with a little black dress too.
Chokers
A trendsetter of the 90's, the choker has made a grand come back in the current trending list with a daintier and a more subtle look. A popular 'makeover choker' is a layered diamond studded choker. Another current favourite is a chained gold choker with gold motifs of geometric shapes.
Chandeliers
Chandeliers are another timeless classic trendsetter. The current trend in chandeliers has gone beyond gold and diamonds. Sapphire and emerald studded chandeliers are trending as they create an impression of a cascading waterfall with its blue and green reflections. Gold chandeliers studded with semi-precious stones are another current favorite.
Pearls
In this era of minimalistic yet bold accessories, pearl jewellery has become a new style statement. Gone are the days when pearls were just limited to single strands worn in formal gatherings. An everyday minimalstic yet classic look that you can carry with elegance is a baroque pearl droplet on a molten gold earring. A diamond-encrusted nosepin or a ring with a pearl at the centre is an ideal combination of bling and style.
One thing to keep in mind while following trends is to identify your unique style by experimenting with your jewellery fearlessly. Wear them in different combinations, experiment with other gemstones, and understand what looks good on you. In addition to your beauty, your jewellery and accesories speaks a thousand words to highlight your personality.