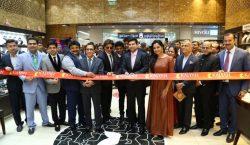 Shahrukh Khan inaugurates Kalyan Jewellers showrooms in Oman
Muscat, 29 December, 2017: The much awaited launch of Kalyan Jewellers in Oman witnessed an unprecedented crowd with Shahrukh Khan inaugurating the new showrooms. Crowds were waiting to catch a glimpse of their favourite film stars at the showrooms in Muscat. Kalyan brand ambassadors and popular Indian film actors Nagarjuna, Prabhu Ganesan, Shivrajkumar and Manju Warrier regaled the huge gathering of fans at the showrooms. However the appearance of Shahrukh Khan created frenzy and crowds jostled to get a glimpse of King Khan. This is the first time that Oman saw film stars launching multiple showrooms on a single day for any brand. The stars were accompanied by Kalyan Jewellers Chairman and Managing Director T.S.Kalyanaraman, Executive Directors Rajesh Kalyanaraman and Ramesh Kalyanaraman and R Karthik, Managing Director, Kalyan Developers. Mr PNC Menon, Founder-Chairman, Shobha Ltd and Dr Raghavan Seetharaman, Group CEO – Doha Bank also attended the function.
The stars strutted onto the stage erected outside the main showroom entrance receiving a huge applause. Addressing the crowd, Shahrukh Khan said, "I feel very fortunate that Kalyan Jewellers invited me for the inauguration of their showrooms and I am very happy to be here is Muscat to meet you all. However I am also a little sad that Amitji is unwell and therefore was not able to come here so on his behalf I am here and I will convey all your love to him."
The stars were received with loud cheers and a thundering applause from an excited audience. The stars greeted the crowd and thanked them for the support. After a brief appearance, the actors were taken inside the showrooms for a preview of the jewellery collection.
T.S. Kalyanaraman, Chairman and Managing Director, Kalyan Jewellers said, "We are delighted to launch in the Sultanate of Oman and promise to deliver a world-class shopping experience to customers. Our showrooms will feature an exquisite range of jewellery in contemporary and traditional designs that will elevate everyday wear as well as for special occasions. We are committed to earning the trust of the people of Oman and hope that they will accept us wholeheartedly. Unfortunately Mr. Amitabh Bachchan was unable to attend the launch due to ill health. We wish him a speedy recovery."
As part of the launch celebrations, shoppers at Kalyan Jewellers will be able to avail of the Christmas and Year-End offers that guarantee shoppers free gifts upon purchase of gold, diamond and precious stone jewellery.
"Our brand ambassadors are hugely popular and exemplify Kalyan's core values of Trust and Timeless elegance. They have played an integral role in the growth of brand Kalyan and their presence in Oman to open these showrooms couldn't be more auspicious. We are happy to have played a role in bringing Shahrukh Khan and our brand ambassadors closer to their fans in Oman," added Mr. Kalyanaraman.