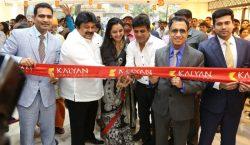 Showroom inaugurated in Malleswaram, Bengaluru
Bengaluru, December 8, 2017: Brand Ambassadors Shivarajkumar, Prabhu Ganesan and Manju Warrier regale crowd.
Crowds thronged Kalyan Jewellers' much-anticipated showroom launch in Malleswaram today. Kalyan Jewellers Brand Ambassador Shivrajkumar along with Prabhu Ganesan and Manju Warrier enthralled the massive crowds gathered at the showroom. The stars had come exclusively to launch the new showroom in Malleswaram. They were accompanied by Kalyan Jewellers' Chairman and Managing Director T.S.Kalyanaraman and Executive Directors Rajesh Kalyanaraman and Ramesh Kalyanaraman. The actors greeted the crowd and thanked them for their support, delighting scores of fans.
Kalyan Jewellers opened their first showroom in Bengaluru in 2010 and is currently present in 13 locations within the state, including this new showroom in Malleswaram. Customers shopping at the new showroom in Malleswaram can also avail of Kalyan's ongoing "Priyamvaada" offer, that guarantees free gifts to customers purchasing from Rs 25,000 onwards.
T. S. Kalyanaraman, Chairman of Kalyan Jewellers said, "Bengaluru has always held a special place in our hearts and we wish to offer our customers a compelling shopping experience. Customers can expect quality jewellery, extensive range of designs, great ambience along with a world of privileges and superior customer service. This showroom will feature Kalyan's gold, diamond, uncut and precious stone studded jewellery designs from across the country."
The showrooms will have an exclusive section displaying Kalyan's popular house brands such as Mudhra – handcrafted antique jewellery, Ziah – an exquisite range of diamond jewellery, Glo-Dancing diamonds, Nimah – authentic heritage Jewellery, Anokhi – uncut diamonds, Apoorva – diamonds for special occasions, Antara – wedding Diamonds and Hera – daily wear diamonds and Rang – precious stones jewellery. Kalyan will draw from its portfolio of over one lakh contemporary and traditional designs and will offer selections for everyday as well as bridal wear and festive occasions. The newly launched and much appreciated range of jewelelry from the Aishwaryam Collection, with making charges between 3%-8% only, will also be available at this showroom.
Since its inception Kalyan Jewellers has been at the forefront of educating customers on the intricacies of buying jewellery through its educational campaigns. The brand also pioneered BIS Hallmarking in India and is credited with ushering transparency in a largely opaque and unorganized Indian jewellery sector.