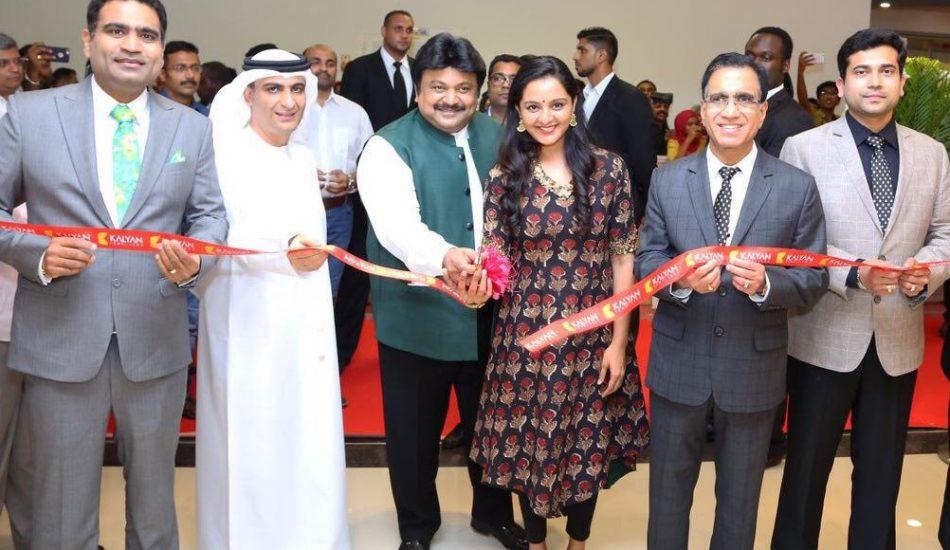 New showrooms in Ajman and Ras Al Khaimah, UAE
UAE, July 13, 2017: Kalyan Jewellers, one of the most trusted and leading jewellery brands in the GCC has strengthened its presence in the UAE with the launch of two new showrooms at Ajman and Ras Al Khaimah. The showrooms were inaugurated by Kalyan Jewellers brand ambassadors and popular film stars Prabhu Ganesan and Manju Warrier along with Kalyan Jewellers' Chairman and Managing Director T.S. Kalyanaraman and Executive Directors Rajesh Kalyanaraman and Ramesh Kalyanaraman. Crowds thronged to catch a glimpse of the film stars. The Ajman showroom is located at Nesto hypermarket Mushriff whereas the Ras Al Khaimah showroom is located inside the RAK mall. With the launch of these two new showrooms Kalyan Jewellers now has 14 showrooms in the UAE.
After a brief appearance, the stars were taken inside the new showrooms for a special preview of the jewellery collections. The showrooms feature an exhaustive and exquisite collection of gold, diamond and studded jewellery including Kalyan's popular jewellery collections such as Ziah- Infinite sparkles, GLO- Dancing Diamonds, Ameera – Arabic Wedding Collection, Apoorva – Diamonds For Special Occasion, Mudhra- Handcrafted Antique Jewellery, Rang – Precious Stones, Nimah- Timeless Heritage Jewellery, Anokhi-Uncut Diamonds and Laya- Diamonds For All Expressions.
As part of the launch celebrations, customers can look forward to a plethora of privileges that will enable them to extract more value from their purchase. The festivities kick-off with the free gold coin offer*, wherein customers will get one free gold coin on purchase of gold jewellery worth AED 1000 and three free gold coins on purchase of diamond jewellery worth AED 1000. The offer is valid till 27th July, 2017.
T.S. Kalyanaraman, Chairman and Managing Director, Kalyan Jewellers said, "The launch of showrooms in Ajman and Ras Al Khaimah will help us tap into the potential of Northern Emirates and strengthen our presence in the UAE. Customers in Ajman and Ras Al Khaimah can look forward to a world-class personalized shopping experience with quality jewellery, extensive range of designs, great ambience apart from a world of privileges. The UAE is one of the top growth markets for Kalyan and we expect it to contribute 15% of our topline over the next three years."