Kalyan Jewellers inaugurates 1st Boutique Showroom in India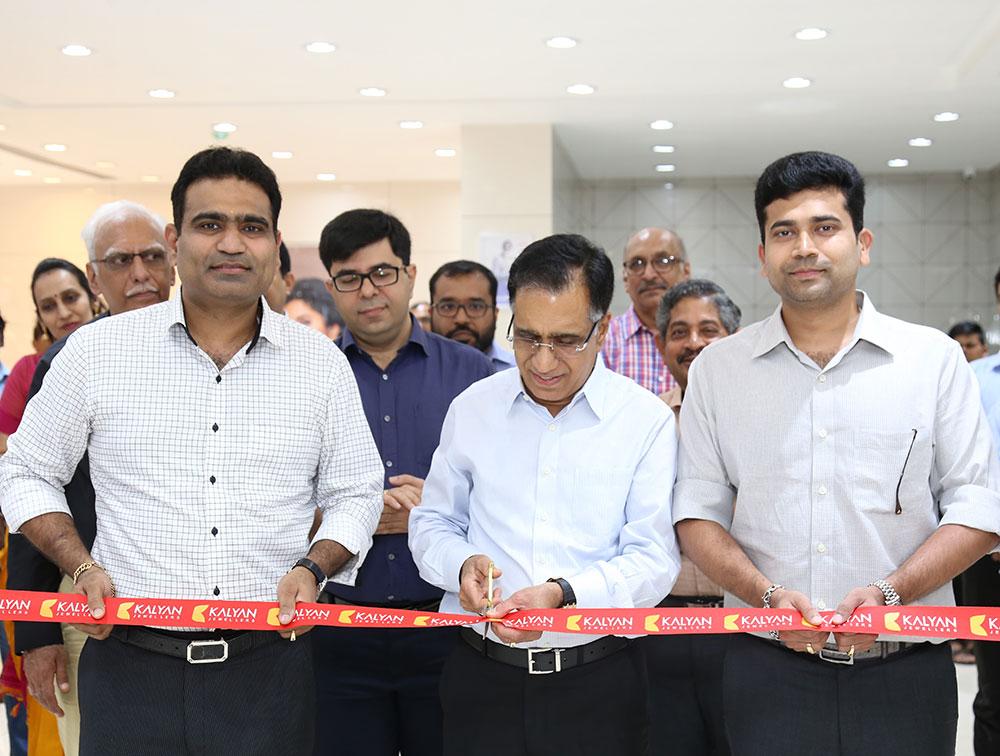 L-R Mr. Rajesh Kalyanaraman, Mr. TS Kalyanaraman, Mr. Ramesh Kalyanaraman at inauguration of Vashi showroom
Exclusive boutique-styled showroom is located in Vashi, Navi Mumbai
Mr. T S Kalyanaraman to inaugurate the brand's 2nd showroom in Vashi
To showcase luxurious, elegant and exclusive jewellery designs
Mumbai, September 20th, 2019:Kalyan Jewellers, one of India's largest jewellery brand inaugurated its new boutique showroom at Vashi in Mumbai today. The boutique showroom will present a luxurious, re-imagined experience with distinctive and trendy jewellery designs at display. The jewellery brand is branching out to this new showroom format in order to offer an exclusive boutique experience to its customers.
With the launch of this boutique style showroom, Kalyan Jewellers aims at targeting the elite and niche consumer base who prefer personalized jewellery designs with a distinct sense of style. The first of its kind showroom is designed to cater to a mindful and tech-savvy generation. This is Kalyan Jewellers' 6th showroom in Mumbai, the jewellery brand has its presence at other locations like Andheri, Ghatkopar, Thane and Borivali.
Speaking at the launch Mr. T S Kalyanaraman, CMD – Kalyan Jewellers said, "We are pleased to introduce Kalyan Jewellers' first boutique showroom in Mumbai which is one of our key markets. The brand new showroom will showcase exclusive and select jewellery designs from our vast variety of jewellery collections. We aim at tapping the elite and high-end consumer base by introducing this new format of boutique-style showroom. We're trying to extend our reach beyond the traditional by offering consumers a completely new way of buying jewellery."
As part of the launch offer, the jewellery brand has slashed the making charges also known as value additions or VA which will start from Rs.199 onwards* Kalyan Jewellers also promises giveaways worth Rs. 1 crore in the form of instantly redeemable vouchers. Additionally, there will be a raffle draw and 1 lucky shopper stands a chance to win a bumper prize from Kalyan Jewellers every week.
"At Kalyan Jewellers, we are constantly working towards enhancing customer experience and engagement through various customer-friendly initiatives. We believe that this new boutique showroom will not only help us in building a stronger relationship with our customers but also will take us a step ahead towards having a better understanding of what our customers want." he added.
Customers will be able to avail the benefits of Kalyan's new 4-Level Assurance Certification on gold jewellery. This is a special initiative by Kalyan to continue enhancing the brand's commitment towards offering the very best to its loyalists. While jewellery retailed at Kalyan Jewellers goes through multiple purity tests and are all BIS hallmarked, the 4-level assurance certificate promises customers payment on the value of purity mentioned in the invoice during exchange or resale. Also, it ensures free lifetime maintenance of ornaments at any Kalyan Jewellers' showroom in the country.
*T&C Apply