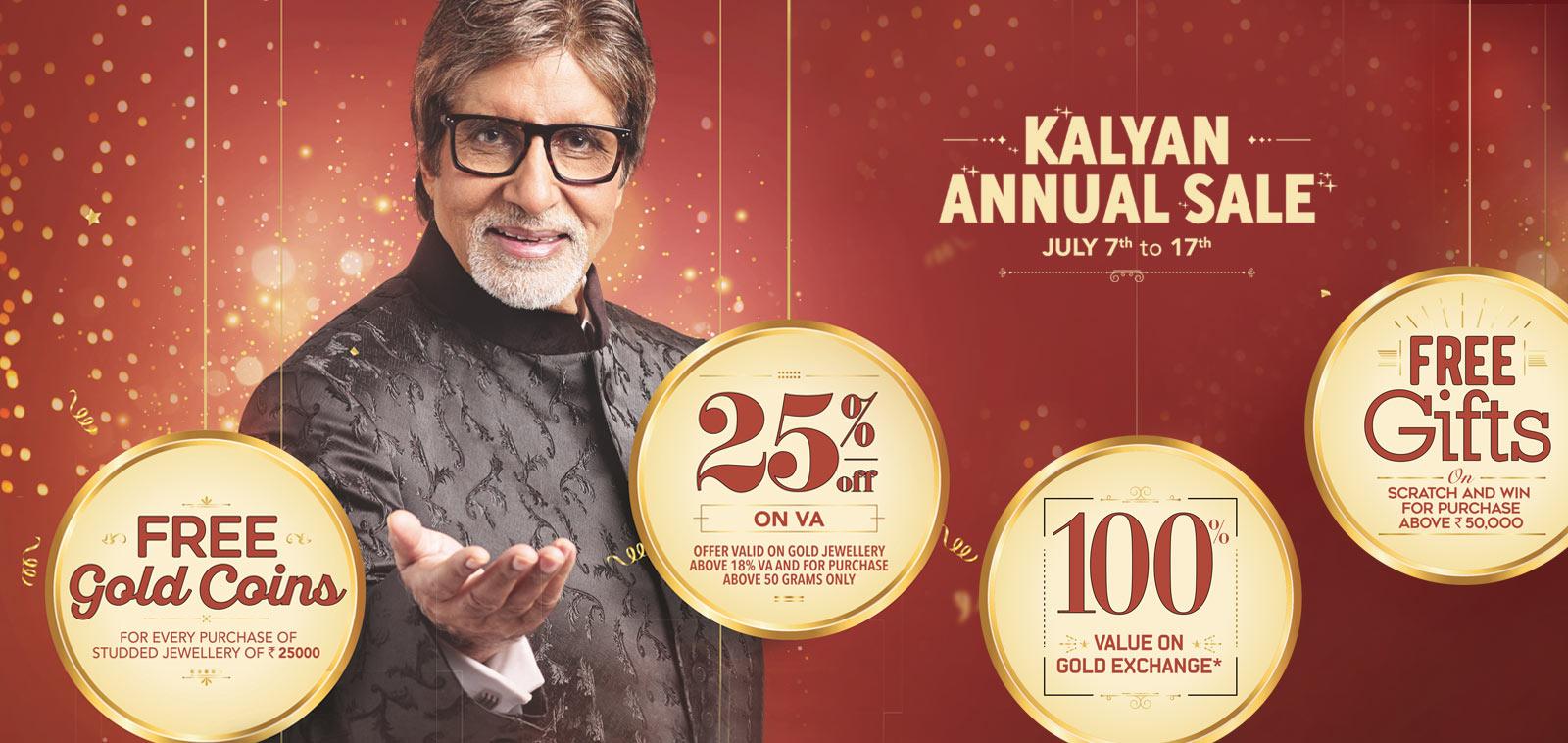 Kalyan Jewellers announces Annual Sale from July 7
Offers 25% off on making charges, free gold coins, Scratch & Win coupons and 100% value on exchange of old gold
National, July 6, 2018: Kalyan Jewellers, one of India's most trusted and leading jewellery brand, has announced exciting offers for its customers through the much awaited Kalyan Annual Sale. Customers can walk into any of the Kalyan Jewellers outlets in India between July 7th and 17th, and make the most of the various offers that the brand has specially curated.
As a brand that stands for trust and transparency, Kalyan understands the need of jewellery connoisseurs to own pieces which have the highest standard in purity, design and quality. Therefore, during the 11-day annual sale, Kalyan Jewellers offers to all their customers 100% value on exchange of old gold.
With the wedding season just around the corner, Kalyan also understands that every bride wants to look her fabulous best. Adding to the celebration of engagements and weddings, Kalyan Jewellers is offering 25% off on Value Added charges (or marking charge) on purchase of gold jewellery above 50 gram.
In India, jewellery is largely seen as an auspicious purchase. Therefore, on every purchase of studded jewellery worth Rs 25,000 Kalyan's customers will be eligible for a Free Gold Coin. Apart from this, customers who make purchases above Rs 50,000 will be able to take part in a Scratch & Win Contest, and can walk away with exciting gifts ranging from electronics to home appliances to wearable technology.
Commenting on the sale, TS Kalyanaraman, Chairman & Managing Director, Kalyan Jewellers, said, "At Kalyan Jewellers, our customers are at the heart of everything we do – and we make sure to cater to their needs in the best ways possible, by offering them the best of products at even better rates. This in mind, we are pleased to announce the Kalyan Annual Sale, which enables our customers to shop for their favorite jewellery while availing some very exiting offers, including 100% value on exchange of old gold, 25% off on VA, free gold coins and scratch & win offers. Every woman deserves to own the best jewellery and with this offer, we encourage our customers to own a Kalyan piece that is handcrafted and exquisite."
The annual sale will run from July 7th across all Kalyan Jewellers showrooms till July 17th, 2018. Popular wedding collection Muhurat, and Kalyan's in-house brands like Tejasvi, Nimah, Mudhra, Ziah, Rang, Anokhi, Glo etc will be available as part of the sale. Visit www.kalyanjewellers.net to locate the Kalyan store nearest to you.