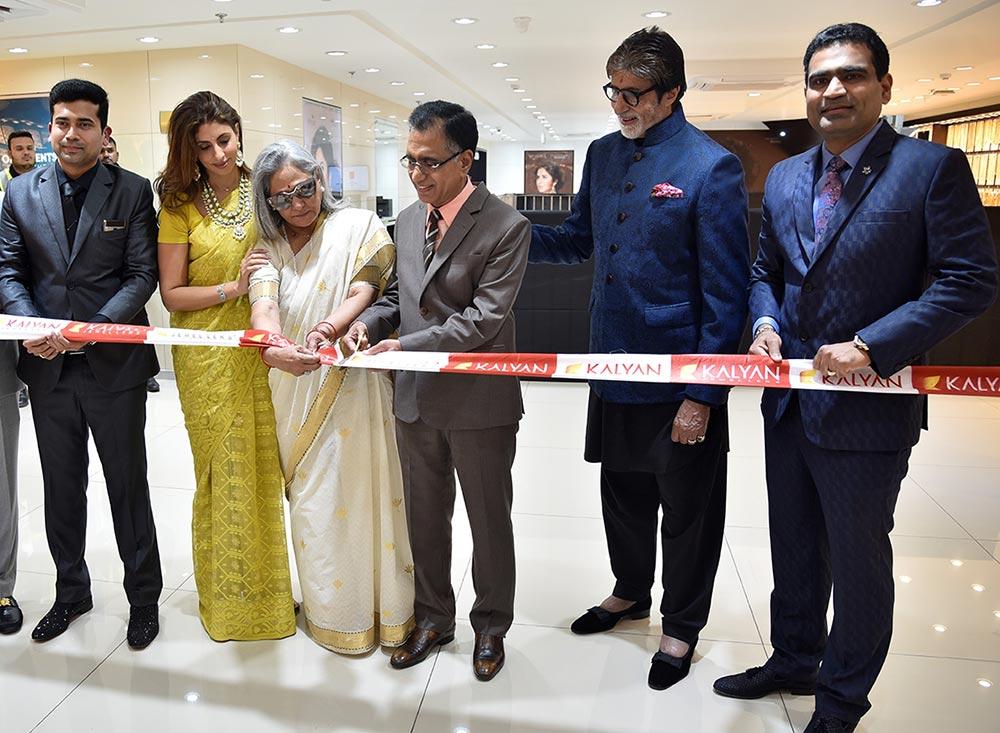 Festivities mark launch of Kalyan Jewellers flagship showroom in New Delhi
New Delhi, September 28, 2018: Festivities marked the launch of Kalyan Jewellers flagship showroom in the upmarket South-Extension neighbourhood of New Delhi. The flagship showroom is the largest showroom of Kalyan Jewellers in North India and a celebratory atmosphere prevailed at the opening. Bollywood superstar, Amitabh Bachchan, the brand ambassador for Kalyan Jewellers along with Jaya Bachchan and his daughter, Shweta Bachchan Nanda were present for the inauguration and they held the excited crowd in thrall with their presence as they thanked the fans for their love and support.
Mr T.S. Kalyanaraman, Chairman and Managing Director of Kalyan Jewellers along with the Executive Directors Rajesh Kalyanaraman and Ramesh Kalyanaraman were present at the inauguration. After addressing the huge gathering outside the showroom, they cut the ceremonial ribbon at the foyer of the showroom before taking a tour of the showroom.
With the launch of this flagship showroom, Kalyan Jewellers presently has eight showrooms in the NCR region, and a grand total of 132 showrooms globally. The showroom is spread over two dedicated floors with ample parking, and will offer customers a curated jewellery shopping experience with a wide variety of contemporary and traditional designs for everyday as well as bridal wear and festive occasions.
Mr. T. S. Kalyanaraman, Chairman and Managing Director, Kalyan Jewellers Ltd. said, "Our flagship showroom will give our customers a superior value proposition with the assurance of the best of quality and the highest service standards. With an investment of around Rs.125 cr, this showroom reiterates our commitment to grow our presence in the country. The launch is the beginning of the second phase of expansion for which a budget of Rs.1000 cr. has been earmarked for 20 showrooms during this fiscal. The expansion is being met through internal accruals, without any bank borrowings or capital dilution"
Customers can avail the Dhanteras 2018 Rate Protection Offer at the launch of the flagship showroom by pre-booking their jewellery. Lucky ones stand a chance to win up to 500 gold coins, through a Scratch & Win offer valid on all purchase above Rs 20,000. Apart from this, Kalyan is also offering all its patrons an assured and free gold coin, on purchases of diamond, solitaire, polki and precious stone based jewellery above Rs 25,000.